5 Incredible Homes that Beat Tough Countryside Planning Rules
By Hugh Metcalf published
Building under Paragraph 80, sometimes called the Countryside Clause, is notoriously tricky, but these projects passed planning, each resulting in an amazing rural home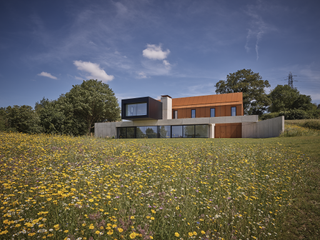 (Image credit: Andy Haslam)
Typically, planning rules have aimed to deter people from building new homes in rural areas and on greenbelt land, however, there's a small exemption, sometimes called the 'Countryside Clause', in the National Planning Policy Framework which will permit homes to be built that meet a strict criteria.
Once known as PPS7, then Paragraph 55, Paragraph 79 and now Paragraph 80, this clause has some subjective, hard-to-define requirements that makes it hard to predict whether homes will be able to gain planning consent.
These include that the house:
is truly outstanding or innovative, reflecting the highest standards in architecture, and would help to raise standards of design more generally in rural areas.
would significantly enhance its immediate setting, and be sensitive to the defining characteristics of the local area.
It's perhaps no surprise then that gaining planning permission under Paragraph 79, and under its legacy guises, is notoriously difficult.
In fact, in the first 15 years after PPS7 was first introduced, less than 100 homes were built, averaging out to six a year.
Here, we've gathered up 5 examples of homes passed under the 'Countryside Clause', to see what lessons can be learned for those looking to self build in a rural setting.
1. Passivhaus in Devon
Join The Planning Hub
The Planning Hub is a new online resource that will help you understand how to get to grips with complex planning rules. Join today for access to easy-to-read guides which will provide you with key information to help you secure planning permission.
While many of the houses on this list are bold architectural statements, Mclean Quinlan gained planning permission under Paragraph 80 (then Paragraph 79) with a subtle design.
This project is an interesting example to look at as part of the Paragraph 80 clause. Where Paragraph 80 specifically mentions isolated rural areas in its wording, this home has neighbours in surrounding village houses. However, with gaining planning looking unlikely, Paragraph 80 offered the best bet for the architect's plans to be passed.
While planning officers were against the design (remarks of it not being exceptional enough for the Paragraph 80 clause to apply were made), the planning committee were on the self builders' side, meaning that planning eventually was granted.
And of course, the house is subjectively exceptional. It's design from the front elevation almost gives nothing away, almost becoming one with the existing old garden wall on the plot.
However, the rear of the property is bright and light, orientated to make the most of solar gain — the home is Passivhaus certified to an 'energy plus' rating.
2. Barrow House in Lincolnshire
This plot of land in the Lincolnshire Wolds was a prime candidate for a Paragraph 80 exemption — not only is it in an Area of Outstanding Natural Beauty (AONB), but it's close to Bronze Age Barrow, one of the largest 'round barrows' in Lincolnshire and a scheduled ancient monument.
While this home may be a commanding presence in this natural landscape, id Architecture's design hangs on a simple barn being the only form 'above ground' — an agricultural form that's fitting for the local environment.
Architecturally exceptional? Tick. Sensitive to the rural locality? Tick. The project was unanimously supported at the planning committee, at the time under Paragraph 55.
This barn structure sits on the semi-subterranean concrete plinth which forms the ground floor level — planted with a wildflower green roof to soften the form. The projecting pod, which houses the main bedroom, offers impressive views over the natural landscape and the Bronze Age Barrow.
3. Black Barn in Suffolk
Studio Bark's modern, yet sensitive interpretation of the barn concept is another project that uses an agricultural form to meet the conditions of a Paragraph 80 exemption.
"The benefit of this National Planning Policy Framework test and of such high quality schemes as the submitted one is that they continuously develop the language of rural design and help create a twenty-first century vernacular," said Robert Scrimgeour, Senior Design and Conservation Officer, Suffolk Coastal District Council of the scheme.
"The end result is highly original in terms of the strength of the original concept, its derivation and the form of its expression. Although born of a modest, if not humble, building typology the submitted scheme presents itself as innovative architecture and easily raises the bar for the quality of design in rural areas."
Alongside the modernisation of the barn shape through material and the floating structure, the project is interesting for how its ground interact with the wider landscape.
Boundary treatments have been avoided with soft, minimal landscaping. The domestic garden, for use by the home's owners, has been lowered beneath the landscape and hidden by a curved wall of flint.
4. Bekstone House in Lincolnshire
With a failed planning application on file for this plot of land in Crowland, Lincolnshire, two would-be self builders sought out Studio 11 Architecture for help in crafting a proposal that would achieve their goals of building on the land.
Based on a classic barn shape once again, the design echoes the local vernacular while also answering the conditions imposed on the site under Paragraph 80.
As the new owners bought without planning permission, some unconventional processes were introduced during consideration of their planning application, including building a wall with their chosen local stone so that planners could approve the mortar choice.
The cladding, both timber and zinc-effect steel, alongside the aluminium windows and MVHR system, were all specified under the planning proposal too.
5. Underhill House in the Cotswolds
Underhill House in the Cotswolds AONB has several claims to fame - not least of all as the first Passivhaus certified in England back in 2010. Seymour Smith Architects gained planning permission for the property under PPS7, which would later become Paragraph 80, and at the time was one of only 20 houses to be built under the Countryside Clause exemption.
The design of the house looked to mitigate its effect on the existing landscape by carefully restoring the 300-year-old barn, while digging the bold, modern extension into the ground.
Hugh is Digital Editor of homebuilding.co.uk and has worked on a range of home, design and property magazines, including Grand Designs, Essential Kitchens, Bathrooms, Bedrooms and Good Homes. Hugh has developed a passion for modern architecture and green homes, and moonlights as an interior designer, having designed and managed projects ranging from single rooms to whole house renovations and large extensions. He's currently renovating a Victorian terrace in Essex, DIYing as much of the work as possible. His current project is a kitchen renovation which involves knocking through walls and landscaping a courtyard garden.
Homebuilding & Renovating Newsletter
Get the latest news, reviews and product advice straight to your inbox.
Thank you for signing up to Homebuilding. You will receive a verification email shortly.
There was a problem. Please refresh the page and try again.