Painting Over Wallpaper: Is it a Good Idea?
By Steve Jenkins published
Painting over wallpaper is a quick solution when stripping it back is not an option. Our expert offers his top tips to get the best results for your walls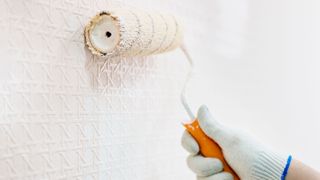 (Image credit: getty images)
Painting over wallpaper is a quick solution for refreshing your walls, especially if you're fed up of looking at dated wallpaper in your home or if you hate the style and colours left behind by the previous occupants. But is it a good idea?
Stripping wallpaper can be a real hassle, but painting a wall over existing wallpaper can come with its own challenges in getting a quality finish to your paint job.
Follow our pro guide on how to get the best finish and determine whether painting over wallpaper is the best choice.
Is Painting Over Wallpaper a Good Idea?
There is no doubt that painting over wallpaper is much easier than removing it. But if you are a perfectionist and want the best possible finish then removing wallpaper and starting from scratch is the best choice.
However, if you have good condition wallpaper in place and just want a change of colour then painting over wallpaper is the obvious choice. You can do this several times before you will finally need to get back to the bare wall and re-paper and paint.
Personally, I would always start again, but it is very much a personal judgement call. If you are happy with the finish after painting then stick with it.
Pros
It's quicker and easier to paint over wallpaper than to remove it.
You won't make as much mess as you would stripping wallpaper
You don't have to worry about the condition of the walls just the wallpaper
Cons
It can be more expensive as you might need to use a primer/undercoat as well as a top coat.
Can be a lot of repair and preparation to get the wallpaper fit for painting.
The finish is unlikely to be as good as a freshly wallpapered and painted wall.
What Kind of Paint is Best for Painting Over Wallpaper?
The first question you need to ask is what type of wallpaper is currently on your walls. Is it lining paper? Is it embossed anaglypta style wallpaper? Is it vinyl wallpaper? Is it flock wallpaper? Does it have a strong contrasting pattern? Has it been painted over previously?
If you have lining paper, or embossed anaglypta style wallpaper that has been painted previously all you need to do is get your new emulsion and paint over the top of the old colour — if there isn't too big a contrast. Don't forget to clean and prep first.
However, if you have a wallpaper with a vinyl finish, has been glossed previously, or has a heavy pattern, simply painting straight over the paper with emulsion won't work. On vinyl you'll get a poor finish that won't last and it will take numerous coats to cover a patterned paper. You'll need a specialist undercoat/primer to make sure you hide any patterns and that the top coat adheres to the wall properly.
The best paint for the job is Zinsser Wallpaper Cover-Up paint from Amazon (opens in new tab). This is an all-in-one primer that covers strong wallpaper prints, blocks any stains that may be lurking and helps prevent blistering.
But the real bonus is that once you have added the primer/undercoat you can paint over with whatever colour emulsion you want. Dulux has its own primer and undercoat for wallpaper that is cheaper than Zinsser, but in our opinion isn't as good.
What Supplies Do I Need for Painting Over Wallpaper?
Paint
Brush
Roller
Roller extension pole
Step ladder
Paint tray
Paint kettle
Dust sheets
Decorators caulk
Sugar soap
How to Paint over Wallpaper
Painting over wallpaper requires a couple of extra steps when it comes to how to paint a room, however, other elements, such as painting a ceiling and painting skirting boards, can be done in just the same way.
1. Prepare the Wallpaper
Before you paint the wallpaper needs to be repaired and cleaned. If you have any loose wallpaper that has come away from the wall use a specialist adhesive like Solvite Wallpaper Repair Adhesive from Amazon (opens in new tab) to stick down.
When dry, wash down the wallpaper with sugar soap so you have a clean, grease-free surface to paint on. Finally, if needed, you can add decorators caulk around all edges to help stop any wallpaper peeling.
2. Apply primer/undercoat
Once the wallpaper is clean, dry and fully prepped it's time to add the primer/undercoat. Use a two-inch brush to cut in at the ceiling, skirting boards and corners to create a narrow - approximately two inch - border. Then get a paint tray and apply the primer /undercoat with a short pile roller. Go back over with the roller using a light touch to ensure a smooth surface and leave to dry
3. Add the Top Coat
Finally, add your top coat. Follow the same instructions as in the previous step to apply a top coat. Typically, you will need two coats to fully cover the wallpaper and get a decent finish. Remember to let the first coat dry as instructed before adding the final coat.
What are the Alternatives to Painting Over Wallpaper?
If you've decided that painting over your wallpaper isn't an option, then you will need to strip off the wallpaper that's already there. This can be a relatively straightforward job or a really tricky time consuming job and you won't really know until you get started.
If you really don't like the wallpaper and want something different on your wall you can put up internal timber cladding or try a wall panelling idea — both ideal solutions for covering unwanted wallpaper.
Steve is an avid DIYer with over 20 years of experience in transforming and renovating homes. He specialises in painting and decorating, but has strong all-round building skills, having previously worked in the industry for 10 years.
Homebuilding & Renovating Newsletter
Get the latest news, reviews and product advice straight to your inbox.
Thank you for signing up to Homebuilding. You will receive a verification email shortly.
There was a problem. Please refresh the page and try again.