Best Bathroom Sealant: Top Buys to Keep Your Bathroom Looking Fresh
The best bathroom sealants will offer long-lasting protection against mould growth and water damage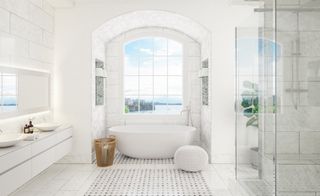 (Image credit: Getty Images)
Buying the best bathroom sealant is an important step to help you apply the finishing touches to your bathroom and to keep it looking its best. 
As bath and shower rooms are subject to wet and humid conditions, you need to apply a suitable sealant around your sanitaryware, including sinks, baths and shower trays in order to prevent water damage and the growth of mould.
It is best to use silicone sealant in your bathroom. While caulk is a popular method of sealing for walls it is not the best option for bathrooms as it is not completely waterproof. 
These are the best bathroom sealants for the job.
Which is the Best Bathroom Sealant?
1. UniBond Anti-Mould Sealant
Easy to use with long-lasting protection
Size: 300ml | Colours: White or Ivory | Waterproof: Yes
Anti-mould
Easy to use
Resealable 
Nozzle could be sturdier
UniBond's silicone sealant has been developed with an anti-mould formula that is designed for use in warm in humid environments. This UniBond sealant forms a permanently flexible (which reduces the chances of the seal breaking) and waterproof seal that is touch dry in just 20 minutes. 
The attached sealant gun makes it easy to use, and an integrated resealable cap makes it an ideal for doing little bits at a time without worrying about the product drying out. It provides a long-lasting finish and is available in two different colour options.
Buy the UniBond Anti-Mould Sealant
2. Everflex 500 Bath & Sanitary Silicone
This sealant offers long-lasting protection against mould growth
Sizes: 295ml, 310ml | Colours:: White, Ivory, Translucent, Sandstone | Waterproof: Yes
Doesn't discolour over time
Long-lasting protection
Can be tricky to squeeze the sealant out
The Everflex 500 sealant from Everbuild is another anti-mould sealant that is supremely efficient across all areas of bathroom sealing. 
This is a permanently flexible sealant that incorporates a powerful fungicide into the formula, providing long-lasting protection against mould growth.
It also dries quickly: wait around an hour for it to be tack free, and roughly 24 hours for it to be completely dry.
Even better, this sealant will not discolour on ageing, even in humid or damp conditions.
Buy the Everflex 500 Bath & Sanitary Silicone
3. Gorilla Glue Mould Resistant Sealant
An under-rated product that dries extremely quickly
Size: 80ml | Colours: Clear | Waterproof: Yes
Comes with reusable nozzle
Fast drying formula
Great for touch-ups
You will need multiple packs to seal a whole bathroom suite
Once applied, the versatile Gorilla Glue Mould Resistant Sealant is water-ready within 30 minutes. 
Mould resistant, this sealant can be used on all surfaces, and comes with a lifetime guarantee that it will not lead to cracks or shrinks. 
The cherry on top is that it comes with a reusable nozzle making it very easy to apply.
Buy the Gorilla Glue Mould Resistant Sealant
4. Forever Clear Anti-Mould Bathroom Sealant
The high-quality drying formula delivers touch-dry sealant within 15 minutes
Sizes: 80mm squeeze tube, or 295ml tube | Colours: White, Ivory, Grey or Clear | Waterproof: Yes
Touch dry in 15 mins
Not the easiest to use
The Forever Clear's patented Mould Shield is the main draw of this silicone sealant, which actively prevents the growth of mildew, mould and bacteria. It can be touch dry within 15 minutes of application thanks to its high-quality drying formula. It also includes an anti-bacterial additive which helps to combat against new germs. 
This may not be among the most well-known sealants, but it is effective in high humidity areas and more than justifies its place in this list. 
Buy the Forever Clear Anti-Mould Bathroom Sealant
5. Dowsil 785 Sanitary Sealant
This will keep your bathroom looking and smelling fresh
Size: 310ml | Colour: White | Waterproof: Yes
Quick drying
Resists mould
Available in just one colour
Dowsil, formerly known as Dow Corning, is another leading name when it comes to sealants, and the 785 Sanitary Sealant is its best product.
This white silicone sealant possesses a fungicide formula that resists mould to keep your bathroom looking and smelling fresh, and it is an extremely quick-drying product: it should be tack free in under one hour. 
Buy the Dowsil 785 Sanitary Sealant 
How to Choose Your Bathroom Sealant
Without a bathroom sealant, you risk exposing areas of your bathroom to moisture, which can lead to the growth of mould and water damage. 
These are some of the key qualities to bear in mind when buying a bathroom sealant: 
Anti-Mould
Your bathroom sealant needs to protect against mould. If it isn't, you may end up regularly replacing your sealant and beginning the whole process again. 
Drying Time
The majority of reputable bathroom sealants will completely dry within a hour.
Homebuilding & Renovating Newsletter
Get the latest news, expert advice and product inspiration straight to your inbox.
Thank you for signing up to Homebuilding. You will receive a verification email shortly.
There was a problem. Please refresh the page and try again.