The 6 best bathroom sealants to keep your bathroom fresh and clean
We roundup the best bathroom sealants to prevent against mould growth and keep your bathroom looking its best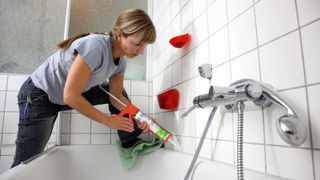 (Image credit: Getty Images)
Best bathroom sealants: Quick menu
1. The list in brief ↴
2. Best overall: UniBond Anti-Mould Sealant
3. Versatile All-rounder: Everbuild Everflex 500
4. Fasted working: Gorilla Mould Resistant Seal
5. Trademan's Choice: Dowsil 785 Sanitary Sealant
6. Best For Mould: Everbuild Anti-Mould Sealant
7. Best For Small Bathrooms: 151 Silicone Sealant
8. How to choose
9. How we test
To get the most out of your bathroom design, it's crucial to invest in a quality sealant to ensure that your space remains fresh, dry, and clean.
Given the wet and humid conditions prevalent in bath and shower rooms, the application of a suitable bathroom sealant – particularly around sinks, baths, and shower trays – is essential. Silicone sealants are the preferred choice for bathrooms, as traditional caulk, while popular, isn't entirely waterproof. But where do you start when it comes to selecting the right one?
Below, we've curated the best bathroom sealants available for the task at hand, to take the guesswork out of buying.
Black Friday Bathroom Sealant Deals
You can trust Homebuilding & Renovating. Our expert reviewers spend hours testing and comparing products and materials in order to help you choose the best for your home and garden. Find out more about how we test.
Black Friday takes place on Friday 24th November this year and it's the perfect time to purchase your bathroom sealant at a discounted price. Over the past few years, we've brought you brilliant deals from top brands like Unibond and Everbuild, and this year is no exception. New discounts are announced every day, so keep an eye on our buyer's guide for the best Black Friday bathroom sealant deals.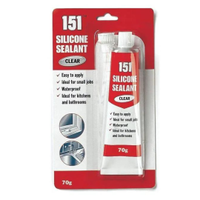 Black Friday Deal: 151 Silicone Sealant
RRP: £6.30 | Now £4.30 From Amazon
This affordable bathroom sealant is ideal for minor bathroom repairs like tiles and is currently on sale for only £4.30. You can also stock up by bulk buying 6 x 70g tubes for only £14 from Amazon.
The Quick List
Short on time? Here's a quick overview of the best bathroom sealants on our list. Use the quick links to skip down the page and find more details about the sealant you're most interested in:
The best overall bathroom sealant
1. UniBond Anti-Mould Sealant
The best bathroom sealant overall
Reasons to buy
+
Anti-mould
+
Resealable
+
Long-lasting protection
+
Quick dry
Reasons to avoid
-
Nozzle could be sturdier
UniBond's Anti-Mould sealant is a top pick for any household, especially if your primary focus is ensuring long-lasting protection.
Its high adhesion formula helps to create a durable result that will stay consistent, and once applied, it forms a permanently flexible and waterproof seal, which reduces the chances of the seal breaking.
UniBond's anti-mould formula is perfect for use in areas that have high humidity levels, as it quickly seals around baths, toilets and kitchen sinks. Remarkably, it is touch dry in just 20 minutes.
The attached sealant gun makes it easy to use, and an integrated resealable cap is handy so you can do little bits at a time without worrying about the product drying out.
A versatile all-rounder
2. Everbuild Everflex 500 Bath & Sanitary Silicone
A versatile all-rounder
Specifications
Colours:
White, Ivory, Translucent, Sandstone, Manhattan Grey
Reasons to buy
+
Anti-mould
+
Long-lasting protection
+
Available in 5 colours
Reasons to avoid
-
Can be tricky to squeeze the sealant out
A close second-place, Everbuild's Everflex 500 anti-mould sealant is a great model, and efficient across several fronts.
Long-lasting protection? Check. It incorporates a powerful fungicide into the formula, providing long-lasting protection against mould growth.
Dries quickly? Check. A skin will form within 10 minutes after application, then you'll need to wait around an hour for it to be tack free, and roughly 24 hours for it to be completely dry.
Moreover, it is hygiene and sanitary safe – perfect for busy family bathrooms – and is specifically designed to seal and protect areas where maximum hygiene protection is required. It's also available in five different colours.
Fastest working bathroom sealant
3. Gorilla Glue Mould Resistant Sealant
Water-ready within 30 minutes
Reasons to buy
+
Comes with reusable nozzle
+
Fast drying formula
+
Great for touch-ups
Reasons to avoid
-
You will need multiple packs to seal a whole bathroom suite
One of the best bathroom sealants for quick drying – once applied, the versatile Gorilla Glue Mould Resistant Sealant is water-ready within 30 minutes, the fastest water-ready dry time on this list.
It's mould resistant too, can be used on all surfaces, and comes with a lifetime guarantee that it will not lead to cracks or shrinks.
What's more, it comes with a reusable nozzle making it very easy to apply. Although it only comes in 80ml bottles, so you'll need to buy in bulk for larger sealant jobs.
Trademan's Choice
4. Dowsil 785 Sanitary Sealant
The plumbers' favourite still going strong
Reasons to avoid
-
Available in just one colour
This product from Dowsil, formerly known as Dow Corning, has been around for many years, and it remains of the most popular sealants on the market.
The 785 Sanitary Sealant is a leading product which is particularly popular among plumbers. It utilises a fungicide formula that resists mould to keep your bathroom looking and smelling fresh, and it protects against bacteria growth, MRSA, E. Coli and salmonella.
It dries quickly too – it should be tack free in under one hour.
The best sealant for combating mould
5. Everbuild Forever Clear Anti-Mould Bathroom Sealant
The best sealant to protect against mould
Specifications
Sizes:
80mm squeeze tube, or 295ml tube
Colours:
White, Ivory, Grey or Clear
Reasons to buy
+
Touch dry in 15 mins
+
Anti-mould
The Forever Clear's patented Mould Shield is this sealant's main highlight, which actively prevents the growth of bacteria, mould and mildew.
It can be touch dry within 15 minutes of application thanks to its high-quality drying formula, plus it includes an anti-bacterial additive which helps to combat against new germs. It's also effective in high humidity areas.
The best sealant for small bathrooms
6. 151 Silicone Sealant
The best bathroom sealant for small jobs
Reasons to buy
+
Easy to apply
+
No gun needed
Reasons to avoid
-
Not as long-lasting as others on this list
The 151 Silicone Sealant is a good option if you only need a small amount of sealant for small bathroom jobs, such as repairing tiles. Of course, if you need a little more, it's also available in a pack of six.
It's not as long-lasting as others on this list. But It's affordable, easy to apply, and includes a screw-on applicator nozzle so you don't need a gun for application. It's also available in two different colour options to suit a variety of bathroom deigns.
How to choose the best bathroom sealant
If you don't use a quality bathroom sealant you could be inviting moisture problems that will result in bathroom mould and water damage. When investing in a sealant, consider these essential characteristics:

Anti-mould properties
A moist bathroom environment can be a breeding ground for mould and mildew. To avoid spending hours removing mould from grout, select a sealant that has anti-mould properties to ensure longevity and maintain a healthy space. A good anti-mould sealant not only prevents unsightly black spots but also reduces the risk of health issues associated with mould spores.

Drying time
A sealant with a drying time of under an hour is ideal, ensuring a robust, waterproof barrier in a short timeframe. However, it's crucial to differentiate between 'touch dry' and 'fully cured'. While some sealants may feel dry to touch within minutes, they might take longer to fully set and achieve maximum strength. Always check the manufacturer's instructions for the best results.
How we test bathroom sealants
There's a lot to consider when selecting the best sealants for your bathroom. Thankfully, the Homebuilding & Renovating team is getting hands-on experience with the products in this buying guide to help you feel confident in choosing the right product for you.
In our ongoing independent reviews we are testing the ease of use and drying time to gauge each product's efficacy, and assessing key factors including whether it's waterproof and the range of colours it comes in.
Our team is passionate about DIY and home improvement (which probably won't be a surprise) so we already have detailed knowledge about the brands that make these products.