Best Paint Sprayers: Get a Professional Finish Fast
Get your hands on the best paint sprayer for your next paint project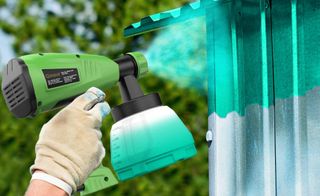 (Image credit: Amazon)
How does a quick smooth professional finish sound for your next DIY paint project? Good? With the help of the best paint sprayer, you can make it happen. 
While rollers and paint brushes have long been the standard, and do a good job, a paint sprayer will do it faster, and help you achieve a finish you will struggle to get with either tool. You can use your usual emulsions, gloss and varnishes, and you won't see any stray hairs spoiling your wall, fences, or furniture. 
The swap may seem challenging but competent DIYers will be able to quickly pick up the techniques and tips needed to get a great finish whether you are working indoors or outdoors. 
Ready to try something different for your next paint project? Check the best paint sprayers available now.
(MORE: How to paint a room like a professional)
Quick Links to Best Paint Sprayer
Which is the Best Paint Sprayer?
1. Bosch PFS 3000-2 All Paint Spray System
Versatile all-round paint sprayer, perfect for most paint jobs
Motor: 650W | Capacity: 1000ml | Weight: 4.38kg | Type:: Airless
Suitable for paints, and lacquers
Easy to refill and clean
Colour-coded interchangeable nozzles
Shoulder strap to carry motor
Weighty motor
Versatile, easy to use, and ideal for almost all paint projects, this paint sprayer from big brand Bosch is a major all-rounder. 
A set of colour-coded interchangeable nozzles allow you to switch from wall paint to thicker lacquers, and it glazes quickly and easily. The large 1000ml capacity paint container means that you can save time on refills, and when you have to the Bosch SDS system makes it fast and simple. 
The 650W motor pumps through paint fast enough for you to cover around two square metres a minute, but can leave a lot of spray in the air, especially indoors. You will need to take the motor with you wherever you are spraying. 
It's no lightweight at over 4kg, but a shoulder strap is included to make it easy to keep on the move. 
Buy the Bosch PFS 3000-2 All Paint Spray System now.
---
2. Wagner W100 Paint Sprayer
A budget paint spray solution for small projects
Motor: 280W | Capacity: 800ml | Weight: n/a | Type: HVLP
Inexpensive
Good for fences and furniture
Ideal for first-timers
Average capacity
No good for gloss paint
Have you got a small project you want to spray paint but don't want to break the bank? Then this budget paint sprayer could be just what you are looking for. 
It's well-suited for windows, fences and furniture, and it can cope with low-viscosity (thin) water-based and solvent-based finishes, such as wood stains, varnishes, and oils. It isn't suitable for paints such as gloss, however.
With an 800ml paint tank, 280W motor and 3-way adjustable paint jet you can achieve a fast smooth finish in whatever direction you are working in, but you will need regular refills. 
There is the added bonus of an air jacket that encloses the spray jet so the paint doesn't spread too far and means there is minimal masking work needed. 
Buy the Wagner 100 Paint Sprayer now.
---
3. KATSU Cordless Paint Sprayer Gun
No wires, no plugs, take this paint sprayer anywhere
Motor: Battery-powered | Capacity: 800ml | Weight: 1.1kg | Type: HVLP
No wires
Around 4 litres of spray for one charge
Ideal for fences and furniture
Not suitable for gloss
Want to paint your fence or furniture but don't have an electrical outlet nearby to power up your paint sprayer? Powered by a Lithium-ion battery you can take this paint sprayer anywhere, just remember to fully charge it before you start painting. 
With a paint cup capacity of 800ml, you can get an average of five cups of paint spraying before you need to recharge the battery. That's around four litres of wood stain, varnish, or emulsion, more than enough to get a few fence panels or walls painted in one go. 
The KATSU sprayer comes with two nozzles for different finishes, adjustable air and paint flow, and variable paint width to help make sure that you get the finish that you want.
Buy the KATSU Cordless Paint Sprayer Gun now.
---
4. Ginour Fence Paint Sprayer
Big capacity and all-purpose paint options
Motor: 400W | Capacity: 1300ml | Weight: 1.72kg | Type: HVLP
Large capacity
Four nozzles for all types of finishes
Inexpensive
Not the lightest
No one wants to be refilling a paint container every five minutes whilst in the middle of a paint project, so the bigger the capacity the better and this is where this paint sprayer from Ginour excels. 
It can hold up to 1.3 litres - over half a tin of standard paint - and comes with a viscosity measuring cup if you need to dilute any of your chosen finishes. 
But it is not just its capacity that makes this paint prayer desirable. It comes with four different nozzles ranging from 1.0mm to 3.0mm, making it ideal for thin finishes such as varnish and wood stain as well as emulsion and oil-based paints such as gloss and chalk type paints. 
Plus, you can adjust the flow giving you better control over the finish and it even has a handy little brush to help keep the nozzles clean. 
Buy the Ginour Fence Paint Sprayer now.
---
5. Wagner Airless ControlPro 250M Paint Sprayer
A pro paint sprayer for quick coverage
Motor: n/a | Capacity: n/a | Weight: 7.6kg | Type: Airless
For all paints
Rapid coverage
Professional finish
No need for refills
Expensive
If you fancy going all out on your latest DIY paint project then this powerful airless paint sprayer could just be what you are looking for. 
It's great for painting walls and ceilings quickly - it has the potential to cover 15 square metres in less than five minutes. Just think, you could have your whole house done in a day. But be warned, it isn't cheap. 
The Wagner is a compact stand-mounted unit that weighs in at a hefty 7.6kg. But it's not meant to be a mobile unit, it stays stationary and pulls paint directly from the can - so there's no annoying refills. When you do need to move it a useful integrated carrying handle makes it easy to move to a new location. 
A 9-metre hose means you can reach around standard sized rooms with no trouble at all. It's compatible with water and solvent-based finishes such as emulsions, gloss, varnishes, acrylic paints, wood stains and primers, and the lightweight spray head and reduced spraying pressure gives greater control when finishing on metal, wood, brick and plaster.  
Buy the Wagner Airless ControlPro 250M Paint Sprayer now.
---
6. Cuprinol Spray and Brush Pump
Low-cost option for painting fences and sheds
Motor: n/a | Capacity: 4000ml | Weight: 1.7kg | Type: Hand pump
Inexpensive 
Easy to use
Portable
Only good for fences and sheds
Hand pump
This Cuprinol paint sprayer is well worth a look if you are looking to cover your fence panels and shed without paying much more than you would for a set of decent brushes.
A 2-in-1 tool, it combines a sprayer for speed and ease with a brush to give control over the finish. Compatible with Cuprinol One Coat Sprayable fluid and Garden Shades, the unit is hand powered and needs a little effort to get the pressure up. If the spray splutters you need to keep pumping. 
But when ready you can paint a fence panel in less than five minutes and thanks to its 4L capacity you won't be refilling too often. 
Buy the Cuprinol Spray and Brush Pump now. 
---
What to Know When Choosing the Best Paint Sprayer
Picking the best paint sprayer for your latest paint project depends very much on the task at hand. Are you painting walls and ceilings? Are you looking to spruce up your kitchen cabinets? Or giving your garden fence a fresh coat of paint? Consider these factors when choosing your machine.
Type
There are three main types of paint sprayers: airless, HVLP (High Volume Low Pressure), and compressed. 
For most DIY jobs, airless and HVLP are the best choices. The low pressure on HVLP is good for indoor jobs as they produce less mess and they don't waste as much paint. They're also great for those new to paint spraying. 
Airless sprayers are better for larger areas such as walls, but the higher pressure can create more mess and you will need a little more skill to get a good finish.
How to spray right
One question all DIYers will be asking about paint sprayers is 'Are they better than rollers and brushes?' The answer is both 'yes' and 'no'. A paint sprayer will help create a smoother more professional-looking finish and is quicker to apply. But there is an art to paint spraying, so you might need a few practice runs before you start. 
You will definitely need more prep time, especially if painting indoors. Windows, doors, and furniture will need to be covered as the spray can travel in the air. If you are using water-based paint, warm water does the job. 
Remove nozzles, hoses, and paint containers and rinse until the water is clear. For nozzles use a pipe cleaner or stiff brush to make sure it's clean. The same principle applies to oil-based paints, but you will need a solvent/brush cleaner and plenty of it to clean your equipment. Then you will need to rinse. with warm water. This can be messy and time-consuming, but it needs to be done properly.
Is it worth investing in a paint sprayer? 
Yes, if you want the finish it offers, but you will need to make sure you look after your equipment. 
Steve is an avid DIYer with over 20 years of experience in transforming and renovating homes. He specialises in painting and decorating, but has strong all-round building skills, having previously worked in the industry for 10 years.
Homebuilding & Renovating Newsletter
Get the latest news, reviews and product advice straight to your inbox.
Thank you for signing up to Homebuilding. You will receive a verification email shortly.
There was a problem. Please refresh the page and try again.