How to Cool Down a Room: Fast Ways to Beat the Summer Heat
By Natasha Brinsmead published
With a heatwave forecast, knowing how to cool down a room can be something of a saviour — our tips will have you feeling cool as a cucumber in no time at all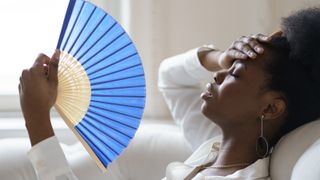 (Image credit: Getty)
As temperatures begin to soar this summer, knowing how to cool down a room quickly will ensure you can enjoy these sunny days to the full. Although we all long to see the sun on gloomy days, how long does it take until the groans and grumbles about the heat start? The key to keeping these complaints at bay lies in knowing how to keep a house cool in summer.
Whether you are after ways to keep your bedroom cool at night or need advice on cooling down a living room or kitchen while cooking a meal or working from home, our round up of expert tips is just the thing you need. We have clever methods to cool down a room fast, as well as ways to stop it from getting too hot in the first place.
1. Keep the Sun Out
When it comes to how to prevent overheating in homes, one of the best things you can do in the summer is simply to close windows and blinds. The last thing you want on a swelteringly hot day is the sun beating in through your windows — this will make the problem of a hot room far worse.
If you can't bear padding around a gloomy house, concentrate on closing the blinds or curtains in just the rooms that are receiving the most sunlight — for example if your living room gets the full midday sun, draw the curtains until the sun moves around, then open them up again.
If you want to get the very most out of this method you should seriously consider investing in thermal blinds and curtains, or blackout versions.
2. Invest in a Portable Air Conditioning Unit
There is no need to have had air conditioning installed when your house was built in order to benefit from air conditioning.
For a really effective way to cool down a room, invest in a portable air conditioning unit. Yes, they are far more expensive than simple electric fans, but there is a good reason for this. Rather than just wafting warm air around, air conditioning units actively lower the temperature in a room by drawing warm air in, passing it through a compressor then expelling the cooled air.
Look at the BTU rating of units — the higher the BTU (British Thermal Units) the larger the space they can cool. You can then identify whether the unit you are interested in is the right size for your room before purchasing as, with good quality models starting from between £200-£500, buying the wrong one will be an expensive mistake. The best portable air conditioners are an investment.
One final thing — a bit like tumble dryers, portable air conditioners must be vented to outdoors. This is usually through a window or wall.
3. Know How to Create Cross Breeze

This is a great, free tip that anyone can do — create a cross breeze in the room you are trying to cool. This form of home ventilation will help to expel the warm air and is particularly effective later in the day as the outside air temperature drops.
So, just how do you create a cross breeze? Simply open the windows on one side of the room in question, then open those on the other side in order to create an air current that swishes across the room, taking muggy warm air with it and expelling it though the opposing window.
If you only have windows on one side of the room, simply open the door or doors on the opposite wall instead and open the window in the next room along.
If you are lucky enough to have a house with sash windows you should open both the top and lower sections — they will draw cooler air in at the bottom and let warm air out via the top.
4. Get Your Hands on an Electric Fan
Although fans don't actually cool the air in a room, they do offer a welcoming breeze and can help to keep your body temperature down.
You might think that all that is involved with using a fan is to plug it in then direct it at your face — wrong.
In order to get the most out of your new fan (they love to guzzle energy after all), be sure to point your fan so that it wafts air in an upwards direction. The reasoning behind this is that cooler air settles at floor level, while warm air rises — by directing the fan upwards you will bring that air up into the room.
5. …and Then Ensure You Get the Most From It
"A fan can be your best friend throughout any heatwave, sadly most people make the mistake of only trying to get their hands on one when the heat cranks up, in which case most shops are already sold out," say the experts at Pizuna Linens (opens in new tab). "Whether it's a stand-up or ceiling fan, using these can always make for more comfortable conditions for sleeping.
"Many people also try to find ways to enhance the cold air by freezing a bottle of water and attaching it to the back of the fan. Whatever you're using, turn it on an hour or two in the bedroom before going to bed to help circulate the fresh air, and make sure to keep your bedroom door open for airflow."
6. Turn Off Your Appliances
All kinds of electrical appliances, when switched on, give off a little heat. From the more obvious (ovens and hobs!) to the sneaky culprits, such as televisions on standby and phone chargers, all generate warmth so if you want to cool a room down, turn them off. You will save a few pennies in the process too.
7. Switch Off Your Lights
Talking about turning things off and saving energy, don't forget about your lights. A particular source of heat that we often forget about is table lamps. So, if you want a good night's sleep, take advantage of the lighter evenings and use a natural source of light to read to avoid the heat given off by that bedside lamp.
On the subject of lighting, changing the type of lightbulb you are using can also cool a room down.
"Conventional incandescent light bulbs generate light quite inefficiently, giving up to 90 percent of their energy as waste heat in the process," explains Matthew Currington, Technical Director of The Lighting Superstore. "LED bulbs give off less heat as well as saving you money."
8. Shade Your Windows With Awnings
While not as instant a solution as some of the other tips here, investing in an awning or some other form of external window shading is still a great idea.
In fact retractable awnings are one of our favourite patio cover ideas — they are a really effective way of shading the windows or patio doors to a room from the glare of the sun.
What's more, unlike more permanent methods of solar control, such as brise soleil, awnings can be folded away when not needed. Forget about the old-fashioned designs that you might be thinking of — there are some really stylish modern alternatives out there these days which will really add to your patio design scheme.
9. Install a Ceiling Fan
Time to push aside all memories of wobbly old 1970s ceiling fans and embrace the super stylish models now on offer — which also happen to be great at making a hot room feel more bearable.
Our top tip is to set your ceiling fan to run in reverse, so counterclockwise, for maximum results. By doing this, you will find the flow of air is directed downwards as opposed to outwards, giving a more concentrated breeze.
Do remember to turn your fan off when there is no-one in the room as fans don't cool the air anyway, only the people in it.
And finally….
If, going forward, you want to explore ways to stop a room from getting hot in the first place, some of the best ways to do this are to:
Design in overhangs such as a brise soleil or balcony which will shade the ground floor rooms of your house from the high summer sun.
Install energy-efficient windows with low g-values — or even solar control glass.
Plant trees that will shade large windows and patio doors from the midday sun.
Increase you loft and roof insulation.
Stick solar control window film to windows and patio doors.
Natasha is Homebuilding & Renovating's Associate Editor and has been a member of the team for over two decades. An experienced journalist and renovation expert, she has written for a number of homes titles. She has renovated a terrace and is at the end of the DIY renovation and extension of her Edwardian cottage. She is now looking for her next project.
Homebuilding & Renovating Newsletter
Get the latest news, reviews and product advice straight to your inbox.
Thank you for signing up to Homebuilding. You will receive a verification email shortly.
There was a problem. Please refresh the page and try again.