A Typical Self Build Schedule
By Jason Orme published
When you take on a self build project, organisation is key. Ensuring you know the scale and length of works so that you can plan accordingly is essential. Here we explain what to expect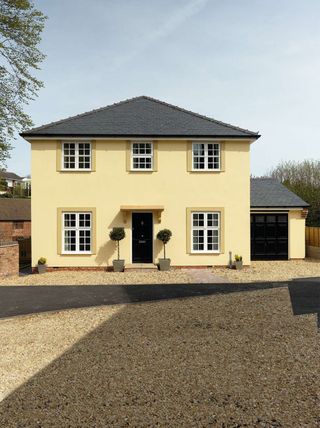 (Image credit: Jeremy Phillips)
Taking on a self build project can be a daunting prospect, especially if you are building your own home for the first time. There is a lot to be done before you even break ground on site, from finding the plot, arranging your finance and securing planning permission.
To help, we've created a typical self build schedule.
Before you Start On Site:
Arrange a mortgage in principle
Assess development potential
Plan budget
Arrange valuation of the plot
Arrange a site survey
Purchase site
Arrange site insurance
Choose designer and builders
Create your design
Apply for water and electricity
Prepare detailed drawings
Obtain Building Regulations approval
Put contract out to tender
Select builder/tradesmen
Arrange warranty and insurances
Starting the Build – Month One
1. Clear and Peg Site
Create access then get surveys to work out levels. Clear site and peg out site as per drawings. Set up site facilities including site hut, toilet and secure lock-up.
2. Foundations
Dig trenches and begin to build up the blockwork footings. Obtain necessary approval from building control and warranty inspectors.
3. Floor Structure
Finish footings and install ground floor slab, or beam and block.
The Build – Month Two
4. Superstructure
Blocks or frame used to build external walls to first floor height.
The Build – Month Three
5. Second Lift
First floor structure installed, external walls continue to roof.
Walls finished, roof structure installed and covered with slate or tiles. Warranty inspection sometimes required.
The Build – Month Four
7. Weathertight
Windows, doors and soffits fitted to make house weathertight. Rainwater goods and external decoration finished.
The Build – Month Five
8. First Fix
Electrical and plumbing runs put in place, then internal walls and stud walls built.
The Build – Months Six to Eight
9. Plastering
Usually a skim coat on top of plasterboard after completion of first fix.
10. Second Fix
Connecting up the electrics (to include sockets) and heating systems. All sanitaryware to be fitted and plumbed in.
The Build – Months Nine to Ten
11. Fixtures
Flooring down, joinery completed and kitchens and bathrooms installed. Decoration and tiling.
12. Snagging
Arrange for final inspection and prepare to move in. Builders back to deal with any issues, final exterior finishes and landscaping.
The former Editor of Homebuilding & Renovating magazine, Jason is an experienced self builder and has just finished renovating a 1960s home. He is also the author of The Self Build Dream. You can catch Jason in the seminar theatres and Advice Centre at many of the Homebuilding & Renovating Shows across the UK.
Homebuilding & Renovating Newsletter
Get the latest news, reviews and product advice straight to your inbox.
Thank you for signing up to Homebuilding. You will receive a verification email shortly.
There was a problem. Please refresh the page and try again.