Find a Plumber: How to Find the Right Tradesperson for Your Project
By David Snell published
Plumbers are one of the most vital trades in any build — and needed almost from day one. David Snell explains how to find the best plumber for your project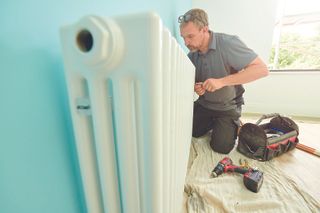 (Image credit: Getty Images)
Plumbers and heating engineers are like electricians in that they normally work on a supply and fix basis, in contrast to many other trades, which are largely labour only.
This means that plumbers have a more vested interest in their job as they are having to spend their own money.
In the world of self build, the idea of a complete supply and fix contract has receded a little; there are now many different options for private individuals to purchase their own equipment.
It is not unusual, for instance, to find that a contract may be on a supply and fix basis with the exception of certain specified items to be provided by the client.
A self-builder could, for example, be called upon to provide a boiler and underfloor heating system, while the plumber takes responsibility for the more mundane items such as pipework and fittings.
(MORE DIY: What to leave to the professionals)
Strict Regulations for Plumbers
Plumbers are governed by strict regulations. Anybody carrying out work of this nature must have achieved the necessary qualifications and have registered with the appropriate governing bodies.
These requirements are as follows:
A plumber must have a recognised qualification at NVQ to Level 2 or 3
A plumber or heating engineer carrying out work involving a gas-fired system must be registered with Gas Safe and will issue a certificate upon completion of the job. The certificate will be needed in order to obtain a Building Regulations completion certificate or to access final funding from a lender
To work on oil-fired systems will require that the plumber is registered with OFTEC, and they will issue a similar certificate upon completion of the job. This will also be required by building control and any lenders in order for them to complete their processes.
When Do I Need a Plumber?
A plumber is often one of the first tradespeople that you need on a new self build. This is because, before any water company will agree to provide water (essential for the building of a new home), a standpipe to quite specific design, with insulation, cut-off and non-return/anti-symphonic valves, must be in place from the very outset.
It's not necessary for the plumber who carries out this early work to be the same one who undertakes the rest of the project. However, this early stage does give you a good guide as to their efficacy and reliability of the plumber you use.
After the standpipe is in you won't need a plumber again until the roof goes on and the premises are 'in the dry'. But with a trade of this complexity and with the wide range of choices that are now available, you'll need plenty of time to organise things and to get prices.
Where Do I Find a Plumber?
Trade websites like Gas Safe and OFTEC will help you identify qualified plumbers who are available in your area. There are also several websites that offer lists of recommended or rated plumbers and other trades.
Ask other trades which plumbers they would recommend, as plumbers have to collaborate with so many other professions. They have to work with groundworkers in order to establish soil and vent pipes (SVPs).
They have to work with roofers in order to bring those SVPs through the roof. They are often responsible for leadwork on roofs and chimneys. They have to liaise with carpenters, bricklayers and most of all with electricians, with whom they will work closely to wire up, fire up and test any heat-producing source.
No tradesperson wants to work with an awkward, unreliable or sloppy plumber, so they are best placed to be able to point you in the right direction.
Never employ anybody unless you have spoken to their previous clients and looked at their previous work.
How to Choose a Plumber
Keeping up with the latest developments is essential in the plumbing trade.
The pace of change is so fast that you're quite likely to find yourself talking to a reasonable plumber who freely admits that what you're asking for is new to them.
So you have to make a judgement. Will this person be able to adapt to the new technologies you want them to use? Are they willing or even keen to do so? If so, they deserve a fair chance.
It's quite likely, in any case, that if the technology you've chosen is so new, there will be very few people out there with a track record of using it. You're the instigator and, as such, you'll have to see through your plans with the tradesperson as a willing partner.
What Does a Plumber Do on Site?
Typical plumbing tasks on site include:
Install water standpipe for building supply
Lay first fix carcassing pipework
Run any gas pipework
Make up lead flashings, soakers and vent pipe skirts as appropriate
Fix vent pipes to drainage upstands and take to stub stacks through roof
Fix skirts to vent pipes with roofer
Fix guttering and downpipes
Position hot water cylinder
Lay UFH loops to manifold position
Connect UFH loops to manifold and put on test, once screed is laid
Fit the boiler and connect to system
Attend to chimney flues and liners
Connect boiler to LPG, oil or mains gas supply
Fit sanitaryware and connect to domestic plumbing and wastes
Mastic seal around baths and washbasins
Plumb in washing machines, water softeners etc., as appropriate
Lag all exposed or vulnerable pipework
Fire up boiler and test system
Balance and commission system
Switch UFH from 'test' to 'run'
The trade of plumber (hot and cold domestic water and waste) and heating engineer (space heating) are normally rolled into one in the self build world.
If you don't have all details sorted, it is possible to obtain a very simple quote with reference to the 'internal services' guidelines set out in the NHBC Standards 2019 – which provide certain, quite minimal, heat requirements for individual rooms – coupled with the sanitaryware requirements, which will, almost certainly, be marked on your plans.
This may be a useful way of narrowing down the list of plumbers you have approached. You may decide to talk to the one who gives you the best price, so long as they fit in with all of the other criteria and recommendations.
From there, you'll need to flesh out the detail.
At an early stage you're going to have to decide which firing system you're going to have. You'll need to decide on the construction system, as this will have a profound effect on your space heating requirements.
You're also going to have to decide whether you'll be choosing radiators or opting for underfloor central heating. It's a lot to think about, but until you have made your final choices, you won't be able to obtain a lump sum price.
How Much Does a Plumber Cost?
A plumber working on a self build will usually work alone and will expect to earn between £200 and £250 per day. If they do need help then they may have a plumber's mate/trainee who they will probably have to pay between £90 and £110 per day.
That said, a plumber shouldn't, ideally, be hired on a day rate. Instead, as with other trades, the mark of a professional is their ability to work out how long the job is going to take them and to amortise that into a lump sum price or fixed quotation.
The last thing to be aware of is that this is a trade that you'll want to keep contact with even once the job is complete, as the chances are that you'll need a plumber for ongoing maintenance and repairs. So bear that in mind when you make your choice.
(MORE: Typical self build schedule)
The author of Building Your Own Home, David is a serial self builder and has been building homes for 50 years. He has just finished his fourteenth self build project.
Homebuilding & Renovating Newsletter
Get the latest news, reviews and product advice straight to your inbox.
Thank you for signing up to Homebuilding. You will receive a verification email shortly.
There was a problem. Please refresh the page and try again.