Roofers: How to Find the Right One for Your Project
By David Snell published
Need to find a roofer who won't leave your project in the gutter? Experienced self-builder David Snell reveals how to go about it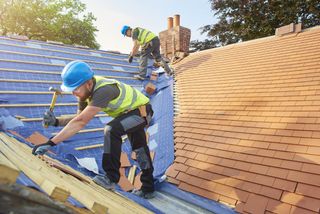 (Image credit: getty images)
Roofers are responsible for a particularly satisfying part of a build project. Although every stage of the building of your new home is exciting, getting the roof on and covered is really rewarding. Until the roof is tiled, all you have is an enclosure. Once the roof is covered, you have a home.
Roof Coverings
The roof covering – whether it's tile, slate or some other material – defines your building in so many ways; in most cases following a regional pattern but, in others, establishing its individuality. And it's a key stage in your build too: so many trades can get in and get going once the building is 'in the dry'.
'Roofing' covers many forms of roof covering, including flat roofing. (The term 'tiler' is avoided, as it can be confused with the trade concerned with fixing ceramic floor and wall tiles.)
The fact that there are regional norms means that, in certain circumstances, your choices of roofer may be limited. If the prevailing medium is interlocking concrete roof tiles and most of the labour in your area is only proficient in these, you might have difficulty finding somebody who can successfully lay slates or even plain tiles because the skills needed are very different.
Modern interlocking concrete tiles require nine to 10 tiles per m2. An average roofer can lay 30 tiles an hour, which, therefore, equates to 3m2. Plain tiles can be laid by a roofer at the rate of 80 per hour. But that amount of tiles only covers 1.3m2, so there's considerably more work involved in covering a plain tile roof. It takes 20 'standard'-sized slates (250mm x 500mm) to cover each m2 of roof and each slate has to be nailed, which, once again, increases the time needed and raises the complexity of the job. As such, labour costs are typically higher for laying plain tiles or slates than for interlocking concrete tiles.
(MORE: Ultimate Guide to Roofs)
How to Find a Roofer
The best way of finding the right person is by recommendation and the best recommendation is always going to be that of another self-builder. But other tradespeople, working alongside a roofer, such as the carpenter or bricklayers, may be able to recommend the right person.
This trade has to mesh in and cooperate with several other trades and it's important that they get along with each other and can trust each other's work.
Builders' merchants and specialist suppliers will be dealing with roofers all the time and they may well be prepared to recommend somebody to you, too.
There are also supply and fix roofing companies who can often offer remarkably good deals where they use the same teams of people on a regular basis and can therefore regulate the prices paid for the labour. As with other trades, look at their previous work and talk to their previous customers. Finally, the National Federation of Roofing Contractors may be a good source of names, particularly when looking to install a green roof or carry out specialist work to a listed building, for instance.
How to Assess the Work of Your Potential Roofer
A roofer's job starts with the cutting and fixing of the timber battens (upon which tiles or slates will be fixed) and it's here where you can start to gauge the merits of your potential roofer if you're visiting a site he/she's working on or to keep an eye on progress on your own site.
Firstly the roofing underlay should be laid and rough battened with the correct lap at the bottom of each run of underlay, in accordance with the manufacturer's instructions. Watch out for neatness and avoid those who leave holes all over the place or cut the battens with an axe, rather than sawing them neatly.
Then observe how the battens are laid. Watch out for the valleys in particular, where the battens for each opposing roof plane should come together and meet at the same point. This is particularly important when using valley tiles, but even with a lead or fibreglass valley it looks better and is a marker of the abilities of the tradesperson. (The exception is where the meeting roof planes are at a different pitch, where this becomes impossible to achieve.)
The best roofers will lay out tiles or slates across the roof, in order to 'gauge' them, before they start laying in earnest. There is leeway in all tiles and slates and the clever roofer can negate the need for ugly cuts, which, in any event, never weather as well. So look for a roof where there are whole tiles across the entire roof plane (and not lots of cut tiles/slates). This is also made possible by the use of oversized verge tiles or slates.
(MORE: What are the options for roof coverings?)
As with the roof covering, the ridge and hip tiles should also be gauged in order to prevent small sections that don't look good and don't weather well. Unless you have dry ridge tiles or verges, your ridge tiles will have to be bedded (laid) and pointed (where the spaces between each tile are filled).
The quick and easy way is to bed and point simultaneously. But this is not always the best way. The strong bedding and infill mortar can be left to go off and, if necessary, packed and reinforced with broken slate or tile. A coloured mortar can then be used for the pointing; all in all this can result in a better and more weatherproof job. Look for neat pointing with no smudging of mortar on the roofing medium, too. This is especially important where bonnet tiles are used on the hips.
Every slate has to be twice nailed to the batten. Not every roof tile needs nailing, though, and the manufacturer's recommendations will be different for each location and the prevailing weather expectations. The tiles may be nailed every third course or, sometimes, not at all, for instance. It's obviously easier and quicker for the roofer to cut corners and leave out the nailing. So check the roof you're inspecting (or your own roof), whether they have followed instructions by gently pushing up a few rows of tiles to see if they're nailed or not.
What Should You Provide for Your Roofer?
The roofers will possess all their own tools and all you need to ensure is that the right materials are available. In certain circumstances a roofer may request a hoist but, on most self build sites, the tiles or slates are 'nutted' (lifted) up to the roof by the labourers. The roofers will need the use of a mixer for the mortar for bedding and pointing and, if you are having coloured mortar, you will have to make sure that the colouring agents are available.
How Much Does a Roofer Cost?
Roofers generally work on the basis of £150-£200 per person day in most regions of the country. In many cases, roofers work alone with or without a labourer (who may be costed in at around £100 per day), but sometimes they work in pairs at the higher rate. However, it's best to avoid paying on a day rate.
Once again, the mark of a good tradesperson is their belief in their own abilities. This is expressed by them working out how long it's going to take them to complete the job, which they will then present to you as a total price.
Typical Tasks of a Roofer
Covering the roof with roofing underlay and rough battening
Fixing glass reinforced valleys or attending on the plumber fixing lead valleys
Attending on the bricklayer for the cutting and then bedding any undercloaking required at the verge
Fixing counter battens, if necessary (required when sarking boarding is employed)
Gauging and fixing roofing battens to suit whichever tiles or slates are to be used
Loading out the tiles or slates
Laying the roof tiles or slates and nailing them in place in accordance with the manufacturer's instructions
Fixing any valley tiles
Fixing verge tiles or slates (usually one and a half times the width of the normal tiles or slates)
Fixing dry verge tiles if appropriate
Interleaving the lead upstands and the cover flashings to the chimney
Interleaving any lead soakers
Attending with the plumber to integrate and interleave any pipe vents or skirts
Fixing or bedding ridge tiles and any hip tiles
Pointing up beneath ridge tiles
Pointing up the space between the underside of any slates or tiles at the verges and the undercloak
(MORE: Roof Design Ideas for Extensions)
The author of Building Your Own Home, David is a serial self builder and has been building homes for 50 years. He has just finished his fourteenth self build project.
Homebuilding & Renovating Newsletter
Get the latest news, reviews and product advice straight to your inbox.
Thank you for signing up to Homebuilding. You will receive a verification email shortly.
There was a problem. Please refresh the page and try again.