Groundworkers: How to Find the Right People for the Job
By David Snell published
Groundworkers play an important role in a building project. Experienced self -builder David Snell shares his tips on finding and building a solid relationship with your groundworker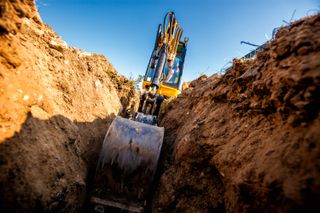 (Image credit: getty images)
The start of any project involves the groundworkers and, for most self builders, this is also the most enduring experience of their project.
It's not a trade with any particular caché. It has an almost rough-and-ready feel to it compared with the other skilled trades. Yet it is truly the foundation trade for your new home. Much of what they do is covered up, never to be seen again. But the stability and longevity of the project depends on the skill of the groundworker.
To some extent, the main focus of the work appears to be digging holes, taking the spoil away and filling those same holes with concrete. That requires muscle. But it also requires skill.
You can have detailed ground surveys done before you start work. They can, on the basis of their findings, suggest the details of the proposed building foundations. But, in my opinion, the only survey that really counts is the one that you undertake when work commences; it may well be discovered that there are ground conditions that didn't show up in the original survey and which require a change of plan.
So the competent groundworker has to be able to understand the types of foundation applicable to all sorts of ground conditions. They must be ready to stop work and switch to a completely different foundation type, in very short order, while maintaining continuity as far as possible.
One measure of the importance of the trade of groundworker is the fact that of the eight formal inspections required under the Building Regulations, six of them concern this trade.
(MORE: Foundation Systems and Soil Types)
Supply and Fix or Labour Only?
There are supply and fix groundworking companies out there. They will undertake all of the work, supplying all of the necessary plant and all of the materials. They are frightfully expensive and so they really don't figure in the self build market.
There are many groundworking companies who provide the labour and plant but rely on materials being supplied, or paid for, by the client (if the client is project managing). These do have a place in the self build market.
They can be large companies, where once again, the prices will be considerably higher. Alternatively, they can be the small one or two person bands who have their own digger and, perhaps, require a dumper or other plant to be hired in as an extra from time to time.
Then there are the labour-only groundworkers. They simply require the client to hire in plant as needed and for the client to either provide the materials or arrange for the groundworkers to be able to call them off, on the client's account. These groundworkers may well form the bulk of those working in the self build business.
(MORE: Typical Self Build Schedule)
How Do You Find a Good Groundworker?
The chances are that the type of groundworkers the average self-builder will employ are the ones who don't go around in marked vans with logos.
Once again, the best way of finding a good groundworker is to ask other self-builders, and to see their work and discuss their merits with their previous clients.
With such a close involvement with the building control and warranty inspectors, it's always a possibility that, even if they aren't allowed to give you a direct recommendation, they may be able to express an opinion about their abilities.
Other than that, if you are involved with engineers, following any ground survey, they may well be able to give you the names of tradespeople they have had previous satisfactory dealings with.
(MORE: Self Build Warranties)
How Do You Judge a Groundworker's Work?
If you visit a property that has been completed for some time, then the chances are that, apart from the fact that it's still standing there, there is little to see of what the groundworkers did.
Watching them work tells you a great deal more:
Are they organised on site? Have they arranged for materials to be stacked away from the proposed building works?
Have they cleared the ground a good five metres beyond the proposed building (if possible) to allow for the movement of machinery?
Are they ready and prepared to shore up any trenches that collapse?
Do they have a pump handy in case of any water ingress or do they know where they can get one quickly?
Is the foundation concrete properly tamped and levelled so that the bricklayers won't have any trouble?
Above all, are they proficient and able to swap to an alternative foundation if ground conditions require?
Do they demonstrate the care and attention to detail that the laying and positioning of damp and radon membranes will require?
What Should You Provide On Site for Your Groundworkers?
If you have a labour-only groundworker or one that is providing some of the plant, then your task is to ensure that all necessary materials are on site or available. Most materials can be called off, on account, from the local builders' merchants but concrete will have to be paid for in advance of delivery. After all, they can't ask for it back, if your cheque bounces!
Not all plant will be owned by even a groundworker who has his own digger. So organise an account with a local plant hire company so that if you need something quickly, such as a dumper, a pump or a cutter, your groundworkers can pick it up as required.
What Can You Expect to Pay Your Groundworkers?
Always get a lump sum price for the job. That said, the groundworkers will come to their price by assessing how many days they are likely to be there and then adding them all up.
A skilled groundworker will expect to get between £150 and £200 a day in most regions. General labourers can be hired for between £90 and £110 per day and semiskilled labourers who can undertake tasks such as laying blocks will be up to and around £150 per day.
Get a list of the plant hire rates for the various bits of kit that you may, or may not, need to pick up from time to time. A digger will cost around £120 a day to hire but it may cost £50 to have it delivered each way and then picked up. So hiring one for just a day may not be as cost-effective as keeping it on site for a full week, even if it does have to stand for a day. If you are going to require a dumper, then this will cost in the region of £70 a day and if it can go on the same delivery as the digger then that's obviously a saving.
Although not confined to this trade, the toilet facilities will be required at their commencement. These will cost around £100 per month and will be required for the duration of the project. The same can be said for lock-up storage containers, which can be hired for around £35 a week or else purchased and then re-sold at the end of the job.
What Do Groundworkers Do?
The groundworkers are the first trade on site. They are also there at various stages throughout the build and they are, almost, the last trade to leave site. As a result, a list of the typical tasks is considerably longer than that for any other trade:
Create an entry and clear site of vegetation
Form a hardstanding for entry and storage of materials
Strip topsoil and stack for re-use
Set out the building or attend the surveyor in doing so
Excavate foundation trenches and 'crumb out' the bottoms
Load spoil onto dumpers for stacking and eventual re-use or load onto lorries for off-site disposal
Position level pegs for the foundation concrete levels and pour and lay concrete
Lay foundation blockwork to dampproof course (DPC) level, including all necessary cranked ventilation, drainage exit lintels and service sleeving, unless this is carried out by the bricklayers
Level out oversite and backfill trenches outside the building
Fill the foundation cavities with lean-mix concrete.
If it is proposed to have a solid oversite, then the groundworker will:
Fill and consolidate oversite with suitable hardcore or aggregate
Sand blind
Lay dampproof membranes
Position below slab insulation
Cut, lay and wire up reinforcement mesh
Pour and lay oversite concrete.
If it is proposed to have a beam and block oversite, then the groundworker will:
Position floor beams on the DPC
Position infill blocks
Brush grout infill blocks.
Drains and services:
Excavate trenches for foul and surface water drains
Lay drainage runs on pea shingle beds
Bring any upstands into the oversite
Haunch over all drainage runs with pea shingle
Build or assemble all manholes
Connect foul drainage to the foul sewer, if this is on site. Otherwise take to the boundary for connection to the main sewer by others
If there is no mains drainage, install septic tank and drainage field or sewage treatment plant and connect foul drainage
Lay any necessary weeper drainage or connect outflow to agreed position
Construct all soakaways and connect to surface water drainage
Backfill all drainage trenches
Excavate all service trenches on site and backfill when required
Carry out any agreed soft and hard landscaping
Lay driveways, paths and patios to agreed specifications.
The author of Building Your Own Home, David is a serial self builder and has been building homes for 50 years. He has just finished his fourteenth self build project.
Homebuilding & Renovating Newsletter
Get the latest news, reviews and product advice straight to your inbox.
Thank you for signing up to Homebuilding. You will receive a verification email shortly.
There was a problem. Please refresh the page and try again.