Easy DIY Projects to Help You Keep Busy During Lockdown
By Jack Woodfield published
We could be in lockdown for a while, so try these DIY projects to keep occupied and make your home work better for you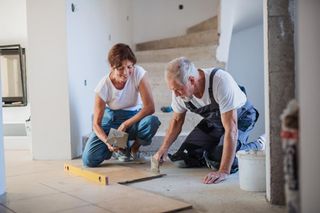 (Image credit: Getty Images)
DIY projects were a source of inspiration and distraction during the first lockdown, and with lockdown 3.0 reportedly a long way off from being lifted, now is a great time for a quick makeover that can keep you busy and increase your home's value.
Taking on a renovation or home improvement project could be more timely than you think. Builders' merchants remain open having been classed as an essential retailer, and tradespeople are allowed to work in your home.
(MORE: Lockdown construction FAQ)
Moreover, the Brexit construction deal ensured no extra quotas on imports, reducing the risk of self builders and those renovating a house overpaying for building materials. There is a small plaster shortage ongoing, but supplies of most building materials have increased since the first lockdown.
These are some DIY project ideas which could add value to your home, and keep you occupied while the pandemic continues.
DIY Project Ideas
Augment your home office
Many of us have been working from home for several months, but it's important to ensure your office is optimised for your comfort and health.
Positioning your home office to receive as much natural lighting as possible is essential for productivity and a healthy work space. And adding some task lighting can be particularly useful if you are working later in the evening.
It may be that you've been working in your current home office for a long time, and just need a change. If you have a room that isn't used very often, or is used for storage, such as a spare room or garden room, consider setting up your home office there.
If you are moving your home office into a storage room, you'll want to remove the stored items in advance, helping you to optimise the space. These storage ideas can be used to effectively maximise your room's space.
(MORE: 12 Home Office Design Ideas)
Laying laminate flooring
Households have been stuck indoors for months, so there will have likely been more wear and tear on your floors. Laminate offers protection, and it's also easier to keep clean.
You will need the right equipment in order to lay this flooring yourself. And depending on your design of choice, it can make your home feel more spacious.
You should be able to buy your materials online, and this how-to video from builder Andy Stevens demonstrates how to lay a tongue and groove dry-fix flooring system.
Insulating a loft
Insulating a loft can make your home more energy efficient by reducing heat loss and thus your heating bills. And this is a task you can do yourself. For materials such as boards, rolls or slabs, tools sites and builders' merchants remain open for delivery.
This beginner's guide to insulating a loft takes you through what you need to know about doing it yourself.
Decorate Your House
Have you been putting off a painting or decorating job? Now's the time to get to it. Not only can the job be completed within a couple of days, but the whole family can get involved - keeping you all busy and doing activities together.
Furthermore, adding a lick of paint can add around 5-10% to the value of your home. These tips for decorating your own house will help you ensure a longer-lasting, professional finish.
Plan future home improvement projects
Why not use this time to assess future home improvements you could benefit from? This might be the perfect opportunity to begin planning an extension project.
If you are longing for a larger plan space, you may also consider creating a new kitchen diner, or remodelling, or knocking down internal walls.
These projects could also help to boost your kerb appeal, and do not need to be particularly expensive. They also shouldn't be hugely disruptive.
Jack has worked in journalism for 11 years and is the News Editor for Homebuilding & Renovating, a role he has had since 2019. He strives to break the most relevant and beneficial stories for self builders, extenders and renovators, including the latest news on the construction materials shortage and hydrogen heating. In 2021 he appeared on BBC's The World at One to discuss the government's planning reforms.
He enjoys testing new tools and gadgets, and having bought his first home in 2013, he has renovated every room and recently finished a garden renovation.
Homebuilding & Renovating Newsletter
Get the latest news, reviews and product advice straight to your inbox.
Thank you for signing up to Homebuilding. You will receive a verification email shortly.
There was a problem. Please refresh the page and try again.