Plaster Shortages Remain Amid Reduced Supplies of Building Materials
Here's what you need to know about plaster shortages and building materials if you're starting a build project in 2021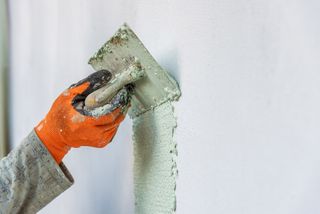 (Image credit: Getty Images)
Plaster shortages emerged in 2020, while supplies of other building materials such as timber dwindled too. And amid a third lockdown, coupled with the potential repercussions of Brexit, doubt remains over certain products in 2021.
You may be facing some uncertainty if you're beginning a self build project or renovating a house this year, so read on to learn which materials are currently facing shortages, and which materials could be subject to price rises in 2021. 
Brexit's Impact on Plaster Shortages and Building Materials
The UK-EU trade deal announced over Christmas eased Brexit construction fears that a no-deal Brexit would increase imports delays at ports, and lead to materials rising in price. 
The trade deal ensures no additional tariffs on imports or additional quotas, and this should help to mitigate the impact of potential price rises and ensure free-flowing materials.
The Impact of Lockdown
The good news is that builders' merchants will remain open during lockdown, and tradespeople are allowed to work in people's homes. 
However, there has reportedly been a slowdown in the production of materials from some factories in the EU because of Covid-19.
Supply Chains Remain Stretched
Supply chains are currently stretched, according to the Federation of Master Builders (FMB), which says its members continue to face rolling shortages of key building materials such as timber and plasterboard. This could mean increased lead times, and deliveries could take longer than expected. 
However, Homebase and Travis Perkins are among the retailers to confirm that while demand is high, they have not experienced any stock or supply issues and do not expect any delays to customer deliveries. 
Prices Could Yet Rise
Even though no-deal Brexit fears over price rises have been calmed, builders still expect prices to rise in 2021, regardless of Brexit, with the latest FMB State of Trade Survey showing 87% of builders have reported rising costs.
Product Availability Index
Timber
There has been a nationwide shortage of gypsum-based products like timber since the first lockdown. Volumes are likely to be available but on much longer lead times than in early 2020.  
Timber is one of the main materials that the UK imports, and the trade deal was important to ensure that it flows freely through ports. Mark Brinkley, author of the Housebuilder's Bible, explains: "It's hard to replace imported timber with timber from the UK because it's not always suitable for construction grades."
One thing to consider though is that experts anticipate timber products imported from countries outside the EU like China and Brazil, as well as EU countries such as Germany and Spain, to rise in price in early 2021.
Plaster and Plasterboard
Plasterboard is another gypsum-based product which has been subject to shortages since last year, and FMB members are still reporting supply issues. 
This can be traced back in part to some mines being closed during the first lockdown, and being unable to meet social distance rules. 
However, Matt Pullen, managing director at British Gypsum, confirmed this month that the new lockdown would not impact its operations, and orders will continue to be filled. 
Roof Tiles
There has been a shortage in roofing materials for several months. Just one month ago, Stuart King, deputy managing director at Crest Nelskamp, said: "Many contractors are calling it a major crisis as they face long delays in obtaining roofing materials."
Roof tiles have been particularly affected, with lead times from order to delivery being at least 12 weeks and, in many cases, up to 22 weeks. 
Although Build4Less reports that roof tiles from suppliers including Marley and Sandtoft are showing lead times of up to 6-8 weeks.
Insulation
There were signs of restricted supply of insulation, particularly PIR insulation, before the new year, but it is expected that increased supply will find its way back into the market in early 2021. 
Nick Lloyd, managing director of Urbane Eco, says that EU market supplies have picked up, which will help to tackle the backlog in demand from 2020. But the impact of the Brexit deal and third third lockdown means the state of supplies remain unpredictable. Currently, lead times can be expected to be between 2-4 weeks. 
Insulation is one of the primary measures available on the Green Homes Grant.
What Else?
There will likely be the typical year-on-year price increases across materials from aggregates and roofing products to plaster and paint, according to Andy Stevens, builder and consultant with Eclipse Property Consultants and contributor to Homebuilding & Renovating magazine.
It has also been reported that there are some shortages with regards to plaster, bricks, concrete products and plastics.
Homebuilding & Renovating Newsletter
Get the latest news, expert advice and product inspiration straight to your inbox.
Thank you for signing up to Homebuilding. You will receive a verification email shortly.
There was a problem. Please refresh the page and try again.