Window Sill Ideas: Tips to Turn Your Sill Into a Focal Point
By Natasha Brinsmead published
Our inspirational collection of brilliant window sill ideas is here to ensure you don't overlook this important design detail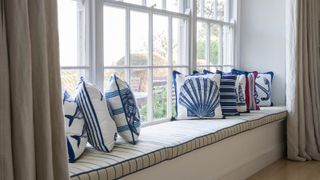 (Image credit: Cream Cornwall)
Getting creative with window sill ideas is a brilliant way to really add character and interest to your home.
Not only do window sills provide a practical purpose – bridging the gap between wall and window frame – but, given the right treatment, they can also perform other functions, from seating to storage.
Here, we have pulled together some of the best window sill ideas around to ensure that, no matter what window styles you have chosen, this seemingly unimportant detail doesn't let your interior scheme down.
1. Make a Window Sill Seat
A window seat is one of the best ways to make the most of a window sill. There are plenty of brilliant window seat ideas out there, that not only look beautiful and add a real sense of warmth and character to any kind of interior scheme, but also make the most of the space you have available.
In a bedroom, a window seat makes a great feature — not everyone has space for a chair or sofa, but by turning your sill into a spot to nestle down, you overcome the issue.
In fact, any room can benefit from a window seat — it really encourages people to take a moment to just sit and enjoy the views. Some window seats incorporate storage beneath, while others are simply there for comfort.
2. All-in-One Worktop Window Sill
Keeping your kitchen worktop at the same height as your window sill – as opposed to building an upstand – creates a sleek, streamlined look in the kitchen. This kitchen window idea also allows for a deeper work surface which can be very practical — as well as minimising nooks and crannies for dirt to lodge within.
If this is an idea you like, be sure to let your worktop supplier know — you want to avoid joins and seams in your worktop material. If you decide to locate your sink in front of the window, it is also important to ensure your window is protected from any water that might reach it.
3. Add a Statement Circular Window Sill
Round windows add a hefty dose of architectural merit to any style of home, providing interest and character along with a real sense of individuality. In fact, curved finishes are big news in house design – interior and exterior – right now.
If you decide to incorporate a round window, why not double it up as a snug seat to give it a practical purpose too, as has been done here — the deep sill makes the perfect spot to sit and pause a while.
4. Work at a Window Sill Desk
We could all do with some clever home office design ideas these days — and turning your window sill into desk space is a brilliant solution.
This example is perfect for anyone after bay window ideas. Not only has the window sill been used for a practical purpose but its design and proportions have been further highlighted by the addition of the simple shelf desk that has been fitted snugly into it.
5. Build in a Window Sill Bench
A fresh, contemporary alternative to seats, window benches suit modern window designs particularly well.
This sleek window bench adds a pleasing extra dimension to the bright living space, as well as ensuring the elevated views can be fully enjoyed.
The bench/sill is supported on simple timber wall brackets in the same finish as the bench itself to keep things fuss-free.
6. Add a Splash of Colour to a Window Sill
A surefire way to turn your window sill into a focal point — coloured glass is not only eye-catching but also really practical.
Easy to wipe clean and resistant to heat and stains, this coloured glass sill is from Pro Glass 4 who make splashbacks and worktops in a range of colours and finishes.
Glass window sills are a particularly good idea in kitchens and bathrooms due to their waterproof nature and low-maintenance requirements.
7. Build a Handy Window Sill Shelf
If you are in need of extra shelf space, it makes sense to build your window sill out to fulfil this need. Here, a half height stud wall has been built underneath the window before being clad in tongue and groove boards.
This has been continued around the corner to provide an extra storage ledge as well as creating an inviting corner in which to display personal items.
8. Create a Breakfast Bar With a View
After small kitchen ideas? Then this one is for you and is perfect for those kitchens where there just isn't space for a full blown breakfast bar or kitchen island.
Build your window sill out to allow for a stool or high chair to fit beneath — and consider using a material that matches the rest of your kitchen worktops for a nice cohesive finish.
9. Add a Multitasking Radiator Cover
Radiators are often located beneath windows so it makes sense to consider a window sill idea that takes this into account.
Radiator covers are an increasingly popular feature with those keen to disguise bland radiators with something a little more visually pleasing. Here, the cover has been chosen to tie in with the sill material and has been fitted to become an extension of the sill itself, providing extra depth as well as a streamlined finish.
10. A Window Sill can Double as a Bath Surround
This is an ingenious approach to the window sill that addresses the all-to-familiar need for extra bathroom storage ideas — particularly around the bath itself.
Here, the extra deep sill has been used to conceal the pipework for the tap and pull-out shower, as well as providing a handy bath surround.
Natasha is Homebuilding & Renovating's Associate Editor and has been a member of the team for over two decades. An experienced journalist and renovation expert, she has written for a number of homes titles. She has renovated a terrace and is at the end of the DIY renovation and extension of her Edwardian cottage. She is now looking for her next project.
Homebuilding & Renovating Newsletter
Get the latest news, reviews and product advice straight to your inbox.
Thank you for signing up to Homebuilding. You will receive a verification email shortly.
There was a problem. Please refresh the page and try again.