Bay Window Ideas: Curtains, Shutters, Seating and More
By Hugh Metcalf published
These bay window ideas, from dressing and decorating to seating and storage, will help use what can be an awkward space to its full potential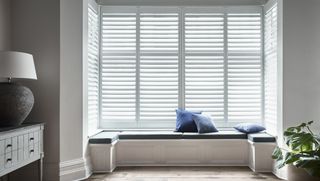 (Image credit: Shutterly Fabulous)
The best bay window ideas work with what is sometimes a difficult and awkward space. Bay windows are a brilliant feature for your home, helping to capture more natural light and adding a greater sense of space, but the angled facets of a bay window present some challenges design-wise.
(MORE: Window Styles)
Whether it's how you install radiators or add curtains, or how to find furniture to ensure the space isn't wasted, fortunately there are plenty of bay window ideas to serve as inspiration for your own home.
We've picked a handful of the best ideas for making the most of a bay window to get you started.
1. Dining Nook Idea for a Bay Window
In a kitchen or living room, a well-placed bay window might just be the perfect spot for a dining table with banquette seating. A round or oval dining table will work best with the proportions of a classic bay window and built-in seating will not only mean the space is used efficiently, but that you can always find room for one more at the table when guests come over.
2. Built-In Bay Window Seating Idea with Storage
When building out a window seat in a bay window, why not include built-in storage to make the most of the space. Adding a few simple cupboards won't be much more work, and it's an efficient way to add extra storage. For a sleeker look, forego handles for a touch-push mechanism door.
3. Try a Flexible Curtain Track in a Bay Window
Curtains poles and rails are notoriously tricky when dealing with a bay window, especially if you don't want to have separate curtains for each side of the bay. Malleable or flexible curtain rails are a great solution, and they can be manually bent to the right angle with ease to match the angle of your bay window. They're not necessarily the most attractive solution, so consider ways to disguise them such as a pelmet.
4. Choose Shutters for Your Bay Window Treatment
Shutters are a great solution as a treatment for navigating the angular nature of a bay window. There are a range of styles available including full height shutters and café style half shutters designed to offer privacy where you need it. Pay attention to details, such as tier on tier designs and moveable louvres for more control over light and privacy levels.
5. Try This Idea For Easier Curtaining Across a Bay Window
One way to simplify the addition of curtains to a bay window is to add the curtain rail in front of the bay. This means you don't need to work with the angles of the bay and can install a simple, straight pole or rail.
However, it has its drawbacks. In the evening, when the curtains are drawn, you'll lose the use of the bay window space, meaning it's not a viable option if you use the bay window for a chair or sofa.
6. Create a Work from Home Space in a Bay Window
Not sure what to use an awkward bay window space for? Here's an idea — a desk is the perfect addition to a bay window for a dedicated home office space. This will also make sure you've got plenty of natural light when you're working, good for your eyesight and for your general and mental wellbeing.
Hugh is Digital Editor of homebuilding.co.uk and has worked on a range of home, design and property magazines, including Grand Designs, Essential Kitchens, Bathrooms, Bedrooms and Good Homes. Hugh has developed a passion for modern architecture and green homes, and moonlights as an interior designer, having designed and managed projects ranging from single rooms to whole house renovations and large extensions. He's currently renovating a Victorian terrace in Essex, DIYing as much of the work as possible. His current project is a kitchen renovation which involves knocking through walls and landscaping a courtyard garden.
Homebuilding & Renovating Newsletter
Get the latest news, reviews and product advice straight to your inbox.
Thank you for signing up to Homebuilding. You will receive a verification email shortly.
There was a problem. Please refresh the page and try again.