Take a tour of this London home built on a brownfield site
By Alexandra Pratt published
Rhys and Joanna's new family home perfectly showcases the potential of awkward brownfield sites and the creative solutions they can inspire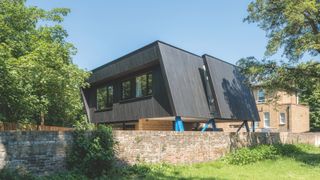 (Image credit: French + Tye)
As director of architecture practice Gruff Architects, Rhys Cannon was better placed than most to see the potential of tricky urban sites. So when he found a tight, triangular brownfield plot in south London which overlooked a railway line, he was surprised that it won over the whole family.
"We were a family of four – we had a third child during the build – and we lived in a basement flat in south-east London, so we loved the idea of a self build," says Rhys. "Its main outlook is west-facing into trees for 40m along the railway line and beyond into back gardens. In the height of summer, it's incredibly private and very desirable."
The brownfield site was accessed by a single, narrow track and in a conservation area, so Rhys knew these challenges would require creative solutions, not just in terms of design, but also when it came to the build process itself. Here, he explains how his family created their unique home.
Designing a new home for an urban site
As Rhys acted as the architect, his wife, Joanna, became the 'client' and the practice's staff became involved in the project. "We treated it as an opportunity to expand and learn," says Rhys.
A design for a contemporary home made of boxes emerged, with issues caused by the size and orientation of the plot solved by using carefully placed glazing and a tilt in the black-clad first floor 'box'.
The front elevation features no windows, while the side and rear elevations provide an uninterrupted outlook of a tree-lined railway cutting. "The boxes are staggered and fragmented, with a slot window between each, which goes up and over, providing light from different directions," says Rhys.
Adding a basement was an ideal way to get more space and didn't add much more cost. Blue steel 'legs' support the black box overhang and provide a car port space, complete with mechanical turning table.
Thanks to Rhys' preparation work and efforts to keep neighbouring residents informed, the planning permission application proceeded without any objections.
Addressing the challenges of a tight plot
The lack of space on site made disposing of spoil difficult and Rhys booked two collections a day. There was also limited storage and no cranes could reach the plot, so all materials were delivered in small loads, with Rhys sharing the role of project manager with his main contractor Marval Development in a "very collaborative process".
The masonry ground floor supports a steel and timber frame first floor which had to be stick-built on site due to the lack of crane access on this brownfield site.
Designing a bespoke kitchen
As might be expected, Rhys was also hands on with the design of the interiors. He designed the kitchen, which manages to be both a family-friendly and chic space. Constructed in MDF, it is finished with black tinted Osmo oil and topped with hard-working Silestone quartz worktops.
Marval Development made the cabinetry and installed the entire kitchen as part of the building contract.
Creating a more sustainable home
Rhys also designed the heating and cooling of the house, which has underfloor heating in the basement and ground floor with radiators on the first floor. Solar PV panels on the roof supply electricity and a mechanical heat ventilation system ensures the home always enjoys fresh, filtered air.
While the heating runs off a gas boiler for now, Rhys has plans to upgrade at some point. "I could kick myself for not installing an air source heat pump initially, but it was designed four years ago," he says. "We will switch to one, as they work best in airtight, highly insulated houses, so it will be really efficient for us."
Maximising potential on brownfield plots
Ultimately, Rhys' self build design for his plot not only shows how to make the most of homes built on brownfield sites but also demonstrates a new generation of architecturally distinctive buildings.
"Architecture can be special if you are prepared to think differently," he explains. "I see this as leading the way with awkward brownfield sites in the UK. There has been a sea change among planners in terms of how they treat these sites, which are, by nature, small and problematic. Embracing these plots can help with the housing supply and there is an opportunity in trusting design to unlock their potential."
This new family home has certainly been a success. "I'm very pleased with it as a family home," concludes Rhys. "We all love the light, the peace and the privacy, despite it being in the centre of London. My wife says it feels like being up in the canopy in a treehouse."
Alexandra Pratt is a home journalist and serial renovator.
Homebuilding & Renovating Newsletter
Get the latest news, reviews and product advice straight to your inbox.
Thank you for signing up to Homebuilding. You will receive a verification email shortly.
There was a problem. Please refresh the page and try again.