Take a Tour of this Ultra-modern Kit Home
By Amy Reeves published
Georgia Oliver chose Baufritz's turnkey package route when self-building her sustainable contemporary home in Berkshire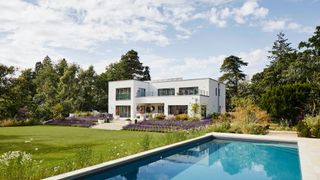 (Image credit: c/o Baufritz)
After living in a large, draughty house for years, Georgia Oliver was looking for something different. Determined to live in a low-maintenance, energy-efficient self build that would cater for her later in life, she began researching package companies who could create a home on her newly purchased and idyllic plot in Berkshire, surrounded by trees and woodland.
"I looked into many kit home companies but I wanted something bespoke," says Georgia. She quickly came across German company Baufritz who specialise in unique, healthy and sustainable turnkey homes.
"The great thing about Baufritz is that everything is quoted for at the beginning so there are no nasty surprises as the build is going on," Georgia explains.
With a clear brief in mind for a Bauhaus-inspired modern self-build that would support Georgia through retirement and beyond, Baufritz got to work designing a home for life. "I knew exactly what I wanted," says Georgia. The new home had to include the highest quality materials with a practical and straightforward layout for reduced mobility.
Build a Turnkey Kit Home
Image 1 of 2
Image 2 of 2
Baufritz took charge of the planning permission application and groundworks and began constructing the home in their factory in Bavaria with input from Georgia for the final finishes from cladding to flooring. "Kit homes are a really good way of self-building," says Georgia. "I got to visit Germany to choose things in person like the bathroom fittings, which was brilliant."
"The turnkey home building process was very exciting," she continues. "Baufritz was able to complete the shell of the building in only a few days and completed the house to a very high standard. Everything is done so professionally and the quality of the work on site is truly amazing. At all times they have been working hard and I did not get involved at all."
Include Heathy Home Design
Image 1 of 2
Image 2 of 2
The exterior of Georgia's home is contemporary and cutting edge, matching the innovative construction system which lies beneath. The 37cm-thick closed panel system is designed to be airtight and highly insulated with the company's own Hoiz insulation, made from wood shavings sprayed with whey and soda for a toxin-free, yet fungus and pesticide resistant, environment.
The house boasts other eco features including roof-mounted solar panels and an air source heat pump, which provide the home with electricity and hot water, while a mechanical ventilation with heat recovery system comes standard in Baufritz homes.
With health and wellbeing a priority for Georgia and her life-time home, the design also includes electric smog and electric field protection, as well as a focus on connecting the inside to the beautiful natural vistas of the plot.
Triple-glazed aluminium bifold doors open to the garden and large first floor balcony, giving the south-facing living room, master and guest bedrooms plenty of direct natural light.
Building a healthy home was also top priority so the house is also finished with exclusively low-pollutant products which are rigorously tested by Baufritz for volatile organic compounds (VOCs) and formaldehyde before use. "Finally I live in a really modern custom-made house. It is just so light and I enjoy all the views around my new home," says Georgia. "At the same time the house is just so relaxing and a great place to welcome my friends."
Plan a Layout for Later in Life
Image 1 of 3
Image 2 of 3
Image 3 of 3
The graceful flow of the layout further enhances Georgia's lifestyle, inspired by the straightforward Bauhaus principles of 'form follows function'. While a study-cum-guest room and utility spaces, such as a boot room, WC and larder, are positioned at the front of the house, a u-shaped layout at the back gives Georgia space for accessibility in her lifetime home, as well as room to entertain when friends and family visit. "Open plan is a much easier way of living," she says.
The four bedroomed home also includes a basement living area with kitchenette and en suite for Georgia's house keeper with a separate access point. "I would never go back to a draughty old house like before," Georgia concludes. "The house is ideal — I wouldn't change a thing."
Assistant Editor Amy began working for Homebuilding & Renovating in 2018. She has an interest in sustainable building methods and always has her eye on the latest design ideas. Amy has interviewed countless self builders, renovators and extenders about their experiences for Homebuilding & Renovating magazine. She is currently renovating a mid-century home, together with her partner, on a DIY basis, and has recently fitted her own kitchen.
Homebuilding & Renovating Newsletter
Get the latest news, reviews and product advice straight to your inbox.
Thank you for signing up to Homebuilding. You will receive a verification email shortly.
There was a problem. Please refresh the page and try again.