Skirting Board Colour Ideas: 8 Ways to Freshen Interiors
Find out how to include skirting board colour ideas into your home, with inspiration and advice from interiors and industry experts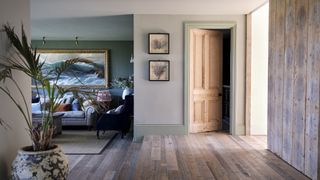 (Image credit: Dan Duchars)
Skirting board colour ideas are a tricky style to navigate without the required forethought for the interior design of a room or your home.
Painting skirting boards alternative colours to the traditional white has become a interior trend boom over the last few years, but how do you experiment in a way that won't go out of style and date easily?
We've gathered expert interior designers' thoughts on how to incorporate this style, and how to decide which colours will suit which room. Take a look below for inspiration.
Skirting Board Colour Ideas: Where to Start
"Skirting has become so much more than a functional building feature," begins Ana Englehorn, founder of Ana Engelhorn Interior Design. "But not so long ago, there just weren't many available options to experiment with colour.
"It's so important to use the best skirting board paint for your joinery as it comes under a lot of pressure from daily life. It gets kicked and knocked by the hoover, so the paint really needs to withstand a lot! Because specialist paints are now available in wider variety of colours, homeowners and interior designers have embraced the possibilities that are now open to them!"
"Skirting is totally up to the homeowner and their taste," adds Ann Marie Cousins, founder of AMC Design. "If you opt for traditional white or off-white skirting, this will fit into almost any interior scheme — from neutrals to bold colours and patterns. If you only prefer pops of colour, bright skirting boards are a great way to set the tone in a room, paired with scatter cushions and soft furnishings to match."
1. Put a Modern Spin on a Traditional Style
Get playful with traditional types of skirting boards and paint over gloss in a contemporary shade. The juxtaposition works incredibly well in tall rooms, especially when also applied to ornate coving, dado rails or window frames.
Steph Briggs, interior designer and co-founder of La Di Da Interiors says: "For a contemporary look, paint the skirting boards and architraves the same colour as your walls.
"Use good quality paint, particularly if you're making a dramatic colour change, such as from white to navy. It may be a little more expensive initially, but it will save you doing additional coats. For an average-sized room, this would cost around £60."
2. Go Bold and Colour Drench
"For a cohesive, contemporary approach consider 'colour drenching' which really moves away from cold stark white skirting and delivers high impact by painting woodwork, radiators, the ceiling and doors the same colour as the walls," says Ruth Mottershead creative director at Little Greene.
"The beauty of colour drenching is that it can be applied to such a variety of different spaces. While you can't make a small room larger, you can embrace the size of the space to create something that feels really engaging, inviting and contemporary."
"Painting your skirting in a similar colour palette to the rest of the room looks really striking, adding depth and layering to the space," comments Ann Marie Cousins.
"The trend for colour drenching doesn't just make a room feel larger, it's really popular for vibrant modern rooms painted in on trend darker shades," adds Ana Engelhorn. "Don't forget to include the door to get the most dramatic look."
New releases in eggshell paints suitable for skirting boards can really unify this look, or if you want to still create a contrast between joinery and the walls, play around the stain vs gloss sheens for a really contemporary look.
3. Think About Maintenance in High-traffic Areas
"The colour of your skirting will depend on two things: the overall style of the room and how you use the space," explains Ann Marie Cousins.
"For skirting in a hallway for example, I'd recommend painting it a darker colour as if you have pets or young children, or just a generally busy household, it can easily mark or scuff. Painting it a darker colour is not only lower maintenance but it provides a striking feature in a hallway with a neutral colour scheme for example."
An alternative, but durable, option to introduce colour in a high-traffic area is to use tiled skirting or half wall tiling.
This striking take on Victorian hallway ideas uses dark green metro tiles and skirting against a classic black and white checkered floor to a dramatic effect.
4. Be Subtle When Adding Coloured Skirting
Colour skirting boards ideas don't have to be in your face and contrasting to make an impact when working with grey walls. Muted tone work equally well (as shown here) and might not date like some of the more popular jewel colour trends.
"I often make design decisions about skirting based on practical aspects of a room," details interior designer Ana Engelhorn. "For example, if a client wants to make a room feel larger, I'd advise to keep the wall colour continuous over the skirting. If the ceilings of a room are high, there's more scope to play with contrast."
5. Go for a Two-Tone Effect
"For a considered coordinated feel, combine colours from the same colour scales families for a harmonious finish," advises Ruth Mottershead of Little Greene. "Use a deeper strength of the same pigment on woodwork, alongside a lighter shade on walls for a gentle contrast."
"Contrasting skirting doesn't need to be completely opposite to the wall colour," continues Ana Engelhorn. "Instead, it's fun to play with complementary tones within the same colour palette. This technique feels really soft on the eye, but keeps the room feeling vibrant and bold."
Here, the detailed skirting boards have been painted a rich blue to complement the paler hue of the walls. The high ceilings of the room absorb the tall skirting board sizes alongside the cast iron radiator and feature window panelling.
6. Contrast Skirting Board and Architrave Colours
Door architraves and skirting are traditionally painted in the same colours, but don't let that stop you from changing it up.
This stylish bedroom complements the dark staircase joinery and bed frame with a black painted door, while the white skirting board blends with the blush pink walls.
7. Coordinate Wallpaper with Skirting Colours
"For a bolder more dynamic approach use your skirting to create a colour highlight," says Rith Mottershead. "If you're using a wallpaper pattern within a space, consider pulling out a bold, bright shade from within the design to draw all elements of the scheme together."
The dusky pink of this wallpaper has been replicated on the skirting board and on the fireplace mantle, giving the period detailing a modern makeover.
8. Keep Skirting Boards White with a Bold Colour
"We mustn't forget that skirting fulfils a functional role too — it covers uneven plaster, flooring joins, and cablework, too," warns Ana Engelhorn. "It will generally always make a room feel more elegant. For this reason, some design concepts should avoid trends and stick to more timeless looks.
"White skirting remains a very classic look, but matt and satin joinery paints give a more contemporary feel than traditional gloss."
"Darker skirting can draw the eye downwards, so if you have a lower ceiling and want to give the illusion of more space, paint it a lighter colour and contrast it will a dark ceiling or darker walls so the eye level remains high," adds Ann Marie Cousins.
What Colour Should Skirting Boards Be?
Although traditionally skirting boards have always been painted with white gloss paint, homeowners are becoming more adventurous and using high quality paints to colour their skirting board in any shade that suits their interior scheme.
"Refreshing woodwork or skirting within a space is a simple and effective way of updating an existing scheme," says Little Greene's Ruth Mottershead. "Often, skirting boards are painted a neutral or white shade out of habit, but their proportion makes them the perfect opportunity to add a little colour.

"If you are seeking a timeless finish, use an off-white or clean white to complement your chosen wall colour and enhance skirting and door frames. If white feels a little bright, consider a neutral for a softer contrast. However, there are a host of options that move away from traditional whites, bringing skirting and woodwork into the design scheme, or using them to create a design focus."
Should Doors and Skirting Boards Be The Same Colour?
"Doors and skirting boards do not necessarily have to be the same colour," says Anna Marie Cousins. "However painting them the same colour does allow for a more seamless flow throughout the room. If you have a feature door however, such as a door in its original rustic wood finish, then paint your walls and skirting the same colour, allowing for your door to stand out."
Get the Homebuilding & Renovating Newsletter
Bring your dream home to life with expert advice, how-to guides and design inspiration, direct to your inbox.
Assistant Editor Amy began working for Homebuilding & Renovating in 2018. She has an interest in sustainable building methods and always has her eye on the latest design ideas. Amy has interviewed countless self builders, renovators and extenders about their experiences for Homebuilding & Renovating magazine. She is currently renovating a mid-century home, together with her partner, on a DIY basis, and has recently fitted her own kitchen.