A Show-Stopping Eco Home with Sustainability at its Heart
By Alison Wall Contributions from Amy Reeves published
This contemporary self build sits beautifully within its nine-acre woodland site in rural Sussex. The fabric first approach taken also means it's green too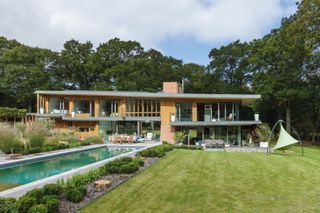 (Image credit: Simon Maxwell)
If there's one quality that self builders develop, it's perseverance. So it's not surprising that four-time self-builders Jane and Tim Meggitt spent many hours driving around the West Sussex countryside before finding a suitable plot for self build number five.
Their search eventually lead them to dated property. The site was lovely: nine acres of peaceful ancient woodland that provided the inspiration for much of the eco-friendly design. "We wanted a sustainable, open plan, technologically smart, contemporary home," begins Jane.
Here, the couple share what makes their eco house special, and the steps they took to create a greener home.
1. Create a Characterful Contemporary Design
Architect Nick Willson (opens in new tab) designed the house so that it steps down the gently sloping site, to reduce its impact on the surrounding landscape and nearby road. It's also orientated south for maximum passive solar gain and to create light-filled interiors.
"It's warm and cosy when the winter sun pours in through the floor-to-ceiling triple glazing, and cool in the summer, thanks to the shading provided by the roof and balcony overhangs and vertical wooden louvres," explains Jane.
The entire rear north elevation comprises a brick spine wall, laid in an array of Flemish bond, 'hit and miss', vertical header courses and herringbone patterns — designed to suggest a wall in a traditional English garden. By contrast, the southern elevation features lighter expanses of aluminium windows, timber cladding and timber for the doors and vents.
2. Bring Warmth Into the Interiors
The couple love old barns but were keen to have low heating bills and lots of light. They also like the crispness of Scandinavian design, but wanted to avoid a stark white box, instead opting for a rich natural palette of timber cladding and red brick. Internally, polished concrete flooring and brick feature consistently.
The enclosed bamboo-clad entrance hall opens to a double-height living/dining/kitchen space — an architectural device known as 'compression and expansion' that offers the satisfying experience of moving from a small, narrow space to a grand open one.
3. Use Sustainable Materials Throughout
Jane and Tim were new to bamboo, but were attracted by its appearance, choosing a tone mid-way between the lightest and darkest on the market. They were also drawn to its sustainable and practical credentials.
Bamboo is an incredibly hard, fire-resistant material (so tough that the joiners had to replace their blades after only three or four cuts). All of the joinery in the house has been constructed from bamboo, from the panelled ceilings in the link bridge/study, to the bespoke 2.4m-high doors, flooring to the wardrobes in the bedrooms, and treads and panels of the staircase, which is tucked away behind the double-height chimney breast.
4. Build Using Eco Principles
However, the eco house's credentials go far beyond the use of bamboo. Drawing on Passivhaus and 'fabric first' principles to include triple glazing, high levels of airtightness, sheep's wool insulation in the walls and 400mm of insulation under the floor.
A sedum roof and a natural swimming pool, replenished by rainwater from the home's rainwater harvesting system, complete the picture. The couple have even installed owl, bat and dormice boxes, and planted wildflower meadows to encourage greater biodiversity.
"Our house is ecologically friendly and as far as possible in harmony with nature," concludes Jane. "More importantly, the house is built to last and will hopefully stand the test of time!"
Homebuilding & Renovating Newsletter
Get the latest news, reviews and product advice straight to your inbox.
Thank you for signing up to Homebuilding. You will receive a verification email shortly.
There was a problem. Please refresh the page and try again.