Best Plastic Shed: 6 Stylish Picks for Every Garden and Budget
Looking for the best plastic shed? We've found the best models available to transform your outdoor storage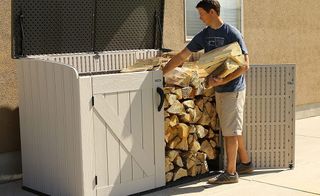 (Image credit: Amazon)
The best plastic sheds offer a range of benefits you don't generally get with other materials — they're typically maintenance free, incredibly durable and easy to assemble. 
The great thing about plastic sheds is that they can be kept looking new with a quick wipe of a wet cloth, and they offer brilliant durability (especially those made from strong polypropylene resin) — in most cases, the panels simply click together which means assembly is pain-free, although larger sheds might prove slightly trickier. 
They come in a range of dimensions so you'll be able to find a suitable model that fits your storage needs. If you're looking to store garden furniture then it's a good idea to buy the biggest plastic shed you can afford (and that will fit in your garden), but if you're just looking for a secure place to store your cordless drill and other tools, then a more compact option would be best.
These are the best plastic sheds you can buy which combine style, space and durability.
(MORE: Garden Design)
Best Plastic Sheds
1. Keter Factor Plastic Shed
The best plastic shed overall
Sizes: 4 x 6, 6 x 6, 8 x 11, 8 x 6, 8 x 8 feet | Weather resistant: Yes | 10 Year Warranty: Yes
Heavy duty flooring
Easy assembly
Double doors
Maintenance free
Could be slightly sturdier
Keter are plastic shed aficionados, and their first of three appearances on this list is their pièce de résistance: the Factor shed. Featuring an apex roof that is easy on the eye, the Factor shed also includes a side window as well as a skylight so it's flooded with natural light. 
Stylish and maintenance-free, the Factor shed includes two integral shelves to enable easy access to tools, and the double doors make it easier to carry large items in and out, such as lawn mowers.
(MORE: Best cordless lawn mowers)
Made from durable resin with steel reinforcement, it is weather resistant, and its UV-protected polycarbonate panels are unlikely to rot or discolour, making it maintenance-free.
It's a little more expensive, but it's quality is undeniable, plus it goes up to 8x8 feet which is great for larger gardens.
Buy the Keter Factor Plastic Shed now
---
2. Duramax StoreAway Plastic Shed
The best budget pick for storage
Size: 130 x 74 x 110 cm | Weather resistant: Yes
Affordable
Easy to assemble
Wide opening roof
Value for money
Only suitable for storage
Duramax's StoreAway shed is a must-have if you're in need of an affordable storage space.
You might not be able to set up a pool table in it, but garden equipment, bikes, BBQs and power tools will all fit into this storage-only shed, which features a wide opening roof and doors to enable easy accessibility. Its 850L capacity means it can also store two 120L garbage bins, while a 1,200L version is also available.
Furthermore, there's a a lockable latch for added security, it's UV resistant and weatherproof, and includes built-in shelf support. It's incredible value for money.
Buy the Duramax StoreAway Plastic Shed now
---
3. Palram Skylight Plastic Shed
Packs a lot of features for medium-sized gardens
Sizes: 6 x 5, 6 x 8, 6 x 10 feet | Weather resistant: Yes | 10 Year Warranty: Yes
Clever design
Allows lots of light in
Strong build
No opening windows
The Palram Skylight Plastic Shed is a great option if you're looking for a a super-robust plastic shed. 
It boasts UV-protected polycarbonate panels and has a reinforced galvanised aluminium frame to give the structure extra rigidity. 
It might not have any opening windows, but it compensates for this via unique skylight roof panels that allow for the ingress of natural light while remaining opaque externally. 
The shed also boasts a non-slip floor and ramp, which is a great addition if you are pushing heavy kit into the shed, such as a wheelbarrow or lawn mower. It comes in a wide range of colours too.
Buy the Palram Skylight Plastic Shed now
---
4. Keter Manor Plastic Shed
Smaller sizes, but a great value pick
Sizes: 4 x 3, 6 x 4 feet | Weather resistant: Yes | 10 Year Warranty: Yes
Affordable
Durable
Fits into narrow spaces
No window
The Keter Manor plastic shed is a narrow yet durable shed which has been designed to fit neatly into smaller gardens that are short on space. 
Both sizes available are suitably sizeable to store your essentials (such as BBQs and tools) and the double-walled plastic panelling ensures durability and weather resistance. A light wash every now and then is all that's needed to keep it looking its best.
There's also a robust single door and padlock hasp for added security, and a heavy-duty floor panel so you can store heavier items with ease. Plus, it's easy to assemble. 
Buy the Keter Manor Plastic Shed now 
---
5. Lifetime Heavy Duty Low Plastic Shed
The best heavy duty plastic shed
Sizes: Ranging from 74 x 174cm to 191.1 x 132cm | Weather resistant: Yes
Quality design
Sturdy + long-lasting
Front and top openings
Not the easiest to assemble
Robust and well-designed, the Lifetime Heavy Duty plastic shed is available in a range of dimensions up to 191.1 x 132cm and is a great option for small or medium-sized gardens. 
This attractive shed is purpose-built to hold two large garbage cans (you can of course store other things such as bikes and tools), and comes with front and top opening as well as lockable doors which have an external latching mechanism. 
It is UV-protected to help prevent fading and cracking and the weather-resistant steel hinges add extra protection. And the stain-resistant exterior means it will rarely need painting. It comes with a 5-year warranty.
Buy the Lifetime Heavy Duty Low Plastic Shed now
---
6. Keter Store It Out Max
Affordable, convenient and reliable
Size: 145.5cm x 82cm x 125cm | Weather resistant: Yes
Opens from the top or front
Will hide ugly outdoor bins
Limited storage space
An alternative to Duramax's StoreAway shed, the Keter Store It Out Max plastic shed is another of the best smaller storage sheds.
Its 1,200 litre capacity makes it particularly suited to disguising bins, or storing garden tools, and it features a convenient front and top opening.
Its durable and weather-resistant construction keeps stored items dry, and its fade-free plastic with steel reinforcement means you'll never have to worry about maintenance. 
Another cool feature is a lockable bolt and padlock facility for extra security. 
Buy the Keter Store It Out Max now
---
How to Choose the Best Plastic Shed
Plastic sheds are a viable alternative to traditional wooden shed - here are some of the key criteria to consider when choosing the best plastic shed for your home:
Weather-Resistance
Most high-quality plastic sheds are built to withstand the elements, using high-density polyethene (HDPE) or polymerizing vinyl chloride (PVC) vinyl for structural support. The quality of materials is important, so be sure to review your preferred model before buying.
Maintenance
Plastic sheds do not corrode or rust and so have the advantage of being maintenance-free.
Design
Most plastic sheds are available in a variety of colours and sizes to complement any garden, and the variations in product features and designs means you won't be short of inspiration when picking your model. 
Preparing a Base for Your Plastic Shed
The most important element of planning where your shed will stand is to make sure it is placed on a flat, concrete or paved base. 
Positioning is pivotal, especially if you're laying on grass - if your shed is placed on an uneven lawn it could warp out of shape over time. If you're laying on grass, then lay a concrete, gravel or wooden foundation first and this will ensure the surface is entirely level.
If you purchase a shed without a base, then you'll need to fix it onto a concrete base, or raised wooden floor. 
Both paved and concrete bases require a sub-base to support the concrete, and while laying a shed base can be done on a DIY basis, it can be quite a technical operation. If you're not hugely experienced then it might be best to ask a professional. 
Jack is News Editor for Homebuilding & Renovating, and strives to break the most relevant and beneficial stories for self builders, extenders and renovators, including the latest news on the construction materials shortage and planning reforms. Having bought his first home in 2013, he and his wife have renovated almost every room and recently finished a garden renovation.
Homebuilding & Renovating Newsletter
Get the latest news, reviews and product advice straight to your inbox.
Thank you for signing up to Homebuilding. You will receive a verification email shortly.
There was a problem. Please refresh the page and try again.