Renovate on a Budget: 15 Ways to Keep a Lid on Costs
Looking for the best ways to renovate on a budget? Our guide is here to ensure your old home doesn't become a money pit.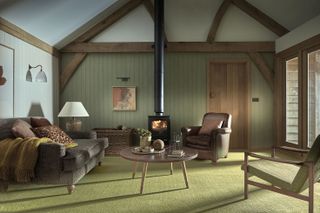 (Image credit: Carpetright)
If you want to renovate on a budget we have a whole host of ideas to help you modernise your property without breaking the bank — it really is possible to create your dream home without spending a fortune.
1. Decide Whether you Need an Architect For a Renovation?
There is no doubt that for certain renovation projects, engaging the services of an architector architectural technologist is the best route. However, not all projects require these services, particularly small-scale extensions and internal remodels.
If you want to save money on a renovation, you do have alternative options when it comes to your plans:
Draw the plans yourself. This is quite acceptable from a planning department's point of view, providing you include all the information they require. Bear in mind you'll need drawings for Building Regulations' purposes and that these will also be what you hand to your builders to tender for the job.
Employ a draughtsperson. This is a technical artist capable of transforming ideas into precise plans. If you choose to use a draughtsperson, make sure they carry adequate professional indemnity insurance appropriate to the size of your project.
Ask your building contractor to come up with a set of plans.
According to CIAT, there is little difference between architects and architectural technologists in terms of fees — your location and project are the factors that will determine what you are quoted, as well as the size of practice and their experience.
Chartered architectural technologist Eddie Weir MCIAT, says that homeowners should expect to pay (depending on the size and location of the project):
3-6% of their final build costs for planning drawings
up to 12%+ for a full service, including working drawings, project management and periodic site visits
It's worth checking out ArchitectYourHome, a 'pay-as-you-go' architectural service that allows you to use an architect as much or as little as you need, selecting from a menu of services, from drawings only, through to a full design and project management option.
2. Create a Concise Spending Plan — Then Stick to It
Preparation and planning are key when it comes to saving money when renovating. Don't just stumble into the project blindly without a plan of what you are going to spend and where.
Be honest with yourself and your builder, along with any other trades and suppliers involved in the project — there is no point setting out to renovate in a way that isn't achievable. Likewise, having a set amount of money you are prepared to spend on each element of the project means you won't blow all your funds a month into the renovation.
3. Make a Schedule of Works
A schedule of works is a list of all the jobs involved in a building project. A good schedule of works will list all the jobs, in the order they need to happen. It should also include other details such as who is carrying out each task, how long it will take and, ideally, how much it will cost.
A schedule like this can be handed to everyone working on your project so that everyone knows what is happening when. This means no communication breakdowns and no costly delays.
4. Choose the Right Suppliers
Although it is all too easy to be seduced by slick brochures, stylish websites and fast-talking sales reps, do bear in mind that just because a supplier or tradesperson has a large number of employees and impressive sales literature, it does not mean they will necessarily do a better job than a 'one-man band' — but it does mean that they will probably charge more.
5. Be Your Own Project Manager
The majority of homeowners trying to stick to their budget when they renovate find the most cost-effective route is to project manage the build themselves, choosing and hiring the separate trades as required.
(MORE: Could You Project Manage Your Building Project?)
The role of a project manager should not be underestimated — the decisions you will have to make and the time you will have to devote to the build is often all-consuming. On the upside, acting as your own project manager means you are in control of what you spend on labour and materials — and it can leave you free to choose which jobs you do on a DIY basis.
6. Find the Best Deals on Materials
Although buying all your building materials or an entire kitchen design or bathroom suite from one supplier is the simplest and quickest route, it is definitely not the most cost-effective.
Shopping around can really pay off when it comes to new kitchens. There is absolutely no reason why you have to buy all your appliances and worktops from the same company that is supplying your kitchen units — in researching the many alternatives available you are almost guaranteed to save money. The same goes for bathrooms.
7. Get at Least Three Quotes
It is surprising how many renovators fail to get more than one quote for work — the prices quoted by trades can vary by hundreds of pounds.
get at least three quotes
get recommendations from trusted sources
the cheapest quote may not always represent the best value for money
8. The Industrial Look Can Save Money
Anything that cuts down on labour costs is good news. Finishes such as birch-faced ply or exposed brickwork, for example, will do away with the need for a plaster finish (a task which is best left to a professional plasterer).
Exposed brick walls are most suited to internal walls rather than exterior walls where good insulation will be necessary.
9. Recycle Building Materials
Many renovation projects involve the demolition of ramshackle outbuildings. Reusing the original bricks offers huge savings. Likewise, reusing roof tiles and slates in sound condition will not only save you money, but will also help your new additions to blend in with the old.
In the case of timber windows, it is typically preferable to repair rather than replace — plus it is usually more cost-effective too.
10. Mix and Match Products
High quality no longer goes hand-in-hand with high cost. While not all cheap bathroom suites and cheap kitchens offer value for money, many off-the-shelf ranges have come on in leaps and bounds in recent years.
Buying standard unit fronts and carcasses and sprucing them up with more unusual or striking worktops, handles and concealed lighting, for example, offers a purse-friendly alternative to designer ranges.
11. Don't Miss Out on Bargains
Be prepared to pounce on the best bargains and deals as and when they arise by organising storage space that gives you the option to store too-good-to-miss offers such as ex-display kitchens and sanitaryware.
Don't wait until just before you need a new kitchen to start your search — buying a bargain when you see it can result in huge savings.
12. Take The DIY Route
Rolling up your sleeves and tackling work on a DIY basis is one of the top ways to make savings when it comes to renovations.
How far you go will depend on how confident you feel about your skills, and some jobs are almost always better off left to the professionals (like electrical work and plastering).
However, you can save thousands by doing simpler jobs such as painting and some tiling — you might enjoy it too!
There will also be occasions where a DIY approach carries the risk of costing you more than a professional would. We all know an over-enthusiastic DIYer who has ruined expensive materials and had to pay a professional to put it all right.
(MORE: The Complete Guide to Renovating a House)
13. Buy a Second Hand Kitchen
Second hand kitchens offer brilliant value for money and huge savings. Many second hand kitchens are sold for up to 70% less than their original RRP and come complete with worktops and appliances too.
There are several prominent used kitchen specialists out there, including Used Kitchen Hub, Used Kitchen Exchange and The Used Kitchen Company.
14. Save Money on Bathroom Projects
A new bathroom can be a costly project. However, there are many ways to renovate a bathroom cheaply.
Firstly, consider buying standard off-the-shelf suites that include a basin and sink, before giving them a more high end look with designer taps — and perhaps splashing out on a higher quality bath if funds allow.
Secondly, try to replace like for like. For example, keeping the sanitaryware in the same position as the old items will minimise the need for new pipework which can result in significantly lower costs.
15. Colour Match Paint
Finally, when decorating your renovation project, be a copycat when it comes to paint colours.
High end paint companies tend to charge high prices yet it is quite possible to get them closely matched by taking paint swatches along to your local DIY superstore.
Do get tester pots before buying full sizes of your colour matched paint as some companies do it better than others. This will also allow you to check the quality of the finish of the paint before parting with any money.
Colour matching paint services can offer impressive savings when compared to buying luxury paints but not all paints are created equal. In very public rooms that are inhabited frequently it can still pay in the long term to use the best paints you can afford.
Get the Homebuilding & Renovating Newsletter
Bring your dream home to life with expert advice, how-to guides and design inspiration, direct to your inbox.
Natasha is Homebuilding & Renovating's Associate Content Editor and has been a member of the team for over two decades. An experienced journalist and renovation expert, she has written for a number of homes titles. Over the years Natasha has renovated and carried out a side extension to a Victorian terrace. She is currently living in the rural Edwardian cottage she renovated and extended on a largely DIY basis, living on site for the duration of the project. She is now looking for her next project — something which is proving far harder than she thought it would be.