The 5 Best Reciprocating Saws for Professionals and DIYers
By Hugh Metcalf published
The best reciprocating saws, both corded and cordless, are handy tools to have for use around your build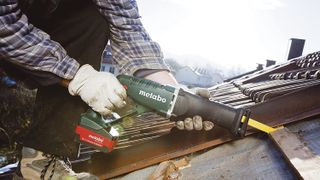 (Image credit: Amazon)
The best reciprocating saws go beyond the basics of the everyday homeowner's tool kit. They're very handy pieces of kit whether you're a professional or a serious DIYer looking to take a more serious role in the demolition stages when renovating a house.
A reciprocating saw is, in essence, a blade that goes back and forth very quickly to cut materials. It can cut anything from wood and metal to plastic and brick. However, a reciprocating saw is very much a demolition tool, rather than a saw that provides the clean cuts required for second fix tasks.
Here's our pick of the five best reciprocating saws now to help you work out which model is best for you.
The Best Reciprocating Saws
1. Makita DJR186Z 18v Reciprocating Saw
A quality, durable saw that's budget friendly
Specifications
Cutting capacity :
255mm (wood)
Weight:
3.1kg without battery
Reasons to buy
+
Variable speed
+
Tool-free blade change
+
Light weight
Makita's DJR186Z is probably the brand's most popular reciprocating saw, and for good reason. Though it's a mid-range tool, it's relatively budget-friendly, with the 'bare' saw starting from around £100. In relation to its cost, it outperforms cheaper, entry level saws by leaps and bounds.
This cordless model can cut timber up to 255mm, while its tolerance for metal is up to 130mm. However, its shoe is fixed in one position, meaning the blade length cannot be adapted for different tasks.
The blade is easy to change without requiring a tool, and the brush is also easy to access for when that require replacing.
If you're looking to upgrade on this model, opt for the Makita DJR187Z reciprocating saw (opens in new tab) instead, as it has a high performance brushless motor.
Buy the Makita DJR186Z 18v Reciprocating Saw (opens in new tab)
---
2. Milwaukee M18 BSX-0 18V Reciprocating Saw
A tough saw that's suited to busy building sites
Specifications
Cutting capacity:
300mm (wood)
Weight:
3.7kg without battery
Reasons to buy
+
Quick release blade change
+
Multi-position shoe
+
Easily cuts through wood
Reasons to avoid
-
Single speed
-
No electric brake
Milwaukee's M18 BSX-0 is a tough and powerful reciprocating saw. It's perfect for easily cutting through the likes of thin pipes or errant nails and screws hidden in timber.
While it can cut wood to a greater thickness than many other reciprocating saws, its tolerance for metals, especially steel, is on the lower side at 20mm.
A quick release blade change is a definite plus, as is the multi-position shoe, which helps this tool's versatility.
Buy the Milwaukee M18 BSX-0 18V Reciprocating Saw (opens in new tab)
---
3. Metabo ASE18 LTX 18V Cordless Reciprocating Saw
A versatile pick which features an adjustable saw head
Specifications
Weight:
3.7kg without battery
Reasons to buy
+
180° adjustable head
+
Adjustable shoe
+
Easy to change blades
Reasons to avoid
-
Battery needs to be bought separately
The most eye-catching feature of Metabo's ASE18 LTX is its adjustable saw head, which can be rotated 180°, ensuring that the tool can be safely used overhead without an awkward positioning.
While this saw is at the heavier end of the scale when it comes to cordless reciprocating saws, it's still lightweight enough for easy use.
Blades can be changed quickly without needing tools, and the adjustable shoe works as a depth guide, helping to make cuts to more accurate depths where the work requires it. You will, however, need to buy the batteries separately.
Buy the Metabo ASE18 LTX 18V Cordless Reciprocating Saw (opens in new tab)
---
4. Bosch GSA 18V Reciprocating Saw
Well-rounded and very comfortable to use
Specifications
Cutting capacity:
250mm (wood)
Weight:
3.4kg without battery
Reasons to buy
+
Ergonomic grip
+
Two speed options
+
Combats overheating
Reasons to avoid
-
Batteries sold separately
Bosch's GSA reciprocating saw has two speed settings, which is plenty for most uses of this type of tool. While reciprocating saws don't tend to have extra handles, this design has an ergonomic soft grip handle on the front, making it a comfortable tool to use.
As well as an electric break to make it safer to use, this model has features that help to protect the motor and cells, ensuring it lasts a long time as well as not overheating as much during use.
Like most cordless reciprocating saws, the Bosch GSA is sold bare, but compatible with the brand's cordless battery range.
Buy the Bosch GSA 18V Reciprocating Saw (opens in new tab)
---
5. DeWalt 1100W 230V Corded Reciprocating Saw
A powerful, corded reciprocating saw
Specifications
Cutting capacity:
280mm (wood)
Reasons to buy
+
Fan-cooled motor
+
4-position blade clamp
What DeWalt's corded reciprocating saw lacks in convenience compared to a cordless version, it makes up for in power, making it a great choice when looking to cut through the likes of aerated concrete blocks.
However, the reason we've chosen it as one of the best reciprocating saws is for its clever 4-position keyless blade clamp feature, which allows you to move the blade for greater versatility in use, such as flush cutting.
If you're buying a reciprocating saw and you don't already have cordless batteries for other tools in your kit, then this represents a budget-friendly, all-in-one offering.
Buy the DeWalt 1100W 230V Corded Reciprocating Saw (opens in new tab)
---
What Jobs is a Reciprocating Saw Suitable for?
You'll often see a reciprocating saw used at the beginning of a job, for rip out and demolition. Because of its heavy-duty nature, you won't see it on second fix applications where you need fine cuts.
A reciprocating saw is perfect for cutting out rafters and battens on roofs. Depending on the job you can also use it for cutting plastics and metals, as well as wood.
How to Choose the Best Reciprocating Saw
Corded vs. cordless
Corded reciprocating saws are cheaper, but because of the nature of a reciprocating saw, you're more likely to use it moving around. The convenience of a cordless saw is worthwhile, otherwise you'll find yourself tethered by the cord and relying on extension leads across the site.
Weight
Bear in mind a lot of the time you'll use a reciprocating saw over head height, so it's worth taking the tool's weight into account. Pick it up and have a play with it, to make sure it's not too heavy. Cordless models will be lighter.
Blade changing
Consider how easy it is to change the blades. Quick release systems are much better than those that require tools, especially as saw blades can blunt quite easily.
What Accessories Will I Need?
Safety Tip
Don't cut towards yourself as, if you go through the material quickly, the next point of contact is your body. Always cut away from yourself with a reciprocating saw.
Accessory wise, you need to pick the blade for the material you're cutting. Fortunately, the material should be written on each blade, making it easy to select the right one. Stock up on blades as they do go quickly. In older houses, rafters are full of old nails and old timber is much better quality, grown slower and tougher to cut.
In terms of PPE, eye protection is important, and there are different levels of googles and glasses. When cutting timber, dust and splinters can flick up so make sure your eyes are protected. This tool is a sharp blade going back and forth quickly so some strong gloves should also be worn when operating.
Cordless is a bit more expensive, as you'll need to buy batteries separately if you don't already have them. Buy a minimum of two batteries — one on the go and one on charge. One battery will give you most of the day, depending on ampage.
Round Out Your Tool Kit With Our Best Buys
Bulk up your tool kit further by exploring the best cordless drills - an essential item for any DIYer - as well as the best orbital sanders and best reciprocating saws.
Hugh is Digital Editor of homebuilding.co.uk and has worked on a range of home, design and property magazines, including Grand Designs, Essential Kitchens, Bathrooms, Bedrooms and Good Homes. Hugh has developed a passion for modern architecture and green homes, and moonlights as an interior designer, having designed and managed projects ranging from single rooms to whole house renovations and large extensions. He's currently renovating a Victorian terrace in Essex, DIYing as much of the work as possible. His current project is a kitchen renovation which involves knocking through walls and landscaping a courtyard garden.
Homebuilding & Renovating Newsletter
Get the latest news, reviews and product advice straight to your inbox.
Thank you for signing up to Homebuilding. You will receive a verification email shortly.
There was a problem. Please refresh the page and try again.