What Is An Integrated Dishwasher? The Pros, Cons and More
By Amy Willis published
You may be asking what is an integrated dishwasher if designing a new kitchen. They can hide your appliances to give your kitchen a sleek look. We explain all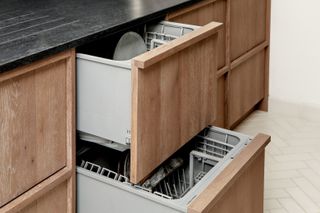 (Image credit: Fisher & Paykel)
What is an integrated dishwasher? When it comes to the latest kitchen trends, it's all about keeping your appliances out of sight.
While freestanding washing machines and dryers can be easily hidden away in a utility room, garage or other space, dishwashers really do need to be in a kitchen. There's no sense in placing such a high-functioning bit of kit in any other room, given how frequently we need to clean our plates, cutlery, pots and pans.
We've come a long way since the original freestanding dishwasher was invented in 1850 by Joel Houghton and later revolutionised in 1886 by Josephine Cochranin. Dishwashers no longer need to be an obvious addition to your kitchen and can instead literally be 'integrated' into your existing kitchen cabinetry. These days, the best integrated dishwashers are also quiet and include smart functionality.
In our guide, we look at the difference between integrated dishwashers, semi-integrated dishwashers and freestanding dishwashers. We also look at their pros and cons.
What is an Integrated Dishwasher?
An integrated dishwasher, also called fully-integrated, is specifically designed by manufacturers to allow a false cupboard door to be slotted onto the front. This means the appliance can blend in with the rest of your kitchen units and kitchen design, only becoming apparent when it is opened to be filled or emptied.
"Integrated dishwashers are ideal for homeowners looking to achieve a seamless, sophisticated kitchen design that is fuss-free," explains Sian Bailey, Dishwasher Category Manager at Miele GB (opens in new tab). "Unlike freestanding dishwashers, an integrated dishwasher can be concealed with a door matched to the cabinetry — so there's no compromise on the kitchen aesthetic."
Integrated dishwashers come in all shapes and sizes too, including the relatively new kitchen trend of 'dish drawers', which allows smaller families to run one drawer at a time for half loads or two drawers for normal-size loads.
"The single drawer is perfect for smaller families who may not need a full-sized dishwasher," says Jo Jackson, Product Manager, Fisher & Paykel, that offer a product called DishDrawer™. "The DishDrawer is as easy to open and close as a kitchen drawer and its convenient location at bench height minimise bending for an easier loading experience."
What Are the Pros and Cons of Integrated Dishwashers?
While the main bonus of going fully-integrated is a sleek-looking kitchen design, this isn't the only benefit.
Integrated dishwashers are built to be discrete, meaning manufacturers have focused on designing dishwashers that don't make a lot of noise. Integrated dishwasher are being designed to be smart too, hooking up to your wifi and even calculating how much detergent to use depending on load weight. Basically there's plenty of innovation happening with integrated dishwashers.
On the flip side however, integrated dishwashers tend to not follow you with a house move because of how much work there is installing it in the first place.
Installation includes the usual connection of a water supply but it also gets fiddly when fitting the false cupboard door at the correct height and affixing the dishwasher itself so it doesn't fall forward each time you open the door.
"Most integrated appliances will be developed to be counter depth and will allow space for the pipes for water and waste but bear in mind that most appliances will need to have a socket in the cupboard next to them," explains Fisher & Paykel's Jo Jackson.
"Most modern appliances have specialist hinges which allow doors to open with minimal gaping. The last thing you need with a beautiful new kitchen is a large gap around the appliances that collects dust and debris. Look for gaping between 3mm- 6mm for the best effect."
While prices are lowering as they become more popular, typically integrated dishwashers tend to be more expensive than freestanding dishwashers.
What is a Semi-Integrated Dishwasher?
There is an option to semi-integrate your dishwasher, if you prefer to flash a little tech. A semi-integrated dishwasher has the benefit of fitting in with your existing units but with an additional band of buttons above the integrated false kitchen cabinet door. This means you can operate the dishwasher without having to open the door to find the control panel.
The main pro of a semi-integrated dishwasher over integrated is one of preference in design and functionality. You won't be able to see if a fully-integrated dishwasher has finished its cycle by glancing at it, but with a semi-integrated dishwasher you will be able to see the lights flashing on the front of the machine.
Amy is in the middle of the renovation of a period property in rural Suffolk. She's taken a hands-on DIY approach to the project, knocking down walls, restoring oak beams and laying slabs herself with the help of family members to save costs.
Homebuilding & Renovating Newsletter
Get the latest news, reviews and product advice straight to your inbox.
Thank you for signing up to Homebuilding. You will receive a verification email shortly.
There was a problem. Please refresh the page and try again.