Underfloor Heating Installation: A DIYer's Guide
By Tim Pullen
Underfloor heating installation could be handled by a competent DIYer – simply follow this step-by-step guide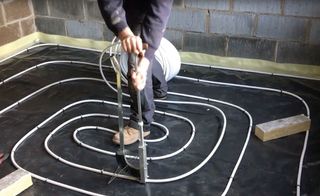 (Image credit: c/o Wunda Group)
When it comes to underfloor heating installation, competent DIYers could save themselves a bit of money by taking on the task themselves (although the manifold for a wet system will need to be installed by a qualified professional).
Underfloor heating is on the wishlist of many self builders (and renovators) as they strive for the optimum in home comfort, energy efficiency and, in some cases, contemporary, minimalist design.
If you are installing underfloor heating in an existing house, you will need to make sure you opt for a low profile system.
As always, only take on DIY projects that are within your capabilities.
(MORE: The DIY tasks you should leave to the professionals)
Nine Steps to Follow for Perfect Underfloor Heating Installation
1. The first step is to connect the floor heating pipe to the manifold.
(MORE: Underfloor Heating Manifolds)
2. After laying your insulation, you will need to begin to lay the pipe.
3. Secure the pipe to the insulation as you go using pipe staples.
4. Ensure you fix the pipe with the correct spacing to ensure optimal heat distribution.
5. Loop the pipe across the whole floor area. Use multiple loops for large spaces.
6. Prepare the screed (or opt for a ready-mixed version).
Before you pour the screed…
The pipes must always be pressure tested before the screed is laid. Equally important is to ensure the pipes are full of water while the screed is being laid so that if there is any damage it will be immediately obvious and can fixed before the screed laying is finished.
(MORE: A Screed Masterclass)
7. Carefully pour the self-levelling screed over secured pipework.
8. Stabilise the screed with a chemical spray.
9. Finally tamp the screed for a smooth finish.
Tim is an expert in sustainable building methods and energy efficiency in residential homes.
Homebuilding & Renovating Newsletter
Get the latest news, reviews and product advice straight to your inbox.
Thank you for signing up to Homebuilding. You will receive a verification email shortly.
There was a problem. Please refresh the page and try again.