Underfloor Heating With Carpet: Does it Work?
By Hugh Metcalf published
Underfloor heating with carpet might sound good in theory, but does it work in practice? We get expert advice on what you'll need to consider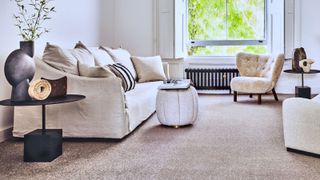 (Image credit: Carpetright)
It's easy to understand why the idea of underfloor heating with carpet is so attractive Carpet is already a much warmer choice underfoot than many of the most common types of flooring used with underfloor heating, but combining it with a heated floor is sure to make your space even more cosy.
However, this characteristic of carpet is also the reason that it's not always the right match for underfloor heating. If you're using the wrong carpet, it may reduce the heat that reaches through your floor covering to such an extent that it's completely ineffective at heating your space.
So, should you use underfloor heating with carpet or not? We asked the experts to explain the main considerations that apply.
Can you use Underfloor Heating With Carpet?
Yes, you can use underfloor heating with carpet, but there are some guidelines that you'll need to follow to ensure it's an effective choice. On a sliding scale, natural stone flooring and tile sit as the best choices to use with underfloor heating, while carpet sits pretty firmly at the other end, so it's worth exploring the idea with your underfloor heating supplier to ensure it's the right choice for you.
"Your heating supplier should also be taking into account what final floor finish you are using when they are designing your system to ensure that the system will reach the desired room temperature," explains Jo Snell, self build manager at Nu-Heat. "We are aiming to achieve 21°C in living rooms and 18°C in bedrooms when it is -3°C outside."
To give you an idea of the difference, you can expect to see a heat output from underfloor heating to nearly halve when using a 2 tog carpet compared to tiles or natural stone, based on a floor temperature 55°C associated with gas central heating.
It's important to note that if you're using underfloor heating powered by a heat pump, whether that's an air source heat pump or a ground source heat pump, your underfloor heating will deliver a lower flow temperature than a system based on a traditional gas boiler, and this will need to be taken into account of your heat calculations.
What Carpet can you lay on Underfloor Heating?
You need to ensure that the carpet you specify doesn't have a tog rating underlay of higher than 2.5 if running from a boiler and 1.5 if running from a heat pump, combined with the tog rating of the underlay.
"Carpet with a thermal resistance of less than 2.5 tog won't affect the efficiency of underfloor heating — and a 80% wool, 20% nylon carpet with a standard underlay will likely only be 2.2 tog at best," explains energy efficiency expert Tim Pullen.
The type of carpet you choose and the thickness will both play a part in its tog rating - something that should be supplied by the manufacturer.
"The tog value of Brinton's 'Bell Twist', a typical 80% wool and 20% nylon carpet, is 1.23," Nu-Heat's Jo Snell offers as an example. "Most nylon pile carpets will achieve around 1 tog and the thickest wool carpet, over 2.5 tog."
What Underlay Should you use With Underfloor Heating?
The tog rating of underlay is negligible in comparison to the carpet, but it may prove the tipping point in your sums as to whether a carpet is suitable. Most underlay suppliers will provide information on tog rating, and you can expect to see levels of around 0.5-0.6 for underlay that's designed to use with underfloor heating.
Thicker, more insulating underlays such as felt and heavy crumb should be avoided.
How do you Install Carpet Over Underfloor Heating?
"To avoid uneven heating pockets it is possible to stick the carpet and underlay to the floor, as in the 'double-stick' system, explains Jo. "The heating should be switched off 48 hours prior to laying and for 48 hours afterwards and then brought up to full working temperature gradually over 7 days."
If using carpet grippers, they need to be glued over the screed or self-levelling compound to stop the sub-floor cracking.
What About Rugs?
If you're choosing a hard flooring, but will be using rugs in your space, many of the same considerations will apply in that the higher the tog, the less effective underfloor heating will be. Tog ratings for rugs are less widely available, so this may be harder to calculate the effect on how your underfloor heating will be affected.
However, if you're planning for a rug from the outset, your underfloor heating design can make adjustments to your layout to compensate for this.
"If you plan to put a rug, or furniture for that matter, in a room then it is best to design the pipes to be a lot closer together, around 100mm, so that there is enough length exposed to a free surface." explains energy efficiency design expert David Hilton.
Hugh is Digital Editor of homebuilding.co.uk and has worked on a range of home, design and property magazines, including Grand Designs, Essential Kitchens, Bathrooms, Bedrooms and Good Homes. Hugh has developed a passion for modern architecture and green homes, and moonlights as an interior designer, having designed and managed projects ranging from single rooms to whole house renovations and large extensions. He's currently renovating a Victorian terrace in Essex, DIYing as much of the work as possible. His current project is a kitchen renovation which involves knocking through walls and landscaping a courtyard garden.
Homebuilding & Renovating Newsletter
Get the latest news, reviews and product advice straight to your inbox.
Thank you for signing up to Homebuilding. You will receive a verification email shortly.
There was a problem. Please refresh the page and try again.