Small House Design: Expert Advice and Ideas for Compact Builds
By Pete Tonks published
The best small house design uses every inch of your floor plan to its maximum potential. Get some expert advice and inspiration with our compact home guide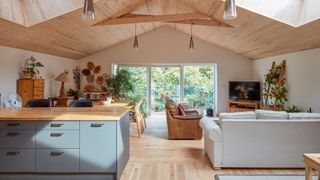 (Image credit: Mark Ashbee)
Even if you're building a modest property, small house design will help you make the very most of your space, ensuring its an inspiring space to spend time in.
That's one of the main benefits of self build — the chance to make a home, no matter its size, work to its full potential means that even a limited budget can go a long way in creating a house that's a dream to live-in.
But just how do you design a house on a small floorplan that's a joy to live in? House designer Pete Tonks offers his top tips for planning a small house design.
Floor Plan Advice for a Small House Design
When it comes to small house design, learn to think in three dimensions rather than two. If you are knee-deep in floor plans and your architect/designer is feeding you with ideas left, right and centre, it is often difficult to comprehend how the spaces within the design will actually function and connect to one another.
The increased use of 3D modelling and more recently, virtual walk-through modelling, allows us as designers to explore potential spaces in ways we have never been able to do fully before. However, this isn't limited to professional architects, there are plenty of home design apps you can download to model your home with too. Beyond your floor plans therefore, think about the spaces and environment below your feet and above your head.
Perceived space can be visually expanded by a subtle change in floor levels such as a sunken lounge or family snug zone, or you could incorporate cantilevered floor decks at first floor level which in effect project the floor zones out above the ground floor in a 'floating' fashion.
A house with a small footprint doesn't need to feel pokey inside — in fact, there are many ways you can bring elements of open plan design to a compact home.
Opting for a broken plan layout is an effective way of keeping a sense of space, while still creating distinct areas in the home for different uses. Changing levels across a room, or using internal glass dividers to replace walls, such as from an entrance hall to a living room, can complete change the perspective of size of your space, without actually changing the floorplan, or how the space is used, at all.
How to Get Glazing Right for a Small House
Natural light is absolute 'king' when it comes to smaller spaces. However, this brings its own challenges because you are likely to be using wall space for important furniture placement, TV mounting, kitchen units etc. This means that windows are often considered as a secondary consideration and by default are either positioned in entirely the wrong place or are the wrong size.
Think about window placement early on in the design process and position them according to the sun path so that natural light enters the building and spaces within at the right time for the right location.
Be adventurous with getting natural light into your smaller home by considering high level ridge glazing, clerestory windows which can sit above kitchen cabinets or super skinny slit windows at the ends of walls in corner locations. These give shafts of great natural light into otherwise dark zones and not only do they provide light but also a striking character to a home.
How to Design a Hallway for a Small House
When creating a hallway design for the entrance to smaller homes, there is no right or wrong. You could choose a spacious oversized hallway, perhaps at the expense of having a study, as more often than not we use our tablets for daily admin tasks and this can be done anywhere. This would immediately give the impression of space and the effect can be amplified further in design terms by creating height above by way of vaulted ceilings.
The flip side of this, and equally successful, is a small hallway idea in a confined environment but when leaving this space, you enter a largely open plan ground floor. This is a subconscious play based on the principles of spatial compression and expansion. Entering compressed space makes us feel secure and controlled whereas entering expanded space lifts the spirit and the soul. The two experiences can be intertwined a number of times within a single layout if you are using a skilled designer.
If open plan living is not for you and the design is likely to have corridors and hallways, do not be afraid to make these marginally wider than you have been used to. They are the day-to-day transition spaces within our homes and should be pleasant to use and appropriate to your whole scheme rather than just being practical
Staircase Design for Small Houses
A conventional staircase design and landing can sometimes be bulky and appear incongruous, but things have moved on significantly in recent years so that these elements can be made far more transparent, which in turn gives the impression of space.
Staircase ideas you could consider include glass balustrades instead of timber, or a single spine stair design instead of a stringer either side that immediately removes some of the bulk. You can get glass treads on top of a spine stringer, making the structure even less obvious or go one step further and opt for a cantilevered tread staircase which creates an even greater sense of space.
Beyond the staircase, glass floors are worth investigating for a landing space, as they do make spaces far more exciting and provide views through a building that would otherwise be blocked.
Outdoor Space Design for Small Houses
Another consideration is indoor to outdoor space. While the UK climate is not as good as perhaps we would like, but we do have the occasional hot spell, so think about your external spaces as an extension of your internal spaces and how to create a blended transition between the two.
The veranda has made a huge comeback in recent years — this can be a simple continuation of a sloping roof, often referred to as a 'cat-slide', and you only need a projection of around 1.5m-2m that is covered above to really make this a successful 'outdoor room'.
These external zones can be used in any weather and if you/your designer are clever, they can be integrated at ground floor and first floor and often can be excluded from area/volume restrictions, which can be particularly useful if your planning parameters are limiting.
Pete is a design expert and director of PJT Design Ltd. He has been designing self build homes for over 20 years and is a specialist in designing oak frame homes.
Homebuilding & Renovating Newsletter
Get the latest news, reviews and product advice straight to your inbox.
Thank you for signing up to Homebuilding. You will receive a verification email shortly.
There was a problem. Please refresh the page and try again.