Planning Rules for a Two Storey Extension
By Sally Tagg published
Planning rules for a two storey extension are important to know. From size rules to choosing the right application to submit, our guide covers all you need to know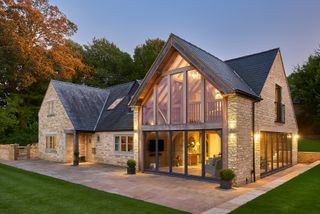 (Image credit: Oakwrights, photographer Richard Kiely)
Planning rules for a two storey extension do apply. In fact, all extensions to the front and side do require a planning application.
In this article we cover when you'll need planning for a two storey extension, how big you can build, rules on side and rear extensions and the how the application process works.
(MORE: How to Get Planning Approval)
When Will a Two Storey Extension Need Planning Permission?
Did you know
If you have previously erected a single storey extension (whether under PD or via a planning application) you cannot add a second storey above under PD – that would require a planning application.
In certain circumstances two storey rear extensions can be achieved under Permitted Development, however there are specific criteria.
Two storey rear extensions are permissible with a depth of up to 3m, however, you must be able to demonstrate a minimum of 2m between each side wall of the extension and the site boundary. This makes two storey rear extensions on terraced properties virtually impossible (unless you have an extremely wide terraced home) and difficult to achieve for most semi-detached homes.
In addition, you must be able to demonstrate a gap of at least 7m between the rear wall of the extension and the rear boundary. If you are able to comply with each and every restriction, then you may build a 3m two storey extension across the width of your home (but not exceeding the existing side walls).
(MORE: Secrets to Planning Success)
How Big Can Two Storey Extensions be?
There are national rules relating to planning applications for two-storey extensions. Many councils have policies in their development plan which restrict the percentage by which a home may be extended, particularly in the green belt. Such restrictions are usually around 40%, although this can range between 20%-50%.
What Are The Planning Rules for Two Storey Side Extensions?
Planning applications for two storey side extensions will be considered in relation to development plan policies dealing with impact upon street scene, character of the local area and impact upon neighbour amenity.
The LPA will also consider the impact upon the host dwelling – does the proposed extension represent an appropriate addition to the property or does it represent overdevelopment with a scale and massing that is inappropriate?
What Are The Planning Rules For Two Storey Rear Extensions?
Similar considerations apply to two storey rear extensions, however, the impact upon neighbour amenity will be the key consideration, unless the proposed extension is very visible from the public highway.
Two storey extensions can also impact upon light, so one must consider the right to light of neighbouring properties.
What Type of Planning Application Do I Need?
If your proposed extension falls under permitted development, then you should apply for a Lawful Development Certificate. If it does not constitute permitted development, then you can submit a householder planning application.
What's The Process of Submitting Plans For a Two Storey Extension?
For both a PD and a Householder application you should submit full floorplans and elevational drawings. Large or potentially controversial extension applications should normally be accompanied by a planning statement or a design and access statement to set out why the applicant considers the proposal to be in line with local policy and local design guidance, does not adversely affect neighbouring properties and is appropriate in terms of visual impact etc.
PD proposals should use materials 'of a similar appearance to those used in the construction of the exterior of the existing dwelling house'. The extensions must not be any higher than the existing dwelling and the roof pitch of the extension 'must, be the same as the roof pitch of the original dwelling house'.
What Types of Two Storey Schemes Are Generally Acceptable?
Material Choices
It is often advisable to use materials that are in keeping with the host dwelling, however different materials that are prevalent in the local vernacular may be appropriate. You should consult your LPA's Residential Design Guide or Design Supplementary Planning Document (SPD) if they have one.
As indicated above, there are no set rules for planning applications for either side or rear two-storey extensions, it will depend upon local plan policies and their interpretation.
However, there are a number of guidelines within which it is prudent to work. An extension should normally be subservient to the main dwelling by virtue of being stepped down from the ridgeline and stepped back from the principle (or rear) elevation. LPAs prefer that extensions look like extensions rather than try to appear to be a part of the original dwelling.
How Long Does it Take For an Application to be Approved?
PD applications for extensions should be determined within 28 days while a Householder application will be determined within [roughly] eight weeks. LPA's will list all applications types and the associated fees on their websites, along with the validation check lists identifying what must be submitted with an application. Current fees are:
Household application £206; £202 in Scotland
Full application £462; £603 in Scotland
Adding a Two Storey Extension to a Listed or Historic Building
It is possible to attach a two storey extension to a listed building, however one would require Listed Building Consent as well as planning permission and the LPA will consider the impacts upon the heritage asset very keenly.
Adding a Two Storey Extension to a Home in a Conservation Area
Proposed extensions to dwellings in Conservations Areas will be similarly assessed and the impact upon the setting of the Conservation Area will be carefully considered.
(MORE: Designated Areas)
Continue reading this article
One-off payment: £4.99 for six months full access to The Planning Hub
The Planning Hub offers in-depth guides to planning permission in England, brought to you by Homebuilding's planning experts
Instant access to planning permission information, vital to the success of your project

Independant advice from leading Homebuilding & Renovating planning experts

Discover what you need to know to get your plans approved with minimum hassle

Get to grips with complex planning rules with our easy-to-read guidance
Continue reading this article
One-off payment: £4.99 for six months full access to The Planning Hub
Sally is a chartered town planner and an expert in all things planning permission. She has significant expertise, specialist knowledge and substantial experience when providing professional advice for self builders and custom builders seeking to build their own home and those who wish to refurbish and extend their properties.
She is Managing Director of Foxley Tagg Planning Ltd (which she formed in 2000), Executive Committee Member – National Custom & Self Build Association (NaCSBA) and a Board Member of the Right to Build Taskforce. Sally and her team are a regular presence in The Planning Clinic at the Homebuilding & Renovating Show.
Homebuilding & Renovating Newsletter
Get the latest news, reviews and product advice straight to your inbox.
Thank you for signing up to Homebuilding. You will receive a verification email shortly.
There was a problem. Please refresh the page and try again.