Planning Permission for Sheds: When Should You Seek Approval?
By Natasha Brinsmead published
Planning permission for sheds is not always required but there are instances where it may be needed — we guide you through what you need to know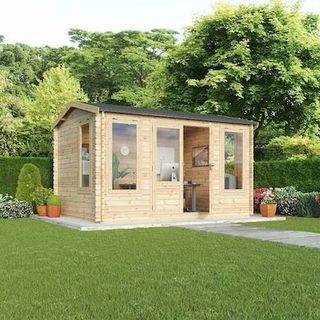 (Image credit: Waltons)
Whilst in many cases planning permission for sheds will not be required, it is always best to check in order to ensure that your new structure won't be breaking any laws.
We guide you through what you need to know.
Does a Shed Fall Under Permitted Development?
Many people assume planning permission for sheds is not a requirement due to the fact that in 2008 outbuildings became covered by permitted development.
Sheds, garages, summerhouses and greenhouses all fall into the category of 'outbuilding' but of course not all of these are of the same size, design and location, meaning that not all of them will be exempt from planning permission.
What you plan on using your shed for will also affect whether or not you will need planning permission.
According to Planning Portal (opens in new tab), to fall under permitted development, a shed:
Must not be put up on any land forward of a wall forming the principal elevation
Should have a maximum eaves height of 2.5m and a maximum overall height of 4m with a dual pitched roof, or 3m for any other roof type
Be of a maximum height of 2.5m if it is within 2m of a boundary of the curtilage of the dwelling house
Must have no verandahs, balconies or raised platforms above 30cm
Should not cover more than 50% of the land around the original house
If the land falls in a designated area such as a National Park, the Broads, an Area of Outstanding Natural Beauty or World Heritage Site, the maximum areas to be covered by buildings, enclosures, containers and pools more than 20 metres from the house is limited to 10 square metres.
If your house is Listed or on designated land, any shed will require planning permission
Do I Need Permission to Use my Shed as Accommodation?
Of course it is up to you what you use your shed for but if you do intend on using your new building as separate self-contained accommodation and will be fitting it out with a bathroom and/or kitchen, then planning permission may well be required.
Planning regulations state that to fall within permitted development, an outbuilding must be for a 'purpose incidental to the dwelling house.' But what exactly does that mean?
In general, 'incidental' buildings are used for activities that are unlikely to go on in a house, will support a hobby or are simply to store things that wouldn't usually be kept in a house. For example a shed for storing tools or sports equipment, or a summerhouse or games room.
If you plan on using your shed as accommodation, with a plumbed in kitchen and bathroom, a planning application will often be required — so give your local authority a call.
(MORE: Do I Need Planning Permission for an Annexe?)
Can I Use a Shed for a Home Office?
When it comes to planning permission for sheds, things can get a bit blurry when it comes to them being used as garden offices.
Whilst a garden office or studio that is used from time to time when working from home may well come under permitted development, one that is used to run a full-time business from and to carry out regular client meetings might well be.
Again, each local authority has different views on this and it is better to check than to break any laws.
How to Apply for Planning Permission for a Shed
If you suspect that you may need planning permission for a shed, the very first thing you should do is to contact your local planning department.
If planning permission is required, you can make an application through Planning Portal (opens in new tab). An application for an outbuilding usually costs £200.
Is Building Regulations Approval Required for a Shed?
Providing your new garden shed is no more than 15 square metres and will not be used for sleeping accommodation, building regulations will not normally apply.
In addition, if the floor area of your new shed will be between 15 square metres and 30 square metres, you should not have to apply for building regulations approval as long as the shed contains no sleeping accommodation and will be either at least 1m metre from any boundary or, according to Planning Portal, "will be built substantially of non-combustible materials."
Continue reading this article
One-off payment: £4.99 for six months full access to The Planning Hub
The Planning Hub offers in-depth guides to planning permission in England, brought to you by Homebuilding's planning experts
Instant access to planning permission information, vital to the success of your project

Independant advice from leading Homebuilding & Renovating planning experts

Discover what you need to know to get your plans approved with minimum hassle

Get to grips with complex planning rules with our easy-to-read guidance
Continue reading this article
One-off payment: £4.99 for six months full access to The Planning Hub
Natasha is Homebuilding & Renovating's Associate Editor and has been a member of the team for over two decades. An experienced journalist and renovation expert, she has written for a number of homes titles. She has renovated a terrace and is at the end of the DIY renovation and extension of her Edwardian cottage. She is now looking for her next project.
Homebuilding & Renovating Newsletter
Get the latest news, reviews and product advice straight to your inbox.
Thank you for signing up to Homebuilding. You will receive a verification email shortly.
There was a problem. Please refresh the page and try again.