14 Secrets to Ensure Planning Success
By Ken Dijksman published
The planning process can be an onerous affair so the more you know about it, the better equipped you'll be. Follow these top tips to help you get the green light on your application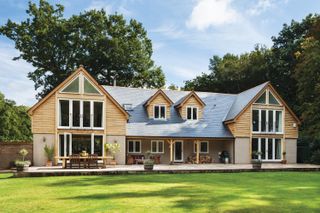 (Image credit: Simon Maxwell)
Planning is the key to unlocking the true potential of your land or home, It turns the corner of a field into a building plot or a large garden into a tax-free, mortgage-paying opportunity to build your own home.
But getting planning permission is a tricky business.
Plots are so scarce and residential land is so valuable because getting planning permission is not easy. Demand for building plots massively outstrips supply in most of the UK and land prices reflect this.
(MORE: Finding a Plot)
It can also be expensive and take much longer than you expect. But it's worth the hassle. It can add a huge amount of value to land and property, and enables you to transform your home, or build the one you really want.
With the right attitude and understanding, and bit of luck, you can get planning permission and you can build your own home.
Here, we set out 14 key points which could help you unlock potential in a plot, or major renovation/extension opportunity.
(MORE: How to Get Planning Approval)
1. Be Realistic About Costs and Timescales
You may want to refurbish an existing house or self build, but quite apart from buying the land, getting planning permission is not cheap and it can quite easily take over a year between submitting the application and starting on site.
At best, securing planning permission will take at least two months, and if you need to withdraw your application to negotiate changes to the design or layout, it can take even longer.
My advice is to be prepared to take your time and assume that it will take at least four months to get permission. If you are pushing against the boundaries of what is likely to be acceptable, such as a very large extension or a radical redesign, then your first application is really just a test to see what you are likely to be able to achieve. What's more, once you have permission, clearing the planning conditions set out, like agreeing materials, will probably take another two months.
Architects' and designers' fees can vary enormously too. You may need to make more than one planning application in order to reach agreement with the council and make revisions to your plans accordingly, too.
A minimum budget of around £20,000 (including architects' plans and specialist reports) is probably realistic for getting planning permission, and setting aside 18 months for the process should give you enough time.
2. Do Your Homework
Planning is a fairly alien world to the uninitiated. It is riddled with jargon but the planning policies are readily accessible from your local authority and those that deal with extensions to houses and small-scale design issues are normally relatively straightforward.
It's worth spending some time reading and understanding the planning jargon and examining what has been allowed recently in the area where you're intending to build. In some places, such as the Cotswolds, there is a fairly iron-clad rule about the materials and design you have to use in conservation areas. Elsewhere, there may be more flexibility. You need to find out what is usually accepted in your area.
3. Employ the Right Experts
It's also important to know when you need an expert. You may certainly need to find an architect or designer to prepare plans, and you may need specialist consultants like ecologists, drainage engineers and highways consultants to assist in the design.
You may need a planning consultant if you hit the buffers and face resistance from the council. If you are proposing a fairly major development, such as a brand-new house, it might be worth getting a planning consultant involved from the beginning.
Architects often know as much about planning as planners do about architecture, which is usually something but not enough. So if your scheme is likely to be contentious, a planning consultant may be an essential member of the team to try and steer you clear of unnecessary problems.
It is essential to find an architect who suits you and is right for the job. In my view, architect-client relations are very important, particularly when compromises need to be made. Designs usually evolve as a result of a good relationship with the architect.
Check out what other permissions they have obtained recently and see how many refusals they have received. In my view, the track record of the people you employ is important.
(MORE: 11 Ways to Assess Your Architect)
4. Be Flexible
You want to build a house or refurbish an existing one — and the good news is that there are loads of different ways of dealing with any one site.
Top Tip
Planning is inherently flexible, because there are numerous different ways of developing a parcel of land and all kinds of schemes can get permission. And remember, one planning permission does not supersede another.
If you have a property with five different planning permissions, it's up to you which one you implement. In some cases, it will be possible to implement parts of two separate permissions on the one piece of land.
For example, the garage granted under one consent, and the new house granted under another. This allows some creative thinking, but you also need to be prepared to negotiate and compromise; there is rarely one right answer for you or the planners.
5. Look to the Local Area
When you look around the area you live in you will see a huge diversity: different extensions and alterations to existing houses, and infill plots and new dwellings.
If you go to any local authority website and search their planning pages, there is usually an interactive map which shows you how many applications have been made in that area over the past 10 or more years.
You will be amazed at just how many planning applications have been made. It's worth genning up on what has been achieved (and what has been rejected) in the local area before designing your home.
6. Stick to Your Ideas
This may sound obvious, but when it comes to improving your home or building a house it's easy to be indecisive and to change your mind. This can be both expensive and time-consuming.
So be clear about what you're trying to achieve when you're instructing architects and other consultants — they need a clear and unambiguous design brief.
Set out what you want them to achieve and the areas you may be more flexible about.
7. Know When to Take Advice
I encounter a lot of optimists and a lot of people who know their own mind and are clear about what they want. All key attributes of being successful perhaps, but sometimes being positive is not enough — you may have to settle for slightly less than you hoped for. You may need to give up and start again with a different site or a different design.
Planning consultants, architectural designers and builders have very different skill sets and can be quite ignorant of each other's line of work. As a client outside of the industry you will know less than they do and it's important to recognise the value of the advice given by experienced individuals who, let's face it, you will be paying for the privilege of using.
8. Be Diplomatic
Like it or not, when you build things, you risk upsetting people.
They may not have rational grounds to be upset but it won't stop them. People get very emotional about changes that they fear will affect their home, their view or their property value. Or even just changes made to the street they live on. So it pays to be polite, to talk to neighbours and to show them the plans.
It is important that you don't let your emotions cloud your judgement. Try to develop a brass neck when it comes to dealing with your neighbours and council officers. It is likely to feel very personal, but it isn't.
People are not objecting to you, they're concerned about what you're trying to build. So it doesn't do any harm to be neighbourly and to put yourself in your neighbour's shoes. Think about their privacy and outlook. If you would be unhappy if you lived next door, why should you expect them to accept it?
But don't overestimate the importance of objections from the neighbours. The parish or town council do not actually make the decision on planning applications; they just make comments.
If you can accommodate minor changes without undermining your goals then it might be worth doing, as a little bit of diplomacy can sometimes take the sting out of local objections or avoid them entirely.
After all, if you're going to live in a new area, it would be better to get on with your neighbours from the outset.
(MORE: How to Win Over Your Parish Council)
9. Build Relationships
It may sound odd but a lot of people indulge in conspiracy theories about planning applications and planning permissions.
Be aware that there is no such thing as 'the council' — there are only individual planning officers, their line managers and local politicians, and they are all individuals. If you treat them as individuals, you are more likely to be able to smooth the path towards agreement on what you want to build.
Try and establish a friendly relationship with whoever you deal with at the council. You may not agree with them, they may not like your scheme, but they hold all the cards.
If you really feel that you're not being treated fairly, be prepared to speak to the line manager. Some planning officers are very junior and you may be on the receiving end of a very inexperienced and nervous individual.
10. Be Patient
Particularly when it comes to dealing with local planning authorities and planning officers. The planning officer dealing with your application may be under extreme pressure, dealing with large numbers of different proposals.
They usually officially work 37 hours a week, which may sound like a comfortable working week, except planning officers often don't have the physical time to deal with the sheer number of applications on their desk. This means many work long hours that they don't necessarily get paid for, and get highly stressed as a result, and of course get no additional reward related to what they achieve.
Planning officers are also stuck between often fairly desperate applicants, angry neighbours, interfering parish and town councils, and local elected councillors who don't want to be caught in the political crossfire. So pretty much whatever decision a planning officer makes, they are going to upset somebody.
If they try and negotiate improvements to a scheme they're going to upset neighbours and cause delay; if they don't negotiate they may be seen as unreasonable and they create more work through planning appeals.
Therefore, when you're dealing with the planning officer, it pays to appreciate the difficulty of their role — try not to be too critical of them when timescales extend, decisions are delayed or their line manager pulls the rug from underneath them and they end up having to reverse the advice they gave you only yesterday.
11. Stand Your Ground
I would always urge people to avoid confrontation, but that does not mean you just give in when faced with opposition to a planning application or if you meet resistance to a particular design.
You will probably spend hundreds of hours coming to the design solution for the house you want to build. The planning officers, neighbours or local councillors will look at your proposals for a comparatively short length of time and may feel quite confident in requesting major changes or significant redesigns that could fundamentally spoil what you're trying to achieve.
Sometimes these requests are not justified in planning terms and are just a knee-jerk reaction to unreasonable neighbours, made because of their own personal opinions or because of a misunderstanding about the scheme.
I find that face-to-face meetings are helpful in thrashing out the justification for objections. Requests for changes should be based on planning policies and they should be rational and consistent with other recent decisions in the area. To resist major surgery being imposed on your scheme and to seek an explanation for what is being required can often limit the scale of changes, and if it doesn't, at least you tried.
12. Get Permission
Prioritise Permission
You will always be in a much stronger position if you have a planning consent. Once you have a permission you can apply to amend it, to expand it, to change it, all before you actually build anything.
This sounds blindingly obvious but you'd be surprised how often people do not prioritise this. This goal really goes together with being flexible and knowing when to take advice. If what you really want cannot be achieved but 80% of it can, then just get the planning permission.
Many building plots are sold with planning permissions and the first thing the buyer does is submit an alternative scheme. So, if you're struggling to get permission for two houses on a plot, get permission for one. Then try again. When a local authority is confronted with a planning application, they must compare what you want with what you've already got. If there isn't a planning problem, they're duty-bound to grant permission.
13. Appeals are a Last Resort...
And one that may well be necessary if you are advised that your chances of success are high and you can afford the time and money to achieve your goal.
Be aware that planning appeal decisions are the litmus test of the planning system and they are read very closely by planning officers; they set the goalpost for similar proposals.
So, if you win an appeal that's great, but if you lose, the appeal inspector may make comments that you will bitterly regret and that may undermine the development of land or property for the foreseeable future.
So, perhaps once you have achieved 80% of what you want, submit an application then go to appeal on the final 20% of the development. Then if you don't win you still have a fall back position, and if you do it was worth it.
(MORE: What to Do If Your Application is Refused)
14. Know When to Quit
If you discover that what you want to do is squarely contrary to planning policies, then, if necessary, give up. Not everything is possible. Making a planning application in the open countryside on the top of the hill is unlikely to be successful.
Without wishing to be negative, you must know when to quit. I've seen a lot of people waste time, money and energy pursuing lost causes. It's often better to walk away and find an alternative.
There is always an alternative building plot or house. Architects' and specialist consultants' fees can all add up — a single application for one house might cost you more than £20,000. It is usually better not to spend good money after bad.
Continue reading this article
One-off payment: £4.99 for six months full access to The Planning Hub
The Planning Hub offers in-depth guides to planning permission in England, brought to you by Homebuilding's planning experts
Instant access to planning permission information, vital to the success of your project

Independant advice from leading Homebuilding & Renovating planning experts

Discover what you need to know to get your plans approved with minimum hassle

Get to grips with complex planning rules with our easy-to-read guidance
Continue reading this article
One-off payment: £4.99 for six months full access to The Planning Hub
Ken, a former planning officer, is a planning consultant and owner of Dijksman Planning LLP. He is also the author of The Planning Game.
Homebuilding & Renovating Newsletter
Get the latest news, reviews and product advice straight to your inbox.
Thank you for signing up to Homebuilding. You will receive a verification email shortly.
There was a problem. Please refresh the page and try again.