Understanding the Local Plan
By Ken Dijksman published
In addition to researching the planning policies that exist in your local authority, keep an eye out for an out-of-date local plan — it could be a golden opportunity!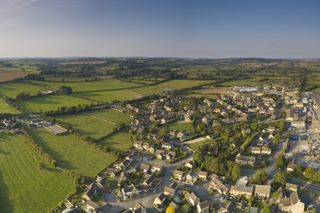 (Image credit: getty images)
It is not an exaggeration to say that government planners are obsessed by the desire to see all local authorities have an adopted local plan in place.
This is a document that contains all the policies for the planning of the district or borough — and these policies are the guidelines by which local authorities (LAs) refuse and grant planning permission.
The government is keen that LAs have an up-to-date adopted plan because it believes that this is the best way to secure the delivery of more houses.
However, in my experience, the adopted local plan is without doubt the greatest threat to the supply of small housing sites and self build plots.
(MORE: How to Get Planning Approval)
How Can the Local Plan Affect my Project?
Without wishing to bombard you with jargon, LAs have a requirement (under government policy) to prove they have identified a five-year supply of deliverable housing land in their area. In crude terms, this means they must demonstrate five years' worth of available building land to meet the identified demand. I won't go into how that housing demand is calculated, but it's complicated and wholly artificial.
The local plan exists to allocate sites to meet this five-year land supply and to refuse permission for just about everything else. Local politicians are also very keen on having their local plan adopted because it gives them the power to refuse planning permission for housing schemes that are not identified in their plan.
For the average small building company or self-builder, the adoption of the local plan is fairly disastrous — it usually means that the supply of small schemes and single plots will all but evaporate.
The Impact of Politics on Building Plots
Housebuilding is extremely unpopular with a small minority of highly vocal, local (always homeowning) objectors who magically appear whenever an application is made to build houses anywhere near them.
The political influence wielded by this articulate minority is usually hugely disproportionate to their number. As a result, and notwithstanding the enthusiasm expressed nationally, politicians are nervous about new development and see building houses as more of a vote loser than a vote winner.
In effect, local and national politicians prioritise petty local objections, made in self-interest by an affluent minority, over the social and economic catastrophe caused by extortionate house prices and a severe lack of affordable homes, but I digress.
The reality is that, for political reasons, local plans generally try and deliver the necessary five years of available sites without upsetting the natives. Thus, LAs normally try to achieve this by allocating large housing sites on the edge of as few towns and villages as possible — and making a special effort to prevent any new homes being built near the smaller, wealthier villages.
You will no doubt have seen a small market town or large village in your area hit by successive waves of new housing estates over a period of several years. Once a settlement has been hit with a housing allocation the political damage has been done. It therefore makes political sense to carry on building more houses in that area and concentrate the pain.
This is one of the key reasons why new housing tends to be in the form of large housing estates. It is a straightforward way of LAs controlling the political fallout which arises from building lots of houses. The irony being, of course, that housebuilding is bound to be unpopular when it takes the form of large, intensively developed estates which often rob the character and charm from the places where they are built.
Local plan policies for new housing will include these large allocated sites and normally accept the principle of building new houses within the development boundary of the larger villages and in towns.
There is normally a blanket prohibition on building any new houses on greenfield sites that have not been specifically chosen in the plan. So it is becoming increasingly unlikely that small sites for new housing will arise anywhere through the planning process. Government policies to prevent small groups of new homes being built on greenfield sites on the edge of towns and villages have been in place for the past 20 or 30 years.
(MORE: Building in the Countryside)
This is why there are a diminishing number of building plots within the settlement boundaries. Single plots can still be found, but it is ever more competitive and difficult to find them, and they tend to be snapped up before they hit the open market. This all means the self-builder may be restricted to infill plots and redevelopment sites within settlements.
(MORE: Designated Areas)
Will the Right to Build Help my Chances?
The new Right to Build legislation and requirement on LAs to provide self build plots has, in my experience, had little impact on the anti-development ethos of local plan policies.
These requirements may be found in recently adopted local plans, but they don't give self build plots a different or special planning status; these houses still need to be built within existing development boundaries or on new allocated sites.
What Happens if There is No Local Plan?
Where there is no adopted local plan and where the plan is out of date, with no established five-year land supply, there is hope.
In these circumstances, opportunities can exist and it is an excellent time to find building plots. This is because, in the absence of the adopted plan, LAs are forced to consider each case on its planning merits as a penalty from the government for not putting a plan in place.
This means that if you make a reasonable planning application the LA must grant it. In areas without a local plan there tends to be an avalanche of applications for all kinds of proposals because there is at least a chance that they might get planning permission. Once the plan is adopted, the door closes.
If you find yourself in the fortunate position of looking for a building plot in an area that does not have a recently adopted local plan, you have a golden, if time-limited, opportunity.
How Long Do I Have to Find a Plot if There is No Local Plan?
Local authorities can be incredibly slow at drafting and consulting on their local plans, so you may have a year or two to take advantage. If you can find a piece of land on the edge of an existing town or village that is technically acceptable in terms of highways access, flood risk, ecology and landscape impact, you have a sporting chance.
LAs are often initially reluctant to grant such permissions as they cling onto their old policies which steer them towards saying no. However, once the LA has accepted that its plan is out of date, it is forced to look at applications constructively and positively and to grant permissions for new houses in perfectly acceptable locations.
If you are looking for a plot, find out what the planning circumstances are in your area. Think laterally about where land might be available for you to put a planning application in for; you have a far higher chance of success under these conditions than where there is an adopted local plan.
The government's oft-stated desire to increase opportunities for housebuilding across all sectors, including self build, is fatally undermined by their own policies. These policies restrict new housing development outside existing built up areas, unless they are specifically identified within a new local plan. So if you want to build your own home, beware the local plan.
Continue reading this article
One-off payment: £4.99 for six months full access to The Planning Hub
The Planning Hub offers in-depth guides to planning permission in England, brought to you by Homebuilding's planning experts
Instant access to planning permission information, vital to the success of your project

Independant advice from leading Homebuilding & Renovating planning experts

Discover what you need to know to get your plans approved with minimum hassle

Get to grips with complex planning rules with our easy-to-read guidance
Continue reading this article
One-off payment: £4.99 for six months full access to The Planning Hub
Ken, a former planning officer, is a planning consultant and owner of Dijksman Planning LLP. He is also the author of The Planning Game.
Homebuilding & Renovating Newsletter
Get the latest news, reviews and product advice straight to your inbox.
Thank you for signing up to Homebuilding. You will receive a verification email shortly.
There was a problem. Please refresh the page and try again.