Sectional Garage Doors: Costs, Material Choices and Installation Tips
By Rebecca Foster published
Sectional garage doors are a sleek, smooth-running solution ideal for homes with integrated garages. We explore the pros, cons and key considerations to investigate before buying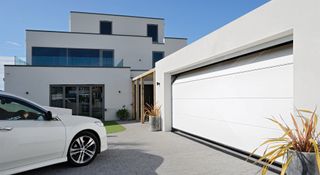 (Image credit: Garador)
Sectional garage doors offer a stylish, quiet running alternative to other garage doors. If appearance happens to be one of the deciding factors in your choice, it's likely that you've already contemplated a sleek, sectional entrance.
Durable, user-friendly and highly airtight, sectional doors are not the cheapest option when it comes to kitting out your garage. However, do your research and have the door fitted by a professional, and you're investing in a solution that could last a lifetime.
From material choices to thermal performance, we take you through the basics.
(MORE: Best Garage Doors)
What is a Sectional Garage Door?
The door leaf in sectional garage doors are comprised of a series of (usually horizontal) sections joined by hinges, rather than a single solid panel like an up and over garage door.
This allows the door to curve up and inwards towards the garage ceiling as it is opened.
As the leaf moves upwards along a fixed mechanical track, the individual panels glide backwards under the garage ceiling. Side-opening sectional doors than open from left to right (rather than those that slide back into the ceiling) are also available.
How Much Do Sectional Garage Doors Cost?
You can find standard sectional doors priced from around £1,800. However, a sectional door at this price point won't be able to match the sleek aesthetic and smooth running of more expensive models.
"Given the quality of our bespoke products, our prices start from around £4,500 for the door and installation," says Ian from Deuren. "However, depending on size, configuration and material, some of our sectional doors are sold for over £20,000."
Typically, sectional garage doors do sit at a higher price point than roller garage doors or up and over designs.
"This is because of the higher levels of craftsmanship, manufacturing costs and overall quality that goes into each door," says Ian.
Advantages of Sectional Garage Doors
From their sleek aesthetic appeal to smooth quiet running, there are plenty of advantages that come with a sectional garage door. If you leave the house early for work, there's no need to worry about waking everyone up when you open the garage door – sectional designs are one of the quietest solutions, opening and closing with barely any sound.
Plus, it's easy to operate a sectional garage door electrically, either at the time the door is installed or at a later date. If you are fitting an electric sectional door, there's a wealth of options for operating the door remotely, too, either via a remote control or app.
Sectional designs also tend to offer the most weathertight solution.
"Sectional doors offer great insulation, plus they are quick to open and can be app-controlled," says Leanne Chandler, director at CMS Garage & Entry Doors.
Disadvantages of Sectional Garage Doors
This type of garage door comes with more moving parts than a standard hinged garage door. Therefore, a little more maintenance may be required in terms of keeping all the components properly lubricated to ensure smooth running.
"There aren't 'drawbacks' as such – more different doors to suit different requirements," says Ian Chubb, managing director at Deuren. "Overhead sectional doors use a motor and tracks which hang from the ceiling. For a cleaner finish internally, you could specify a side sectional garage door to allow more room overhead."
Sectional Garage Door Sizes
Most manufacturers offer a selection of standard sizes for single and double garage doors, as well as bespoke solutions.
Single garage doors for standard size garages tend to start around 2,130mm(w) x 1,980mm(h), ranging up to 3,050mm(w) x 2,130mm(h)
Double garage standard dimensions typically start at 4,260mm(w) x 2,130mm(h), ranging up to 4,870mm(w) x 2,130mm(h)
If you're building your new garage as part of a self build, it's more likely that you'll require a bespoke solution, which is where a made to measure service might come in handy.
Keen to invite more natural light into your garage? "Windows can be given a clear or frosted finish. The latter is a benefit for many people, especially if you don't want someone to see inside your garage for security reasons," says Ian from Deuren.
Material Choices for Sectional Garage Doors
Here are the pros and cons of the three main materials available:
Steel
This is the most affordable choice and can be painted/finished in an array of colours and surface textures to create your chosen aesthetic
Steel is durable and long-lasting
Maintenance requirements will depend on the surface finish you have applied to the panel, but don't tend to be too much hassle
On the downside, steel is more prone to dents than materials like timber and has the potential to corrode if not properly cared for
Steel is not a natural insulator, though there are a few design solutions that will address this issue if you plan on using your garage for anything other than storing your car
Aluminium
Aluminium is strong yet lightweight, which makes for a smooth-running, user-friendly solution
It can be powder coated in a range of colours and finishes, including lookalike timber effects
Minimal maintenance is required, with only a quick wash down needed to keep the surface free from dirt and debris
In terms of drawbacks, aluminium does tend to be more expensive than steel but is not quite as durable
Timber
Slow growing hardwoods like oak and okoume offer a durable and long-lasting option. An engineered hardwood door will be the most robust. "It can last forever if maintained properly," adds Ian from Deuren.
However, if you are looking for more of a lightweight timber, a porous wood like cedar might be the better fit.
Timber doors come in a plethora of wood types, running from softwoods like cedar to hardwoods, like oak
Timber is typically a more sympathetic choice for older homes, though a crisp, contemporary aesthetic can also be achieved for modern abodes
It's a natural insulator, so perfect for keeping the heat inside your garage
Wood is a hygroscopic material that expands and contracts with moisture and will need to be checked regularly to ensure there are no signs of splitting or rotting
Regular re-painting and sealing are recommended for longevity
Timber is the most expensive material option
Are Sectional Garage Doors Thermally Efficient?
Excellent thermal performance is a key advantage of the sectional garage door. A rubber seal is fitted to the perimeter of the door leaf to prevent chilly draughts coming in from outside.
This makes sectional designs a smart choice for homes with integral garages, as you won't be leaking precious heat via gaps around the garage door.
Single vs Double-skinned Sectional Garage Doors
A single skin garage door does not comprise an insulating layer, whereas a double skin model contains a layer of insulating material. If you're only using your garage as a spot to park your car, a single skin product should fit the bill.
However, if you want to maximise the thermal performance of your property or have an integral garage, installing a double skin door might be the best choice. Single skin doors are cheaper to manufacture and install, so are the more affordable solution.
How are Sectional Garage Doors Installed?
Sectional garage doors can be fitted behind or in between the structural opening of your garage. Precise instructions for installation may vary as a result, so follow your manufacturer' guidelines closely if you plan to install the door yourself.
If you are replacing an existing garage door, the first step for your installation will be to remove the old panel. To do this, release the springs to remove the door and take it off the tracks.
The new door will need to be assembled, too, which includes steps such as attaching the rubber seals to the perimeter and securing the panels into place.
To attach the door, fix the brackets to the tracks and screw them into position. The tracks should then be attached to the ceiling joists before the torsion spring can be re-attached.
Many manufacturers also provide video installation guides which can be a useful resource if you're keen to fit the door yourself.
Where Do They Work Best?
Sectional garage doors offer a effective space-saving solution. "Houses with short driveways can benefit from this, as a car can be parked directly outside without compromising the motion of the door, unlike up and over garage doors," says Ian.
If installing a sectional door goes beyond your skills as a DIYer, seek out professional advice and bring in trained engineers to fit it.
"Garage doors are heavy so if the correct tension isn't on or they have been set up incorrectly, they can cause damage," says Leanne from CMS Garage & Entry Doors. "Most companies include a 2-year installation warranty as well so if there were any issues, it can get sorted."
Can You Automate Sectional Garage Doors?
Sectional garage doors are typically straightforward to automate due to the smooth way in which the panel opens. A high quality boom and a motor operator should be installed by a professional to create a fully automated setup.
Side-mounted operators are also available if you want the door to open from left to right.
(MORE: Electric Garage Doors)
What Maintenance Do Sectional Garage Doors Need?
The moving parts of the mechanism (springs, hinges, pivot points, stems, locks etc) will need to be lubricated from time to time to ensure the door continues running smoothly. If one of the sections gets damaged, it is possible to replace it without needing to replace the entire door.
"Many items on a door are also wireless, so battery changes are needed to keep them working," says Leanne. "Battery changes and lubricating the springs can be done by the customer when required, but a service carried out by the door company every two years is recommended to avoid any expensive failures due to incorrect usage or failing to have it serviced."
(MORE: Oak Frame Garages)
Rebecca is an experienced homes and interiors writer with a passion for Victorian architecture. Her dream is to extend an 1800s house
Homebuilding & Renovating Newsletter
Get the latest news, reviews and product advice straight to your inbox.
Thank you for signing up to Homebuilding. You will receive a verification email shortly.
There was a problem. Please refresh the page and try again.