Designer Radiator Ideas: 13 Modern Ways to Heat your Home
By Amy Reeves published
These designer radiator ideas will inspire a stylish transformation of any room - and keep it cosy too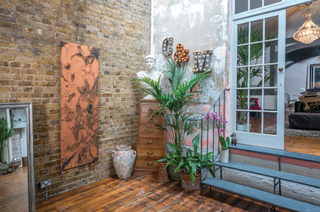 (Image credit: Bisque)
Need some contemporary designer radiator ideas? You've come to the right place. Adding a designer radiator will not just make your home more efficient but, with the huge strides that have been taken in designs over the last couple of years, can become a beautiful feature in its own right.
When it comes to choosing radiators, there's pretty much a radiator for every style these days from an elegant take on classic white styles and slimline vertical and horizontal radiators to daring metallic finishes and wonderfully colourful designs.
And that's not to mean opting for a designer radiator idea will have you out of pocket - many hardware and bathroom stores such as B&Q, Victorian Plumbing and Screwfix have some amazing off-the-shelf models.
So, we've gathered up all the different options to give you an idea of what's out there and to inspire a room transformation that's practical and will fit into a modern home design.
1. Choose a Contemporary Designer Radiator Idea to Reflect your Style
Reflective radiators are a great choice for kitchens and living spaces where you want to maximise the impact of any light shining into the space. The flat, wide panels are really efficient in this model and the slimline design means it won't be too intrusive in high-traffic areas.
The powder-coated finish steel will also blend seamlessly with whatever interior theme you choose — adding a little glitz alongside dark furniture, or matching an neutral colour scheme.
2. Add Some Visual Warmth with Comforting Coppers
If you want to make a room feel cosy and contemporary, consider choosing a copper finish to a classic design.
Modern radiators don't always have to be next to a window – in fact some suggest that they're more effective positioned elsewhere – so adding a style like this to a bold, feature wall turns installing a radiator from a requirement into an active design choice.
3. Think about Texture when Buying a Designer Radiator
Who said white radiators have to be boring? Designer radiators with some tactile intrigue look more like pieces of art than a practical heat emitter. Perhaps lean into the look and adding some LED strip into your lighting design behind the unit for a truly stand-out look.
4. Personalise to Your Taste: Add a Bold Colour or Finish
There are whole ranges of colour choices, patterns and interesting patinas out there so for a room where you want to impress – a dining room or open-plan living and kitchen area – find the perfect style to make a big impact.
5. Keep Your Designer Radiator Pared-back and Elegant
Contemporary doesn't have to mean in-your-face — flat panel radiators in a dark grey or black are understated timeless options.
6. Create a Handy Feature for a Bathroom
With the advent of flat panel and slimline designs becoming far more mainstream than they were even five years ago, towel radiators have come along in a big way.
Gone are the days when you bang you elbow coming out of the shower on a great mass of steel. Sleek, narrow forms are available pretty much anywhere with option that will suit even the smallest of spaces.
(MORE: Small Bathroom Guide)
7. Think Vertically for New Rooms with Big Windows
Whether you're updating an existing room, creating a new space in an extension or start from scratch with a self build, there's no getting away from the size increase of window styles in our houses.
So, when competing with huge swathes of glazing opting for a vertical orientation with your new radiators will provide a sleeker, more polished look.
8. Choose a Designer Radiator which Heats Open-plan Spaces
Almost all modern house renovation/extension/self build designs feature an element of open-plan so making sure your heating system can keep up is essential.
This can mean a couple of smaller, discrete emitters dotted around a large room, or one large, strategically positioned unit. As with any room, make sure to calculate the BTUs required before buying a radiator using an online calculator.
9. Stay On-trend with a Matte Finish
Sanitarywear and fixtures of all kinds now comes with options for a matte black powder-coated finish, so why shouldn't your towel rail match?
Perfect for making a bold impression with a bathroom design interesting radiator shapes with a matte colour could be the finishing touch your space is after.
10. Brighten Up Your Spaces
Add a colour pop to a bathroom or bedroom, where we tend to keep colours neutral and calming.
11. Invest in Smart Capabilities for Electric Radiators
When you're choosing emitters, opting a for an electric product which can be controlled to a smartphone or tablet for quick and easy control is definitely the way to go.
12. Small and Mighty Designer Radiators
Generally with radiators, the bigger the size, the greater the heat output, but as radiators are more and more efficient, a smaller format might suit your room fine.
Once you've worked out the BTUs your room requires, consider installing a compact – still still fabulous – radiator like this Chrome option.
13. Go All-in with an Industrial-style Designer Radiator
Whether you are matching a whole-house style or just was a few interesting and unique statement features, this radiator is sure to bring a beautiful warmth and comfort to any room.
Assistant Editor Amy began working for Homebuilding & Renovating in 2018. She has an interest in sustainable building methods and always has her eye on the latest design ideas. Amy has interviewed countless self builders, renovators and extenders about their experiences for Homebuilding & Renovating magazine. She is currently renovating a mid-century home, together with her partner, on a DIY basis, and has recently fitted her own kitchen.
Homebuilding & Renovating Newsletter
Get the latest news, reviews and product advice straight to your inbox.
Thank you for signing up to Homebuilding. You will receive a verification email shortly.
There was a problem. Please refresh the page and try again.