Ground Source Heat Pump Costs: How to Price Up Your Installation
How much does a ground source heat pump cost? Find out the average spend on systems and installation with this expert guide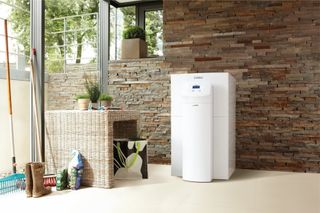 (Image credit: Vaillant)
When it comes to a ground source heat pump, cost is a key consideration in adopting this alternative heating system for your home. 
While it may require high initial expenditure on the heat pump itself and labour-intensive installation, it is an energy efficient, durable technology that suits large properties with a consistent heat load. 
Ground source heat pumps are also subject to a number of grants helping to both fund the heat pump and recoup costs when installed and generating renewable heat.  
Here, we unearth the potential cost implications of buying, installing and maintaining a ground source heat pump system, alongside what you can expect to pay annually in running costs. 
(MORE: Get a quote for your heat pump)
How Much Does a Ground Source Heat Pump Cost to Buy? 
A basic ground source heat pump costs between £2,000 to £15,000 depending on size and brand. 
This cost is likely to be three to four times more expensive than a gas boiler and double the cost more than an air source heat pump. 
The quality of the heat pump equipment can add a significant amount to the cost of materials, effectively doubling it in some cases.
Top end heat pumps can have higher quality components and complex on board software for controlling and monitoring all aspects of the heat pump operation and also more costly alloys are used in the construction of the cases and components
The ground loop and installation complimentary systems (such as underfloor heating and radiators), as well as other peripheral materials, can substantially add to the cost of a ground source heat pump system. 
Editor's Note: Homebuilding.co.uk partners with the UK's best heat pump specialists to match your requirements with their products and services. Simply answer a few questions on what you need from your heat pump and we'll put you in touch with a suitable partner.
How Much Does it Cost to Install a Ground Source Heat Pump? 
The complexity of the installation, including the distance from the heat pump unit to the ground loop manifold chamber will add to the installation cost.
Bigger properties will need larger heat pumps, even possibly more than one unit, alongside a more complex hydraulic design.
Horizontal ground array ground source heat pump 
The ground loop of any ground source heat pump is made up of a number of pipe loops – anything from 2 loops to 12 loops – that are connected to a manifold in a bespoke chamber in the ground. There are then two slightly larger bore pipes that then connect the manifold to the heat pump unit in the plant room.
The cost of a horizontal ground array will depend a lot on the ground conditions. 
A very wet environment will possibly require pumps to clear the water in a trench while the pipes are laid. The walls of the trench could also be unstable which will require further support and a resultant cost increase. 
If there are a lot of rocks in the ground then this will also add cost to the excavation. 
The cost of the pipework for a 500m2 ground loop is around £2,000 and the cost of the excavation could be around £300 per day for a digger driver and £300 per week for the digger. Allow around £4,000 – £6,000. 
The complete ground source heat pump installation for a 240m2 home will range in cost from around £15,000 to £25,000.
Borehole/vertical ground source heat pump
Borehole collectors are more expensive than horizontal ground loops. 
When done properly with a geologist report, it will cost around £100 per meter. There will usually be around 10 meters of borehole per kW so a 12kW heat pump will need around a 120 meter borehole or two 60 meter boreholes. 
The overall cost, with the pipe installed and properly backfilled with the correct grout (often Bentonite clay), will be around £12,000.
Additional Costs You May Face During Installation 
Ground source heat pumps have high efficiency at low flow temperatures but these levels are slow to react in heating systems and therefore high insulation levels are required. 
Many older properties are not airtight and have sub-optimal levels of insulation, resulting in lower efficiency and resultant higher running costs. This means a requirement to spend on upgrading the insulation and airtightness of the property before installation of a ground source heat pump can be considered. 
The cost of installing a heat pump system will be complicated by the difficulty and disruption involved in digging up a large area outside and running new pipework from the outdoor ground loop manifold to the heat pump unit in the plant room. 
On top of this, you may also require new pipework to the hot water cylinder, possibly in an upstairs cupboard and also requiring replacing, and to the central heating distribution which may be located near the existing boiler rather than near the proposed location of the heat pump unit. 
Even if you have a wet radiator system already, you may need to upgrade the size of the radiators to accommodate the low flow temperatures of a heat pump system to ensure it runs efficiently. 
(MORE: Choosing Radiators)
Anticipate that there may be a cost in removing the existing boiler. Where replacing oil or LPG heating fuels, there will also be a cost to remove the fuel storage tanks, concrete base and fuel pipework.
Pipework and materials can be planned in early but the amount of disruption to the fabric of the building and requirement to change existing emitters could all contribute to the increased costs. This could see overall installation costs grow to around £35,000.  
Running Costs of a Ground Source Heat Pump
In a property with an annual heat load of 15000kWh, you would expect the electric use to be somewhere between 3600kWh and 4700kWh. Based on the cost of a unit of electricity at around 15p per kWh and the average efficiency of a ground source heat pump at 320% to 420%, this represents an annual running cost of between £540 and £700.
These are the approximate costs of using different heating fuels in comparison:
Oil: between £500 and £1,250 per year.
LPG: between £825 and £1,320 per year.
Natural gas: between £660 and £825 per year.
An air source heat pump costs between £700 and £1,050 per year to run. 
(MORE: What Type of Heat Pump is Right for Your Project?) 
How Much Does a Ground Source Heat Pump Cost to Maintain?
Visual inspections of internal and ground loop pipework for leaks, corrosion and breached insulation should be on-going by the home occupier. 
You will also need to instruct annual check-ups by an engineer, who will make more thorough inspections for signs of leaks and corrosion. They will also check any pressure meters and the levels of anti freeze and inhibitors in the pipe loops. 
Engineers may also check the pumps, controller settings and clean (or change) any filters, de-aerators and sensor pockets. 
The location and distance that the engineer will need to travel to get to site may also add to the cost. 
A service contract for a ground source heat pump system can range in cost from around £10 to £40 a month depending on the complexity of the system. Check what is included in your heat pump's service contract – is it labour only or does it include any materials? 
Leaks in the ground loop will require excavation to find the leak as well as removal of any contaminated ground depending on the type of glycol antifreeze that has been used. 
If there is a compressor failure or heat exchanger fracture, the heat pump could be written off as an uneconomical repair.
How Long Do Ground Source Heat Pumps Last?
Ground source heat pumps have an average life expectancy of around 15 years.
The compressors often come with a 10-year guarantee. If you compare a ground source heat pump with a fridge, based on a similar technology, then a good heat pump could last up to 20 years, or more.  
The ground loop pipework is expected to last around 40 to 50 years but the glycol fluid mix in the ground loop will need to be periodically tested. This may require changing every 5 to 10 years. 
Are There Any Grants Available?
All MCS registered ground source heat pump installations are potentially eligible for Renewable Heat Incentive (RHI) payments in compliant properties for seven years. 
This government incentive is designed to offset the capital costs of installing a heat pump when compared with a conventional heating system. 
The payments available for a ground source heat pump through RHI are a lot higher than for an air source heat pump, but this reflects an installation cost which is also potentially a lot higher. 
Did You Know?
Applications for the domestic RHI for eligible ground source heat pumps are still open for applications until 31 March 2022.
As of 1 April 2020, the rate for domestic ground source heat pumps is 21.16p/kWh payable quarterly for seven years from the date of commissioning.
RHI payments are for the renewable element of the heat produced, not for the electricity used to produce it.
Using the example of a four-bedroom house, likely to need around 11,000kWh of heat for space heating and 4,000kWh for domestic hot water, with an assumed SCoP (Seasonal Coefficient of Performance) of 4.5, the property will requirw 3,334kWh of electricity to run it
In the scenario above, we need 11,000 + 4,000kWh of heat, less the 3,334kWh of electricity used.
RHI applies to 11,666kWh at 21.16p/kWh, meaning payments of £2,468 per year for seven years in this example. 
Installation of a ground source heat pump is also eligible for funding as a primary measure for existing homes under the Green Homes Grant (GHG), which is currently available until March 2022 .
The grant offers vouchers for up to two thirds of the installation cost capped at £5,000, or £10,000 for certain low income households. 
Any ground source heat pump installations must be carried out by a Trustmark or Microgeneration Certification Scheme registered installer, or a sub-contractor acting on their behalf, when applying for the GHG. 
The home must meet certain levels of insulation efficiency and airtightness to qualify for funding too.  
The value of any vouchers issued from the Green Homes Grant will be subsequently deducted from RHI payments where both are utilised for new installations in existing homes. 
Homebuilding & Renovating Newsletter
Get the latest news, reviews and product advice straight to your inbox.
Thank you for signing up to Homebuilding. You will receive a verification email shortly.
There was a problem. Please refresh the page and try again.