Installing a Ground Source Heat Pump: What To Expect
By David Hilton published
Installing a ground source heat pump can be transformative for your home, but it's also disruptive and costly. We break down the process so you can stay informed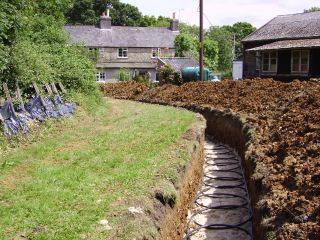 (Image credit: Kensa)
Installing a ground source heat pump isn't a quick and easy job. It requires digging equipment to lay the ground array and in the case of borehole ground source heat pumps even specialist drilling machinery.
However, while the disruption and expense of installation may be a hurdle to overcome, the benefits of ground source heat pumps are worth the hassle for the right homes. They are efficient, reliable and will help greatly reduce your home's carbon footprint.
If you want to know a little more about the installation process before you forge ahead with this renewable heating source, read on for our expert guide.
Finding a Ground Source Heat Pump Installer
Why a Professional Should Be Installing a Ground Source Heat Pump
Ground source heat pump systems will have electrical connections that need to be made by a suitably qualified electrician as well as plumbing circuits that need to be made by unvented system qualified and experienced installers. Given the low flow temperatures associated with GSHP systems the emitters also need to be specifically sized and controlled to optimise the system.
Ground source heat pumps have a refrigerant vapour compression cycle and run at low temperatures to optimise efficiency. There are a number of contributing factors that can influence the efficiency and are not devices that simply turn on and off like traditional boilers.
All of the working settings must be set up or the technology may not achieve the desired results or alternatively could use a lot more electricity. A fundamental understanding of low temperature heating systems, vapour compression cycle principles, weather compensation controls and the behaviour characteristics of the heat pump controls is required to specify the system correctly and commission the operating conditions of the heat pump.
The GSHP also has a large horizontal ground loop or vertical borehole collector. The ground loops must be sized correctly, which must take into account the ground conditions, heat pump capacity and the number of hours that the heat pump will run. This is determined through defining the amount of heat the heat pump will be providing such as space heating and / or domestic hot water preparation.
Can I Install a Ground Source Heat Pump Myself?
Installing a ground source heat pump is not necessarily a DIY activity, however, once the system has been designed then there could be some elements of the pipework that could be installed by a competent DIYer.
The insulation on the pipe could also be applied by a DIY person but make sure you get full guidance from a qualified engineer before attempting any of the installation yourself.
The horizontal ground loop could be installed by a competent digger driver with a little bit of instruction from the installer on how to protect the pipework in the ground and how to pressurise the pipes before backfilling the ground. The design, layout and size of the ground loop must be done by the installer.
How to Find a Reputable Ground Source Heat Pump Installer
A ground source heat pump should be installed by an accredited Microgeneration Certification scheme (MCS) installer. These installers will have completed training and will comply with certain codes of conduct and industry compliance in order to certify the installation.
The best way to find a good installer is by word of mouth. If you know anyone who has had one installed then ask them for a referral. You can also check the Ground Source Heat Pump Association or the Microgeneration Certification scheme (MCS) website for registered installers near you or alternatively get a referral from a manufacturer or check their website for approved or accredited installers that cover your area.
What Type of Ground Source Heat Pump Contract is Best?
The best route to market for installing a ground source heat pump is to get a supply and install contract. That way the chain of custody is complete and there is full continuity from specification right through to commissioning.
It is possible to purchase the system components separately but you would need to be sure that they are all compatible with each other.
When Should I Start Looking for a Ground Source Heat Pump Installer?
The earlier the better. There are lots of components that need to be installed. It is important to be sure that all the equipment can fit in the plant room and that the distribution pipework and wiring routes do not clash with other services or structural elements.
Specifying a Ground Source Heat Pump
Which Ground Source Heat Pump Should I Install?
There are two main types of ground collector for a ground source heat pump.
Horizontal array: Installed as straight or coiled pipes in trenches.
Vertical array: Installed in deep boreholes in the ground.
Generally, if you have enough space in the garden you would opt for a horizontal loop array but a smaller ground area would require a more expensive vertical bore hole collector.
Will a Ground Source Heat Pump Supply Heating and Hot Water?
A ground source heat pump will be able to supply space heating and domestic hot water to the home. The domestic hot water is stored in a specific heat pump cylinder, which is similar to a standard hot water cylinder but has a bigger heat exchange coil. The cylinder capacity is also usually larger than for a boiler because the stored water temperature is a bit lower to optimise the efficiency of the heat pump.
(MORE: Hot Water Storage)
Installing a Ground Source Heat Pump
What Happens During a Ground Source Heat Pump Installation?
Installers of ground source heat pumps will design and specify the equipment including the ground loops, heating capacity, location of equipment, distribution networks and the user interfaces such as room thermostats.
They will also physically install the system and let you know what is not included in the installation (especially in an existing property where things like repairing decoration work is not usually included).
Some installers are also fully qualified plumbers and may include other sanitary and plumbing installation works within the contract. The installer will also commission the ground source heat pump system and give the homeowner a handover and explain how it all works. They may also offer a maintenance package and aftercare support.
What Does a Ground Source Heat Pump Look Like When it's Installed?
A ground source heat pump heating system would typically have a compressor and heat exchanger unit unit that sits in a plant room (these typically range is size from a bar fridge size to a tall fridge freezer size) and is then connected to at least one hot water cylinder which is around 600mm wide by around 1600mm tall.
There could also be a further cylinder (buffer tank or low loss header) around a third of the size of the hot water cylinder.
A ground source heat pump unit is sited inside the house and you may also need a controller and possibly two cylinders inside. There will also be a number of circulation pumps and pipework as well as a manifold and control box for any underfloor heating.
This is all best placed in a plant room that allows enough space for the materials and pipework but also for any engineer to perform any future repairs or maintenance. By putting it all together it is easier for the engineer to see all the components in one place and also understand the circuits and controls.
Outside of the property is a ground collector system made up of long lengths of pipework that are buried in trenches around 1.5meters deep. 50 m2 of ground will need to be trenched per kilowatt capacity of the heat pump. Therefore a 12kW heat pump would typically require around 600m2 of clear ground.
How Long Does Installing a Ground Source Heat Pump Take?
Depending on the complexity of the works, a ground source heat pump unit could be installed in as little as a day, but the ground loop will take longer.
A good groundworks team could also prepare the ground loops in a couple of days but it would be usual to expect around a week for that element.
When Should You Install a Ground Source Heat Pump?
You may not have the benefit of a choice when to install the ground source heat pump but it can make a big difference to the ground works complexity and cost. The exact nature of the ground conditions can define the best time of year to excavate the ground trenches.
In wet areas, it is best to avoid the rain season as the water table could be high and cause issues with the excavation. In drier areas, the ground could be incredibly hard in summer, which could also add to the excavation cost.
How Much Will it Cost to Install a Ground Source Heat Pump?
The ground array, including a geologist report, will cost around £100 per meter.
(MORE: Ground Source Heat Pump Costs Explained)
Post-Installation
What do I Need to Know After my Ground Source Heat Pump has been Installed?
Once your ground source heat pump has been installed you should not need to do much as the system should be commissioned by the installer. The installer should hand over the system to you and explain how it works and only allow you to change settings that you are fully competent to do. T
here will be visual inspections that you can do such as checking the ground loop manifold has not leaked or lost pressure. Also check the insulation on all pipework is intact and that there are no visible signs of leaks or corrosion on the pipework or heat pump casing.
How Much Maintenance Does a Ground Source Heat Pump Need?
Most of the time the maintenance on ground source heat pump systems is visual. You will however need an annual service on your central heating system that may also be directly connected to the heat pump.
Any non-visual maintenance, such as checking the condition of the fluid in the ground loop, will need to be carried out by a suitably qualified and experienced engineer.
David is a renewables and ventilation installer, with over 35 years experience, and is a long-standing contributor to Homebuilding and Renovating magazine. He is a member of the Gas Safe Register, has a Masters degree in Sustainable Architecture, and is an authority in sustainable building and energy efficiency, with extensive knowledge in building fabrics, heat recovery ventilation, renewables, and also conventional heating systems. He is also a speaker at the Homebuilding & Renovating Show.
Passionate about healthy, efficient homes, he is director of Heat and Energy Ltd. He works with architects, builders, self builders and renovators, and designs and project manages the installation of ventilation and heating systems to achieve the most energy efficient and cost effective outcome for every home.
Homebuilding & Renovating Newsletter
Get the latest news, reviews and product advice straight to your inbox.
Thank you for signing up to Homebuilding. You will receive a verification email shortly.
There was a problem. Please refresh the page and try again.