Installing an Air Source Heat Pump: What Will it Entail?
By David Hilton published
Installing an air source heat pump is a complex project, requiring specialist installers. Here, our expert breaks down what you can expect from the installation process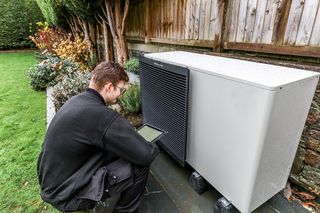 (Image credit: Daikin)
What installing an air source heat pump (ASHP) entails is important for your project, as it may affect certain parts of your build, from the timeline of when to get an installer on board to where it's located and the scale of your plant room.
While the installation of an air source heat pump isn't as complex and disruptive as some alternatives such as a ground source heat pump, it still requires a professional specialist to specify and install your system to ensure it's working its very best.
In this handy guide, energy expert David Hilton outlines everything you need to know about installing an air source heat pump, alongside details of cost, the best location for your heat pump and where to find an installer.
Do you Need an Electrician for Installing an Air Source Heat Pump?
You'll require a heat pump specialist for installing an air source heat pump, as it requires a fundamental understanding of low temperature heating systems, vapour compression cycle principles, weather compensation controls and the behaviour characteristics of the heat pump controls is required to specify the system correctly and commission the operating conditions of the heat pump.
Air source heat pump systems will have electrical connections that need to be made by suitably qualified electricians, as well as plumbing circuits that need to be made by unvented system qualified and experienced installers.
Air source heat pumps have a refrigerant vapour compression cycle and run at low temperatures to optimise efficiency. There are a number of contributing factors that can influence the efficiency and ASHPs are not devices that simply turn on and off like traditional boilers.
All of the working settings must be set up or the technology may not achieve the desired results or alternatively could use a lot more electricity.
Given the low flow temperatures associated with ASHP systems the emitters also need to be specifically sized and controlled to optimise the system.
Can I Install an Air Source Heat Pump Myself?
Installing an air source heat pump is not a DIY activity, but once the system has been designed, there are some elements of the pipework that could potentially be installed by a competent DIYer.
The insulation on the pipe could also be applied by a DIY person but make sure you get full guidance from a qualified engineer before attempting any of the installation yourself.
How do I Find an Air Source Heat Pump Installer?
An air source heat pump should be installed by an accredited Microgeneration Certification scheme (MCS) installer because they will have completed installer training and also have to comply with certain codes of conduct and industry compliance in order to certify the installation.
The best way to find a good installer is by word of mouth. If you know anyone who has had one installed then ask them for a referral. You can also check the MCS website for registered installers near you or alternatively get a referral from a manufacturer or check their website for approved or accredited installers that cover your area.
The best route to market for air source heat pump installations is to get a supply and install contract. That way the chain of custody is complete and there is full continuity from specification right through to commissioning. It is possible to purchase the system components separately but you would need to be sure that they are all compatible with each other.
At What Point in my Build Will I Need an Air Source Heat Pump Installer?
The earlier in the process that you can appoint an air source heat pump installer the better. There are lots of components that need to be installed and there are also other trades that need to also have their products installed to do it.
It is important to be sure that all the equipment can fit in the plant room and that the distribution pipework and wiring routes do not clash with other services or structural elements.
What Will an Air Source Heat Pump Installer do?
The installer will design and specify the equipment including the heating capacity, location of equipment, distribution networks and the user interfaces such as room thermostats.
They will also physically install the system and let you know what is not included in the installation (especially in an existing property where things like repairing decoration work is not usually included).
Some installers are also fully qualified plumbers and may include other sanitary and plumbing installation works within the contract.
The installer will also commission the air source heat pump system and give the homeowner a handover and explain how it all works. They may also offer a maintenance package and aftercare support.
What Does an Installed Air Source Heat Pump Look Like?
An air source heat pump unit is sited outside the house and you need a controller and possibly two cylinders inside. The fan unit, which is often around 1200mm tall, 1000mm wide and around 400mm deep, will be connected to at least one hot water cylinder which is around 600mm wide by around 1600mm tall.
There could also be a further cylinder (buffer tank or low loss header) around a third of the size of the hot water cylinder. Indoors, there will be an ASHP control box which is around 400mm x 400mm x 100mm deep.
There will also be a number of circulation pumps and pipework, as well as a manifold and control box for any underfloor heating.
This is all best placed in a plant room that allows enough space for the materials and pipework but also for any engineer to perform any future repairs or maintenance. By putting it all together it is easier for the engineer to see all the components in one place and also understand the circuits and controls.
Where's the Best Place for Installing an Air Source Heat Pump?
While air source heat pumps can be fitted in relatively small spaces, they'll function best when supplied with a good air flow. With that in mind, they're best located in open areas of the garden or outside space, rather than down narrow alleyways.
You'll also want to ensure it's easily accessible for maintenance, so it's best to locate on the ground level rather than on a roof if possible, but if you don't have the room, a flat roof is an option open to you.
As per Planning Permission regulations, air source heat pumps also need to be installed at least one metre from the property boundary. For those air source heat pumps installed on a flat roof, they also need to one metre from the edge.
How Long Does it Take to Install an Air Source Heat Pump?
Depending on the complexity of the works, an air source heat pump could be installed in as little as a day.
Usually the preparation work such as building a solid base for the outdoor unit to stand on would need to be in place before the installation date.
How Much Will it Cost to Install an Air Source Heat Pump?
The cost of installing an air source heat pump in a new or self build to be upwards from £11,000. The cost will be significantly higher in an existing property, taking improvements to the house's fabric and replacing and removing existing heating systems into account.
What do I Need to Know After my Air Source Heat Pump has been Installed?
Once your air source heat pump has been installed you should not need to do much as the system should be commissioned by the installer.
The installer should hand over the system to you and explain how it works and only allow you to change settings that you are fully competent to do.
Most of the time the maintenance on air source heat pump systems is visual. There will be inspections that you can do such as checking the outdoor unit has free air movement and is not blocked up with leaves or other debris.
Also check the insulation on all pipework is intact and that there are no visible signs of leaks or corrosion on the pipework or casing.
You will however need an annual service on your central heating system that may also be directly connected to the ASHP.
Any non-visual maintenance will most likely need to be carried out by a suitably qualified and experienced engineer.
David is a renewables and ventilation installer, with over 35 years experience, and is a long-standing contributor to Homebuilding and Renovating magazine. He is a member of the Gas Safe Register, has a Masters degree in Sustainable Architecture, and is an authority in sustainable building and energy efficiency, with extensive knowledge in building fabrics, heat recovery ventilation, renewables, and also conventional heating systems. He is also a speaker at the Homebuilding & Renovating Show.
Passionate about healthy, efficient homes, he is director of Heat and Energy Ltd. He works with architects, builders, self builders and renovators, and designs and project manages the installation of ventilation and heating systems to achieve the most energy efficient and cost effective outcome for every home.
Homebuilding & Renovating Newsletter
Get the latest news, reviews and product advice straight to your inbox.
Thank you for signing up to Homebuilding. You will receive a verification email shortly.
There was a problem. Please refresh the page and try again.