What Safety Alarms Do I Need?
By David Hilton published
Making sure you have the correct safety alarm in the right location in your home is not just common sense – it's a literal life-saver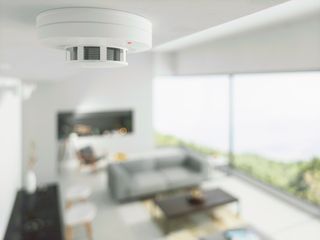 (Image credit: getty images)
Safety alarms are essential to keep you, your family and your property safe. These can include smoke alarms, heat alarms and carbon monoxide alarms.
Smoke alarms
Smoke alarms are the most common safety alarm in our homes and should ideally be wired to the mains electrical supply with a battery backup in case of a power outage. In fact, new homes and some home improvement projects require hard-wired smoke alarms as part of Building Regulations' compliance.
There are two main types of smoke alarm:
Ionisation alarms are more easily triggered by household smells and are the main culprits when it comes to nuisance alarms. An estimated five million UK households with a battery smoke alarm remove the battery due to nuisance alarms or the 'pip pip' noise created when the battery is getting old, leaving their home and family at risk.
Optical alarms use more modern technology and will not usually be triggered by these household smells. They are a bit more expensive (starting at around £30 each), but the peace of mind is well worth the extra few pounds.
Most compliant alarms will have good manufacturers' installation instructions that should be adhered to. (In new homes, you'll need to comply with Building Regulations). In the absence of these, it is good practice to:
Have at least one smoke alarm on each floor of your home that is mounted on the ceiling as centrally as possible and less than 1.5m from the entrance to habitable rooms (a more stringent goal than the 7.5m specified by Building Regs).
They should also be placed between those rooms and any potential source of fire, such as a living room or kitchen.
They should be at least 300mm away from electrical fittings
Ideally you would have alarms in the bedrooms in case a fire starts there.
In rooms with sloping ceilings, the smoke alarm should not be at the highest point, as this can be 'dead air' space and so not detect the smoke.
Heat alarms
A smouldering slow ignition fire will be detected by a smoke alarm but a fast ignition, rapid combustion fire such as a hot oil kitchen fire will not be detected very quickly by a smoke alarm and therefore a heat alarm is a far safer option in this area.
However, heat alarms must not be used in designated escape routes in place of smoke alarms, and they should not be wall mounted.
Carbon monoxide alarms
Symptoms of CO poisoning
CO is colourless and odourless and accounts for around 40 deaths and 200 hospitalisation cases in the UK each year. The symptoms of CO poisoning are very similar to flu symptoms and are therefore often overlooked.
Many people believe that they do not need a carbon monoxide (CO) alarm if they already have a smoke alarm. These are two very different safety alarms and must be placed in different areas. CO is the product of incomplete combustion and can be produced by any combustion appliance that is not performing properly.
There are CO patches that are available that change colour in the presence of CO, but in my opinion I would avoid these as they do not give off an audible alarm sound. They could be useless if you are asleep or do not notice the colour change.
CO alarms must be approved to EN50291 standards and must be mounted on the wall at about head height for best effectiveness. It is therefore better not to use the combined smoke and CO alarm units, as it can affect the effectiveness of each. It would be good practice to install a CO alarm in any room that has a combustion appliance such as a woodburner, decorative fuel-effect fire or flueless appliances. (It's a Building Regulations requirement if you install a new solid fuel combustion appliance.)
Connecting multiple alarms
If you have more than one alarm point it is beneficial to interconnect them so that, should an alarm be triggered, then the other units will also sound. Different types of alarms can be interconnected so that if, for instance, you have a fire in the kitchen due to a pot being left on the stove, then the heat alarm will be triggered here and the sound will also be triggered on the smoke alarm in your bedroom so that you wake up.
Should I cover the alarms during building work?
During the building stage or when there is any potentially dusty work being carried out in the home it is best to cover all alarms with plastic covers (often supplied with the alarm) to preserve the sensors and also avoid nuisance alarms. Once work is finished do not forget to remove the covers.
Requirements for landlords
Since 1 October 2015, landlords are required to have a working smoke alarm on each floor of a property that has living accommodation and also a CO alarm in any living space that has a solid fuel burner. These regulations are a good minimum standard for existing homes, and the alarms should ideally be tested each month in both new and old homes alike.
Safety alarms are now a vital addition to every home. Toxic smoke is far more deadly than you may think. Only two to three breaths can cause you to lose consciousness and an adult could be dead in less than three minutes.
It is worth spending time and a few extra pounds to make sure that you have the right alarm in the right place, in working order, to keep you safe when you need it most.
David is a renewables and ventilation installer, with over 35 years experience, and is a long-standing contributor to Homebuilding and Renovating magazine. He is a member of the Gas Safe Register, has a Masters degree in Sustainable Architecture, and is an authority in sustainable building and energy efficiency, with extensive knowledge in building fabrics, heat recovery ventilation, renewables, and also conventional heating systems. He is also a speaker at the Homebuilding & Renovating Show.
Passionate about healthy, efficient homes, he is director of Heat and Energy Ltd. He works with architects, builders, self builders and renovators, and designs and project manages the installation of ventilation and heating systems to achieve the most energy efficient and cost effective outcome for every home.
Homebuilding & Renovating Newsletter
Get the latest news, reviews and product advice straight to your inbox.
Thank you for signing up to Homebuilding. You will receive a verification email shortly.
There was a problem. Please refresh the page and try again.