8 Ways to Use Less Plastic in Your Build Project
By Hugh Metcalf published
Looking for ways to improve your build's eco-credentials? Focusing on reducing the amount of plastic your build consumes, both in materials and waste, is a good place to start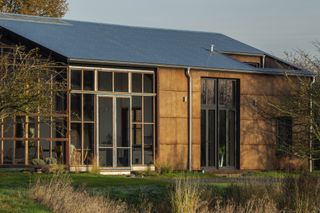 (Image credit: Oskar Proctor for Practice Architecture)
When it comes to building an eco home, even the most energy efficient and sustainable builds may use some materials as standard that aren't considered eco-friendly. The use of plastic materials in homes is widespread, because these materials are convenient and affordable.
While some may argue for the environmental benefits of using plastics if it's effectively reducing energy consumption and used in ways that will last a long time, there are a few key concerns about using these materials in home construction.
PVCu, for example, has a higher level of embodied carbon, thanks to high energy consumption and CO2 emissions, while many plastics remain unrecyclable meaning both waste from offcuts and, later down the line, replacing end-of-life plastic components that aren't widely recyclable will contribute to environmental pollution. Plastics are made using oil, making them inherently non-renewable, and also contain chemicals which can be dangerous.
With that in mind, we're looking at some key ways you can mitigate the level of plastics used during your build, factoring in both materials used and waste created on site.
1. Talk to Your Architect and Builder
If reducing the level of plastic used is important to you, the best place to start is in conversation with your architect and builder. While they may not be hardwired to work in a way that reduces plastic use and waste, if this is what you want for your build, then finding a team who can adapt to that challenge is very possible.
Your architect, for example, may be able to specify different materials, or design in a way that simplifies elements where plastic is used, reducing the amount required.
Meanwhile your builder may be able to look at avoiding over-ordering of materials to reduce waste, while managing the site to ensure appropriate disposal of offcuts, for example.
Did you know?
As much as 12% of materials ordered to a construction site are thrown away?
In these instances, there's no harm in asking. There may not be a plastic-free solution for every instance of plastic use, but new products and ideas are entering the market all the time.
Accord Housing Group (opens in new tab), which is in the midst of constructing the UK's first development of plastic-free homes, said of their project: "We haven't yet got a plastic-free solution to [everything], but we will be challenging people in the building products manufacturing industry to help us find solutions."
Once you set the parameters for a low-plastic build, your team can look into ways to help you achieve this.
2. Challenge Plastic Packaging for Construction Materials
Another way your builder can help reduce plastic is by working with suppliers on reducing the amount of plastic packaging used when delivering building materials. It's thought that the construction industry is second only to the packaging industry in the amount of plastic waste produced in the UK each year — some 50,000 tonnes.
Heavy site materials are usually supplied without packaging. The main exception to this is bricks and blocks, which are routinely delivered wrapped in plastic. This is done to maintain a standard pack weight, as the materials can absorb water when wet, making them heavy and problematic to transport.
When it comes to finishing materials, it's a very different story. There is a huge amount of wasteful plastic packaging used in building supplies. Materials have to be protected from damage in transit, and getting wet on sit, but some suppliers really take things to extremes.
There is little self builders can do to stem this flow, however buying goods directly from merchants rather than getting them shipped will inevitably involve less packaging. Also, you may consider a temporary build store to protect your materials from the elements, reducing the need for extraneous plastic packaging on those materials you bring back from the merchant's yard.
If you have time to research and strike partnerships with suppliers, you may be able to find those who use less packing materials, or that use recycled or plastic alternatives. Ask your builder to have materials such as sand delivered in bulk, not in individual polypropylene bags.
3. Use Timber and Aluminium for Windows and Doors
While modern PVCu windows and doors are undoubtedly much better and more durable than the variety which permeated at the end of the last century, there remain alternatives which are not only more eco-friendly during manufacturing, but easily recycled at their end-of-life.
Timber and aluminium windows and doors are preferred by many self builders for their aesthetic quality alone, yet they can also match PVCu designs in attributes such as durability and energy efficiency. Timber windows can last indefinitely if given the care and maintenance required, while aluminium windows will likely outlast PVCu windows in most instances.
Of course, cost is also a factor, with PVCu a more budget-friendly material.
4. Choose an Alternative to Plastic Insulation
Modern insulation, specifically rigid board types, are incredibly thermally effective, however, they are largely made from a plastic known as PIR or polyisocyanurate.
Natural insulation options include hemp, jute, wood fibre, sheep's wool and cellulose, each with its own unique characteristics to meet the requirements of different applications.
These materials have naturally thermoregulatory properties, helping to balance cold in winter and heat in summer for a consistent internal temperature. They're also safer and healthier — both during installation and for the lifespan of your home, as they contain no nasty toxic chemicals.
5. Alternatives for Service Pipes
"Depending on the plumbing application, a variety of materials can be used to construct pipes for hot and cold potable water, as well as waste pipe and sanitary drains," reads architecture firm Perkins + Will's white paper What's New (and What's Not) with PVC.
It suggests a number of non-plastic alternatives for service pipes for the home, including:
Each material has its pros and cons — while PVC is treated to prevent corrosion, for example, it can lead to a 'plastic' taste in drinking water when first installed which may cause concern about the chemicals it releases. However, these are considered relatively non-harmful.
While copper is largely corrosion-resistant (though it can corrode if acidic water is running through the pipes), strong and non-toxic, they can be more expensive to buy and install than plastic plumbing, and are often noisier, especially at high pressures.
6. Rainwater Harvesting and Disposal
PVC is commonly used for rainwater harvesting or disposal systems, however, there are alternatives on the market for those looking to reduce plastic-use. These included galvanised steel and copper.
Metal guttering is stronger, less likely to succumb to UV damage that can make PVC brittle, and can easily be disassembled if required for cleaning. However, PVC is a cheaper option that is easier to install.
For small roofs, under 6 m2, you may also not need guttering under Building Regulations Approved Document H — another way to reduce plastic use when it comes to overhangs, bay windows and porches.
There are many alternatives to plastic water butts available too.
7. Opt for Plastic-Free Finishes
Plastic is present in many home finishes, and some simple swaps can be made to reduce the amount in your home. A feather filled sofa is a plastic-free alternative to man made foams, while natural eco paints limit the amount of plastic-derived additives within a paint, meaning a more sustainable and healthy home.
While many carpets are made from plastic fibres, plastic may even be present in the base of natural fibre designs such as wool. Natural materials such as sisal and jute are the way to go for a plastic-free floor when carpet is your choice.
(MORE: Types of Carpet)
Natural underlays are also available, made from the likes of wood fibres, natural rubber or cork.
8. Plastic-Free Kitchens and Bathrooms
While the longevity of your self build might justify the use of plastics thoughtfully, bathrooms and kitchens will be renovated more frequently, and therefore should be a focus for reducing plastic that may end up as waste in landfills.
Opting for natural timber kitchens is an obvious way to reduce the plastic coming into your home, but nowadays, recycling of melamine fronted chipboard is also possible. Choose natural materials for worktops, such as wood, stone or even manmade Quartz, while avoiding acrylics and laminates.
(MORE: Sustainable Kitchens: 18 Ideas for an Eco-Friendly Design)
When it comes to your bathroom, specifically your bath, enamelled steel baths are the most cost-effective alternative to plastic tubs made from acrylic and fibreglass, but there are many other options available, including stone, cast iron and even wood. Watch out for solid surface baths, as though these are often a high-end choice, these are made using natural compounds with acrylic and resin.
---
Green Homes Month (opens in new tab)
To coincide with Earth Day 2021, Homebuilding & Renovating and the wider Future Homes Network have joined forces to launch Green Homes Month, where we will be sharing all the best advice, ideas and products to help you reduce your carbon footprint and make your home greener.
Hugh is Digital Editor of homebuilding.co.uk and has worked on a range of home, design and property magazines, including Grand Designs, Essential Kitchens, Bathrooms, Bedrooms and Good Homes. Hugh has developed a passion for modern architecture and green homes, and moonlights as an interior designer, having designed and managed projects ranging from single rooms to whole house renovations and large extensions. He's currently renovating a Victorian terrace in Essex, DIYing as much of the work as possible. His current project is a kitchen renovation which involves knocking through walls and landscaping a courtyard garden.
Homebuilding & Renovating Newsletter
Get the latest news, reviews and product advice straight to your inbox.
Thank you for signing up to Homebuilding. You will receive a verification email shortly.
There was a problem. Please refresh the page and try again.