Bathroom DIY: What can (and Should) you Tackle Yourself?
By Hugh Metcalf published
When it comes to bathroom DIY, it's important to know your limits to avoid a do-it-yourself disaster. Here's our advice on what to take on and what not to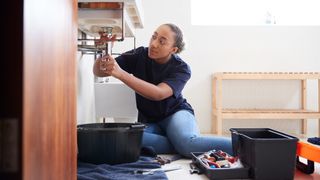 (Image credit: getty images )
When it comes to bathroom DIY, it's in your best interest to proceed with caution. After all, all that running water means its the room that has the biggest potential for DIY disasters, and any issues could cause serious damage to your home.
However, there are some jobs you can cautiously tackle, whether you're a beginner DIYer or a little more competent when it comes to renovating a house.
Here's our top tips for the DIY tasks you should, can (if you're up to the job) and definitely shouldn't take on as part of your bathroom design project.
Bathroom DIY for Beginners
Painting a Bathroom
Painting is probably the most accessible DIY job for most people, and this is no different in the bathroom. However, you need to make sure you've got the best bathroom paint for the job.
There's a lot of moisture in the air when a bathroom is in use, so a specialist bathroom paint will help prevent moisture being absorbed by the walls, which can lead to issues including mould.
There are other painting jobs you could tackle in a bathroom on a DIY basis, including painting tiles, that are easy to achieve and offer great results.
Replacing a Shower Mixer Bar
Exposed shower bars are usually found in more budget-friendly bathroom installations. These are relatively simple to change, which is great news if the internal thermostat breaks and you find your shower flicking between boiling hot or freezing cold. Most shower bars have the same dimensions for the water inlet and outlets, and it's more than likely you'll be able to find an exact match for match for your current shower bar.
To replace, you'll need to turn the water off at the stopcock. Most shower bars are easy to remove without the need of tools. Once removed, simple attach the new shower bar by screwing back on, ensuring it's the right way round and the filters are in place. Reconnect the hose, turn back on the water and your new shower bar is good to go.
Don't forget, shower heads are super easy to replace too, so if yours isn't up to standard, invest in one of the best shower heads and replace your old one as soon as possible
Putting up Shelves
Putting up shelves is DIY 101, and the process is by in large the same for a bathroom as it is for any other room in the house, being sure to use a stud finder/multi detector to ensure there's no pipework or wire before drilling into the wall.
However, if you need to put a shelf up on a tiled wall in a bathroom, that's a slightly different story. To do this, you'll need to use a diamond tip drill bit suitable for tiles. While you might be tempted to use a hammer setting on your drill, this isn't a great idea and it's almost certainly going to cause your tile to crack or break completely.
(MORE: Property Hacks Every Homeowner Should Know)
Install a Shower Screen
Replacing a shower curtain with a glazed shower screen can be transformative for a bathroom, and it doesn't require much DIY know-how, just your best cordless drill. Again, you're likely to be fitting a shower screen onto a tiled surface or shower panel.
Use your diamond drill bit for tiles, but for a shower panel, usually made from PVC, a metal drill bit is your best bet. As you'll want to ensure that this area remains waterproof, once you've popped your rawl plug into the wall, it's a good idea to give it a seal with silicone before fitting the shower screen in place.
Renewing Grout and Sealant
Grubby grout and sealant can make a bathroom look in far worse condition than it is, but fortunately this can be rectified on a DIY basis, that's if the best grout cleaners don't leave your bathroom refreshed, that is. It is, however, quite a fiddly, time-consuming job, so be prepared to put in the elbow grease.
While there are manual tools that can be used to remove grout and sealant, using a specialist electric grout remover or a multi-tool fitted with a grout or sealant fitting will be a lot less work.
(MORE: The Best Multi Tools you can buy)
It's super important to ensure all silicone has been removed before applying new sealant, otherwise your new layer won't adhere properly and your sealant won't be watertight.
There are all kinds of clever tools you can buy to make applying new grout and sealant easier and get a better finish.
Bathroom Projects for Competent DIYers
Tiling
Tiling a wall or floor in a bathroom isn't necessarily a difficult task, but it is a skilled one. That means, if you want a high quality finish and you've never done it before, you're better off leaving it to the professionals, especially when it comes to complex areas such as corners, slanted ceilings, trims and thresholds.
Laying Electric Underfloor Heating
Generally, any electrical work needs to be completed by a professional electrician; however, when laying electric underfloor heating for a bathroom, it's possible to do this on a DIY basis, as long as the connections and any circuit alterations are made and signed off by a registered electrician.
Many types of electric underfloor heating come as easy to install kits.
Installing Some Sanitaryware
Replacing sanitary such as toilets and basins isn't beyond the grasp of confident DIYers, especially as many will come with step-by-step instructions.
Bathroom DIY to Leave to the Professionals
Plastering
Plastering walls isn't an area that lends itself well to have-a-go heroes. If you don't plaster properly, your walls could end up worse than they were to start with — finding a good plasterer is an investment in the foundation of your bathroom, giving you a solid base to build the rest of your design on.
Electrics
No question electrics should (and must) be left to the professionals. There's not really any instances where you should be taking on any work which involves new cables or wires. Leave it entirely to your electrician.
(MORE: DIY: What to Leave to the Professionals)
Plumbing Pipes
Realistically, any pipework should definitely be left to a plumber. The worst case scenario is that a shoddy DIY job causes leaks and mains water to come pouring through your ceiling. Weigh up whether any potential savings on DIY jobs involving any kind of plumbing is worth the risk (and expense) of something going wrong.
Hugh is Digital Editor of homebuilding.co.uk and has worked on a range of home, design and property magazines, including Grand Designs, Essential Kitchens, Bathrooms, Bedrooms and Good Homes. Hugh has developed a passion for modern architecture and green homes, and moonlights as an interior designer, having designed and managed projects ranging from single rooms to whole house renovations and large extensions. He's currently renovating a Victorian terrace in Essex, DIYing as much of the work as possible. His current project is a kitchen renovation which involves knocking through walls and landscaping a courtyard garden.
Homebuilding & Renovating Newsletter
Get the latest news, reviews and product advice straight to your inbox.
Thank you for signing up to Homebuilding. You will receive a verification email shortly.
There was a problem. Please refresh the page and try again.