Best Shower Heads for a Luxurious Shower Experience
The best shower heads provide deluxe washes and several customisable sprays - here are seven we've got our eye on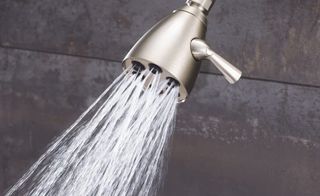 (Image credit: Amazon)
The best shower heads provide a reinvigorating experience and a powerful spray, but there's a lot to think about before you take the plunge and commit to buying a new one.
For starters, there's many different types of shower head. The two most common structural types are handheld and fixed. Handheld shower heads are very convenient because of their flexibility, particularly when washing children and pets, while fixed shower heads are permanently attached to the wall or ceiling at adjustable heights.
And while all shower heads should come with fittings and fitting instructions enclosed, it's always best to hire a plumber if you're not confident in fitting it yourself.
If you're looking to replace your shower head, we've done the hard work for you. These are the best shower heads you can buy right now.
(MORE: How to choose a shower)
Best Shower Heads
1. Hydroluxe Shower Head/Handheld Shower Combo
This 2-in-1 shower combo is perfect for pampering
Made from: Chrome-plated ABS | Finish: Chrome | Handheld shower diameter: 4 inches | Fixed shower head diameter: 6 inches | Spray settings: 6 | Installation: Tools free
Two-in-one combo
Multiple settings
Easy to install
Water pressure can fall while switching heads
This luxurious two-in-one shower combo from Hydroluxe, which features a fixed head and a handheld shower head, takes our best shower head crown. Not only does it feature an array of settings, but it's surprisingly affordable.
There are six settings on each shower head (Power Rain, Pulsating Massage, Hydrating Mist, Rain/Massage, Rain/Mist and Water-saving Economy Rain), and you can use the fixed mount overhead shower head and hand shower separately, or both together.
It also comes with an anti-swivel lock nut and angle-adjustable overhead bracket so you can change the direction of the water spray. You won't need any tools to install it, and it comes with conical brass hose nuts for easy hand tightening.
Buy the Hydroluxe Shower Head/Handheld Shower Combo now
---
2. Yoo.Mee Handheld Shower Head
A powerful wash to relax your muscles
Material: ABS Engineering Grade Plastic | Finish: Brushed Nickel | Spray settings: 3 | Diameter: 3 inches | Installation: No tools required
Turbocharger for high pressure
Easy to install
Slightly loose wall mount
For a high pressure wash to relax sore muscles, this is a great model. Yoo.Mee's handheld shower head is fitted with a turbocharger that increases the water pressure before reaching your shower, even when the pressure is low, ensuring a soothing and relaxing experience.
There are three settings to choose from (Powerful Shooting, Pulse Massage and Mixed). And a massive plus is that it comes with a 79" stainless steel hose to help you easily reach around your body.
Installation is simple and tools-free, and it also comes with a water flow regulator you can install in case the pressure is too high.
Buy the Yoo.Mee Handheld Shower Head now
---
3. Speakman S-2252 Signature Anystream High Pressure Shower Head
A contemporary shower head which is impressively designed
Material: Brass | Finish: Chrome | Spray settings: 3 | Diameter: 4 inches | Installation: Adjustable wrench required
High pressure to sooth muscles
48 customisable sprays
Heavy - be wary during installation
This is another great high pressure shower head that will particularly benefit those with tired shoulders and aching back muscles.
The Speakman shower head delivers up to 2.5 gallons of water per minute and features six adjustable jets that produce 48 individual sprays. It has three settings (Intense, Rain and Full Flood) and has a simple side handle that complements contemporary bathroom hardware and accessories.
It's a little heavy, which is something to bear in mind during installation.
Buy the Speakman S-2252 Signature Anystream High Pressure Shower Head now
---
4. Mira Showers Response Shower Head
A budget option that's compatible with most showers
Material: Chrome | Finish: Chrome or white | Spray settings: 4 | Diameter: 4 inches | Installation: Tools free
Universal fit
Easy to install
Basic spray modes
The Mira Response Shower Head is a great option if you're looking for something simple and stylish. It's very affordable too.
While the four low-pressure spray modes aren't as luxurious as other models on this list, the shower head does include an eco setting to help save both water and energy. And when paired with a Mira shower house, you can experience up to 25% more water flow.
Plus, its universal fit means it can be connected to almost any shower hose, and no tools are required for installation.
It also comes with rubber nozzles on the spray face that make it easy to clean, to help you keep on top of limescale. Simply rub over them to wipe away anything that could be clogging them.
Buy the Mira Showers Response Shower Head now
---
5. Triton High Flow Shower Head
One of the best all-rounders
Finish: Chrome | Spray settings: 5 | Diameter:: 4 inches | Installation: No tools required
Suitable for all showers
Affordable
Easy to install
Isn't as long lasting as the others in this list
This low-pressure shower head ticks a lot of boxes. It is high quality, inexpensive, and the handset is suitable for all shower types: low or high pressure, mixer shower or electric shower.
It has five spray patterns to choose from (Jet, Blast, Spray, Rain and Drench) - simply twist the shower head to cycle through the options - and the universal connection makes it easy to replace your current shower head.
This is one of the easier shower heads to install, perfect for DIY novices.
Buy the Triton High Flow 5 Spray Pattern Shower Head now
---
6. Nosame Shower Head
There are health benefits to purchasing this model
Material: Eco-friendly ABS | Finish: Stainless steel | Spray settings: 3 | Diameter: 4 inches | Installation: Tools-free
Micro nozzle technology
Budget friendly
Purifies water
Hose not included
There's a lot to love about this Nosame shower head. Firstly, the sophisticated micro nozzle technology makes the outlet holes smaller which helps to increase the water flow, thereby increasing the water pressure. Secondly, it has three settings (Rainfall, Massage and Jetting) to ensure a perfect shower experience every time.
Additionally, the integral water filtration system uses bio-active stones to remove heavy metals, impurities, rust, odour and bacteria from the water. This is especially useful in hard water areas.
One consideration to make is that while this is easy to install - simply screw onto any standard shower hose - the hose is not included.
Buy the Nosame Shower Head now
---
7. WaterPoint Rain Shower Head
Great for a quick wash and spending less time in the shower
Material: Lightweight ABS plastic, plated with Chrome | Finish: Chrome | Spray settings: 1 | Diameter : 8 inches | Installation: Tools-free
Large diameter head
Built-in water restrictor
Only one spray setting
This WaterPoint model is one of the most impressive rain shower heads available.
The flow restrictor is a thoughtful feature, which limits the shower head to 2.5 gallons of water per minute, an environmentally-friendly measure which helps to reduce water usage. You can remove this if you wish though.
The large 8-inch diameter should be noted too. The size makes each shower feel like a spa experience, covering your entire body and providing a deluxe wash each time.
Buy the WaterPoint Rain Shower Head now
How to Choose Your Shower Head
Price will be a primary consideration for many when choosing a new shower head, but it is also worth assessing the qualities you are looking for.
Water pressure
Your water pressure will likely dictate which shower heads are compatible with your home plumbing. If you're not sure whether a specific shower head will work in your shower, use a water pressure gauge to test its compatibility, or ask a professional to check for you.
Type
Be sure to review your current shower set-up before buying a new shower head, as you'll need to consider how effective it will be.
If you have kids or pets, then you might prefer to buy a handheld shower head which will give you more flexibility.
Jet shower heads are the most powerful and direct water pressure towards a smaller surface area, while rain showers are more gentle.
Shower heads tend to come with standard size fittings so you aren't limited to choosing shower heads from the same manufacturer as your shower.
Spray
Newer shower heads are equipped with different spray settings. There are high-pressure sprays which are good for massaging muscles, while low water pressure sprays are best suited if you want a gentler experience.
Jack is News Editor of Homebuilding & Renovating and strives to break the most relevant and beneficial stories for self builders and renovators. Having bought his first home in 2013, he and his wife have renovated almost every room and recently finished a garden renovation. Jack reports on all of the latest news that could affect your project.
Homebuilding & Renovating Newsletter
Get the latest news, reviews and product advice straight to your inbox.
Thank you for signing up to Homebuilding. You will receive a verification email shortly.
There was a problem. Please refresh the page and try again.