Best Grout Cleaner: Effective Formulations to Keep Your Tiles Looking Their Best
It's not the sexiest of jobs, but finding the best grout cleaner makes it far easier to clean your tiled areas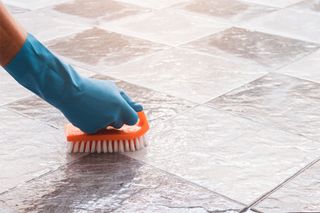 (Image credit: Getty Images)
The best grout cleaners will help to keep your tiles looking cleaner than ever. And because finding the best formulation isn't the most enviable of tasks, we've done it for you.
Cleaning grout can be a fairly unglamorous job, but it's an important one. Dirty grout is unhygienic and can ruin the look of a room, and removing dirt, grime and mildew will make you remember why you loved your bathroom and kitchen tiles to begin with. 
These grout cleaners are easy to use and incredibly effective - giving you great results with minimal fuss.
Which is the Best Grout Cleaner?
1. HG Grout Cleaner
This ready-to-use grout cleaner is very effective
Size: 500ml | Works on: Wall and floor tiles | Ready to use?: Yes
Very effective
Suitable for those on a budget
Not suitable for marble or travertine surfaces
The HG Grout Cleaner is a rare hybrid of an affordable product boasting some impressive credentials. 
Using a powerful and buffered cleaning agent, this ready-to-use grout whitener will remove stubborn stains on your tiles and walls with minimal scrubbing - simply apply and scrub, wait a few minutes, and you'll be left with restored, clean grout. 
This is a great cleaner for regularly maintaining your grout, and its speedy results and ready-to-use formula makes it suitable for those with busy households.
2. Everbuild Forever White Grout Reviver
Affordable, long-lasting and easy to use - the complete package
Size: 200ml (x2 bottles) | Works on: Wall and floor tiles | Ready to use?: Yes
Easy to use
Long-lasting protection
Sponge applicator could be more effective
The Everbuild grout cleaner (which comes in a pack of two 200ml bottles) contains a mould shield to provide long-lasting protecting against bacteria, mould and mildew. It's designed to cover approximately 20m2 of tiles.
This impressive cleaner also features an antibacterial coating called SteriTouch which helps to fight off discolouration and restore dirty grout to a bright, white finish. It doesn't get rid of grime, however. 
What's more, it's easy to use. Simply apply to the grout lines using the applicator, leave it to dry (which takes around an hour) and wipe away any excess residue with a damp cloth. 
Buy the Everbuild Forever White Grout Reviver  
3. UniBond Grout Reviver Sponge Pack
UniBond's sponge pack is cost effective and easy to apply
Size: 125ml | Works on: Wall and floor tiles | Ready to use?: Yes
Waterproof
Easy to apply
Inexpensive
Doesn't get rid of grime
The UniBond Grout Reviver isn't specifically a grout cleaner, but it is an excellent anti-mould product that serves as a great fix for covering up stubborn stains.
The UniBond pen helps to refresh and restore old grout on wall and floor tiles in bathrooms and kitchens. And buying the pen as part of the sponge pack means you get an in-built sponge applicator, making the product easier to apply.
It takes up to around an hour to see the results, and once it's ready you'll be left with a water-resistant, fresh white coat of grout. The UniBond pen is only suitable for use on fully glazed ceramic and porcelain tiles, however, and doesn't get rid of grime. 
Buy the UniBond Grout Reviver Sponge Pack
4. Pro-Kleen Tile Grout Cleaner
One of the more powerful grout cleaners available
Size: 5L + 750ml | Works on: Wall and floor tiles | Ready to use?: Yes
High strength
Easy to use
Can cause skin irritation, so be sure to wear gloves
A little goes a long way with this grout cleaner, and with this 5L + 750ml deal you get a lot of bang for your buck.
Pro-Kleen's grout cleaner is one of the more powerful models available. It possesses a super concentration to help remove discolouration caused by mildew, mould and soap scum, making grout and tiles look brand new.
To use, simply spray and rinse off 10-15 minutes later. And it can be used regularly to reduce the need for regrouting. 
Because it is so strong, however, be sure to ventilate the room in which you are working, and make sure wear gloves and other protective clothing as exposure can cause skin irritation.
Buy the Pro-Kleen Tile Grout Cleaner 
5. LTP Grimex - Heavy Duty Grime and Stain Remover
You should notice the difference within 5-10 minutes
Size: 5L | Works on : Stone and tiles | Ready to use?: No
Eliminates stubborn grime
Interior and exterior use
Needs diluting
Some grout cleaners are unable to tackle the stubborn grime or stains, but the LTP Grimex grout cleaner is a fantastic heavy duty solution to eliminate dirt, grime and old wax layers from all natural and artificial stone and tiles.
To use, dilute one part LTP Grimex in 10 parts warm water, then apply with a cloth or sponge before wiping off thoroughly. After just 5-10 minutes you should notice the reaction.
This isn't a product that should be used for everyday cleaning of floors or walls that have been sealed, but you can use it to renovate surfaces including terracotta, slate, stone, marble and more, and it also works on external driveways, patios and paths.
Buy the LTP Grimex - Heavy Duty Grime and Stain Remover 
6. All Stone Xtreme Clean
This will give your grout a deep clean
Size: 1L | Works on: Wall and floor tiles | Ready to use?: Yes
High performance
Deep cleans grout joints
Quick results
Can require hard brushing
Looking for a heavy duty tile and grout cleaner? The All Stone Xtreme Cleaner boasts a high performance and concentrated high alkaline cleaner and degreaser which ensures a deep clean to grout joints.
It's suitable for removing ingrained dirt, grease and grime, and can also be used to clean neglected areas or areas subject to wear and tear. 
Notably, it is very fast-acting. Carefully apply the solution to a pre-wet surface with a sponge or a mop, allow to sit for 3-5 minutes for cleaning, then scrub with a brush, sponge or nylon pad. 
Buy the All Stone Xtreme Clean 
How to Clean Your Grout
Before you use your grout cleaner for the first time, consider your own safety as well as the safety of anyone else in your house.
Follow these simple rules to ensure that you use your cleaner properly:
Always wear protective clothing, including gloves and goggles 
Carefully read the instructions of your product before use
Avoid scrubbing the cleaner into the grout too hard, which could dislodge the actual grout
Use a small toothbrush, or similar brush, to clean any awkward areas
Rinse the cleaned area thoroughly, using a showerhead, for example
Repeat the treatment, if necessary.
Choosing the Best Grout Cleaner
Your grout cleaner of choice will depend on several factors, such as:
The surfaces it can be used on
What the specifications are
How significant the dirt is in your grout
How easy-to-use you need it to be
Some cleaners are designed to specifically remove mould and mildew, but others are best suited to tackling grime. There's a lot of dirt that can grow in our grout, so knowing which one is best for you, and the work surfaces you have, is important.
Applying grout cleaner can be a pain. It doesn't always work first time, and heavy duty models - as effective as they are - can cause skin irritation if you're not properly protected. So make sure that you know how easy a product is to use in advance, so that you're not left uncertain before applying, and be sure to read the instructions so that you know what to expect during the cleaning process. 
Homebuilding & Renovating Newsletter
Get the latest news, reviews and product advice straight to your inbox.
Thank you for signing up to Homebuilding. You will receive a verification email shortly.
There was a problem. Please refresh the page and try again.