The 5 best multi tools that cut, sand, grind and more
These are the best multi tools which offer handy versatility for DIY projects with just the change of a head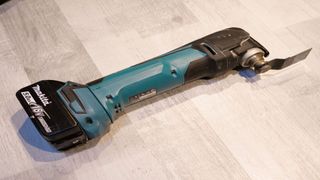 (Image credit: Future/David Hilton)
The best multi tool is the perfect way to round out your tool kit — for many DIYers and professionals alike, it's their most essential, go-to tool for all kinds of jobs around the home.
An oscillating multi tool is small but effective and super versatile. With changeable blades/heads, it can be used to cut, sand and grind, and has applications all over the house, depending on which head you're using.
These tools are small, making them effective for getting into hard to reach places, and accurate. They're especially helpful when making small changes to the fabric of your house, over working with large sheet materials where a dedicated saw or sander would be the obvious job.
Multi tools can be used for DIY tasks such as:
Cutting out sections of skirting board and other trims
Cutting plasterboard
Undercutting door jambs
Cutting nails, screws or pipes flush to a surface
Removing mortar or grout
Cutting holes in kitchen units
Detailing when laying flooring
Sanding small and narrow elements to be painted
And that's just to mention a few ideas.
Sold on the idea of an oscillating multi tool? Find out which ones we rate with our buying guide.
Quick links to the best cordless drill deals
You can trust Homebuilding & Renovating. Our expert reviewers spend hours testing and comparing products and materials in order to help you choose the best for your home and garden. Find out more about how we test.
Unsure of exactly what multi tool brand you are looking for? Check out these Black Friday multi tool deals and choose the one that suits your needs.
---
Our top picks for the latest multi tool deals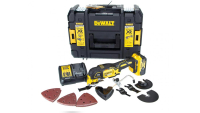 DeWalt 18V XR Multi Tool T-STAK Kit | £219 NOW £189 (SAVE £30) at FFX
This cordless multi tool kit comes with an oscillating multi tool, a Li-ion battery, a selection of blades and accessories including sanding pads all in its very own sturdy carry case.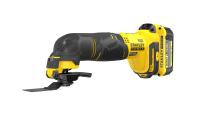 Stanley FatMax V20 18V Cordless Multi Tool | £199.98 NOW £139.98 (SAVE £60) at Toolstation
A cordless multi tool that comes with a free battery and boasts a quick release tool-free accessory system. Includes a wood blade, wood/metal blade, carbide grout blade, sanding plate, assorted sanding paper sheets and dust extraction adaptor.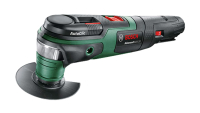 Bosch AdvancedMulti 18 Multi Tool | £125.99 NOW £100.49 (SAVE £25.50) at Amazon
A cordless multi tool with quick and easy accessory change with just one push on a lever. Contains wood and metal blades and carry case to store. And an 180° light band provides optimal visibility while working.
The best multi tools to buy
1. Makita DTM51Z Cordless Multi Tool
A reliable multi tool with a useful soft start function
Specifications
Weight :
1.86kg (without battery)
Reasons to buy
+
Soft start function
+
Quick release blade change
+
Metal gearbox
When you switch on a multi tool without a soft start function, you may find that the blade kicks, potentially leading to inaccurate cuts. A soft start can therefore be a really useful function, and one that you'll find in Makita's DTM51Z multi tool.
Another great feature of the Makita DTM51Z is that it has a quick release system for blade changes, a convenient upgrade on the Makita DTM50Z which requires a hex wrench to remove the blade. The blade can be set at 12 different angles across a full 360 degrees, giving you good functionality no matter what you're working on.
It also comes with barrel grip for comfortable handling and operating at high efficiency, and the anti-restart function offers extra protection if you need to suddenly recharge. There are built-in LEDs too, which improve visibility and let you work confidently in darker areas of the home, such as loft spaces.
Batteries are sold separately, which is the only negative, and battery life very much depends on the capacity and the load of the work you are doing. If you use 5Ah batteries, one will normally last most of the day, unless you're cutting or grinding larger areas.
Read our full Makita DTM51Z Cordless Multi Tool review
---
2. DeWalt DCS355N Cordless Multi Tool
A great quality mid-range multi tool
Specifications
Weight:
1.1kg (without battery)
Reasons to buy
+
No-tool blade change
+
Cordless
Reasons to avoid
-
Extra accessories are expensive
-
No storage included
DeWalt's DCS355N cordless and brushless multi tool is a great place to start if you're looking for a multi tool for a renovation project.
Its variable speed control is a really useful function to have in a multi tool and will give you better control when operating, especially when using it to cut. The brushless motor offers long run times than a brushed equivalent too, making it a more efficient tool.
It doesn't require a tool to change the blade/attachments, which is a real plus, and it also features an integrated light which comes in handy when using in small, dark places.
Be wary with the standard '29 piece accessory set' this multi tool is often advertised as coming as standard, as it's actually rather more limited than you'd expect. This 29 piece set is made up of three blades, a sanding pad and 25 sanding discs — enough to get started, but it could offer a more well-rounded selection.
Batteries are sold separately, but the tool comes with a universal adapter which means you should be able to buy cheaper accessories that will work with the multi tool too.
---
3. Ryobi One+ R18MT-0 Cordless Multi Tool
An affordable multi tool with an adjustable pivot head
Specifications
Weight:
1kg (without battery)
Reasons to buy
+
4-position pivot head
+
Tool-less blade clamp
+
Variable speed
Reasons to avoid
-
Noisy
-
Less powerful than some
Ryobi's One+ R18MT-0 has some great features packed in that make it not only easy to use, but very versatile.
The clamped blade mechanism makes changing between heads super simple, while the pivot head, which can be set to one of four positions, allows you to create angled approaches with this multi tool that make it much easier to operate.
With a 6-speed option wheel, this tool has great speed control, though it could benefit from a soft start function.
Oscillating multi tools tend to be, by nature, quite noisy, but Ryobi's R18MT-0 is certainly on the louder side once the variable speed starts to crank up.
You buy the bare tool on its own, or alternatively with either Ryobi's ONE+ Lithium 4.0Ah or 5.0Ah batteries.
---
4. Bosch 603102070 PMF 220 CE Multi Tool
A budget-friendly corded multi tool that's great for beginners
Reasons to avoid
-
Requires expensive Bosch blades
-
Tool required for blade change
Bosch's 603102070 PMF 220 CE is a pretty basic tool in comparison to some, however, its functionality for the cost makes it perfect for beginners and those not looking to expand on a cordless tool collection.
It comes ready-to-go out of the box, with a small but brilliantly considered selection of blades and a sanding pad, as well as a carry case, perfectly able to see you through some beginner-friendly DIY jobs, whether that's cutting timber or cutting out plasterboard.
For a corded multi tool, it's great — lightweight, as no need for heavy battery packs, and with a long 2.5m cord that's unlikely to restrict how and where you use it.
However, this tool is unlikely to hold up to the same standards as some more advanced options, making it good for sporadic, rather than regular, use or face the risk of it burning out.
It's worth considering that the blade system used on this multi tool is proprietary to Bosch, meaning that you can only fit Bosch blades, which are more expensive than the cheaper blades that can be used for tools which have universal adapters.
---
5. Makita TM3010CK Corded Multi Tool
The best multi tool for hardcore DIYers
Reasons to buy
+
Professional quality
+
Soft start function
+
Constant speed control
+
Quick release blade changes
Reasons to avoid
-
Price
-
Heavy for a corded multi tool
Makita's TM3010CK multi tool is fit for both DIYers and most professionals. It's a powerful, corded tool that also features some useful functions.
The blades can be fitted at 30° increments over the full 360° of the cutting head, meaning there's 12 angled positions that can be used for a variety of jobs. Like other Makita multi tool's, this model also has a useful soft start function, while also offering a variable speed and constant speed control under load.
The TM3010CK also offers the all-important tool-less blade change.
Of course, as a multi tool that's nearing professional level, the price is higher than a lot of corded multi tools, but still offers great value for money. You may find, that this tool is on the heavy side, however it's likely to still be lighter than most cordless models when batteries are taken into account.
---
What to look for in an oscillating multi tool
An oscillating multi tool is a really useful tool that can be adapted to all kinds of DIY jobs, but there are some key things to consider when choosing one to purchase.
What kind of blades/heads does it fit?
This is an important question as extra blades and accessories can be expensive when bought from brands, especially when there are plenty of cheap blades to be found online. If you buy a tool with a proprietary blade system, you won't be able to use any blades other than the official blades, adding to your expense. Many multi tools come with a universal adapter however.
Does it have a quick release system for the blades?
You may be required to change between blades for different tasks and systems that don't require a tool make this quicker and ensure you're never stuck if you've mislaid your tool box momentarily.
Does it have variable speeds?
Control over speeds will help offer some nuance and control when operating a multi tool, ensuring you have the right speed for the right project. This will help you to avoid overcutting and get a more accurate cut. Look out for tools that have a soft start function, helping to reduce the kick from the motor when turning the multi tool on.
How powerful is it?
Look out for the power output and oscillations per minute it offers. Corded multi tools tend to be more powerful than cordless ones, while brushless motors offer a more efficient use of power.
How we test multi tools
There's a lot to consider when buying one of the best multi tools, and the Homebuilding & Renovating team is getting hands-on experience with the products in this buying guide to help you feel confident in choosing the right multi tool for you.
In our ongoing independent reviews we are testing the power and weight to gauge each tool's efficacy, and assessing key factors including ease of use and value for money. We're also reviewing everything in-between from how easy it is to use attachments to which households will most benefit from buying a specific multi tool.
Our team is passionate about DIY and home improvement (which probably won't be a surprise) so we already have detailed knowledge about the brands that make these multi tools. Moreover, we have taken into account user reviews when compiling this buying guide, and gleaned key information from our sister sites such as Real Homes and Ideal Home to help you find the best product for your home.
Still intrigued by our testing process? Find out more about how we test on our page. Here are a few of our Homebuilding & Renovating tools testers:
David is a renewables and ventilation installer with over 30 years of experience, who is passionate about testing new tools. He has reviewed the the Makita DTM51Z 18V Cordless Multi Tool for Homebuilding & Renovating, which he describes as "one of the best products on the market".
Get the Homebuilding & Renovating Newsletter
Bring your dream home to life with expert advice, how-to guides and design inspiration, direct to your inbox.
Hugh is Deputy Editor of sister title Livingetc.com and former Digital Editor of homebuilding.co.uk. He has worked on a range of home, design and property magazines, including Grand Designs, Essential Kitchens, Bathrooms, Bedrooms and Good Homes. Hugh has developed a passion for modern architecture and green homes, and moonlights as an interior designer, having designed and managed projects ranging from single rooms to whole house renovations and large extensions. He's currently renovating his own Victorian terrace in Essex, DIYing as much of the work as possible. He's recently finished his kitchen renovation, which involved knocking through walls, and landscaping a courtyard garden, and is currently working on a bathroom renovation.