6 Things to Look out for in a Plasterer — Plus Tips for Finding a Good One
Finding a good plasterer can be tough at the best of times, but right now it might seem impossible. Improve your chances with these tips for identifying a quality tradesperson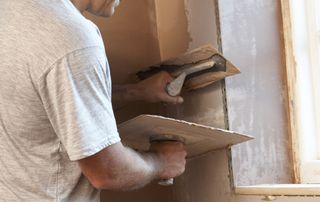 (Image credit: getty images)
A good plasterer is hard to find as this trade in particular is always in high demand. However, compound that with construction material shortage that hit plaster hard and a trades shortage caused by soaring workloads during the pandemic and a loss of workers due to Brexit, and the task of finding a quality tradesperson for plastering walls becomes even harder.
With that in mind, you could be waiting up to two months to find a plasterer who is able to take on your job right now but, while speed is of the essence in securing a plasterer as to not hold up your project, you also need to ensure you hire someone capable of delivering a quality finish.
These tips focus not only on where to look for a plasterer, but also what to look out for in a good plastering job to act as a frame of reference on the finish of your rooms.
How to Find a Good Plasterer
Plasterers have never been that easy to find. There are larger companies, and you will see their vans with their logos on the side, but they are not always willing to undertake single dwellings and, even if they did, their prices, due to their overheads, would probably not be economical.
The best way of finding a good plasterer is to ask other tradespeople that you have already employed on your project. Happily, the plasterer is one of the trades that is required later in the process and there is, therefore, plenty of time to carry out your investigations.
(MORE: Find a Builder)
Various websites can also give you the names of trades working in your area. Asking for recommendations from other self builders or renovators can also be a good bet and this will give you an opportunity to see their previous work and judge how good they are.
What Does Good Plastering Look Like?
Whether you're looking at your plasterer's previous work, or want to know whether they've done an acceptable job on your project, here's what to look out for to assess plastering quality:
1. With walling, look out for trowel marks or rough patches. A good decorator will, almost certainly, have done their best to iron out any blemishes but if you look along the wall in a good light, you will see undulations.
2. Watch out for undulations in drylining, which can be particularly apparent where the boards have not been skimmed and, instead, they have simply had the joints taped and filled.
3. Look out for excessive cracking or crazing.
4. At the junction of the walling and the ceiling, cracking may indicate that they have not properly taped the joints. Paper-based tapes are not good for this situation and a mesh scrim tape is advisable.
5. Pay particular attention the day before skimming commences, when the labourers may have been sent in previously in order to tape up all the joints and corners. Watch out for tape/scrim that has detached from the boards. It's all too easy for a plasterer in a rush to simply pull it away and discard it.
6. If you're examining fresh undecorated plaster, always rub the back of your hand over the surface to feel how smooth it is. Don't use the palm of your hand as you might deposit grease, and this may show up after decoration.
How Much Does a Good Plasterer Cost?
Plasterers are always scarce and they can, therefore, charge a premium for their services. Plasterers, in many regions, expect to earn between £150 and £200 per man per day. They often work with a labourer, who will cost an additional £100 to £120 per day.
From start to finish, on an average new build, it will take one gang two to three weeks to complete their various tasks. As with other trades, the mark of a good plasterer is their confidence in their abilities, so they will be able to charge for the time they need in a lump sum price and are less likely to charge per hour or day.
A medium size room will take around 2-3 days to plaster, which will set you back around £800.
What do you Need to Provide a Plasterer With?
How many plasterers do I need on site?
A plastering 'gang' usually comprises one or two plasterers with a labourer to mix the render and the plaster and keep them supplied.
Plasterers or renderers may have their own mixer for sand and cement but in most cases they will expect to be able to use the one that is on site.
Most plasterers and dry liners will have their own trugs or buckets for mixing their materials, using a hand-held power drill with a mixer attachment. Scaffolding may well be necessary, both internally and externally, and a plasterer will always need a trestle of some sort, to put their own spot boards on.
As well as any bagged plastering materials, they will require drywall screws, scrim and paper tape, plasterboard and any beading or stops for both internal and external use.
What Does a Plasterer do?
The term 'plasterer' encompasses several very different disciplines that, in recent times, have evolved into separate, very individual, trades. It's well worth understanding the roles of these sub trades.
The traditional plasterer dealt with the application of a smooth or textured finish to internal and external walls, turning rough brickwork and stonework into the walls of a habitable dwelling. To some extent this is still what they do, but these days the use of what is known as 'hard plastering' on the interior of the building is slipping out of favour.
Internal hard plaster involves coating the wall with sometimes one, but usually two, coats of either sand and cement render or proprietary base plaster and then topping this with the application of a thin coat of smooth finishing plaster.
Its proponents like it because it gives a solid feel and density to the walls. Plus, it arguably offers superior airtightness — increasingly important when building new homes. It is a very skilled job and particular care has to be taken if it's all to go right.
The plasterer has to judge exactly the right time to apply each coat. Too soon, and the finishing plaster will craze as the substrate dries out behind it. Too late and the finish will not find the right key and will separate from the substrate.
External plastering, known as rendering, basically follows the two-coat principle, usually employing sand and cement. If you are planning to use a proprietary product, this task will usually be carried out by a specialist company.
Hard plaster cannot really be used with a timber framed structure and, from this, the related trade of dry lining evolved, whereby sheets of plasterboard are affixed to the walling studs and then skim coated with finishing plaster or simply taped at the joints. These are then smoothed off with plaster or jointing compound.
Dry lining a masonry construction is slightly different, as there are no studs to nail the boards on. When it was first employed, many builders used a battening system to carry the boards but this was laborious and necessitated the use of an additional carpentry trade. It wasn't long, therefore, before the current system of fixing the boards by means of an adhesive, known as 'dot and dab' came into being.
(MORE: Wet Plaster or Dry Lining?)
Dry liners and tackers can work as single operatives or as a duo. On masonry walls they will mix up a batch of adhesive and then cut and 'slap' up the boards. On studwork walls they will cut and fix the boards to the upright timber studs.
A tacker would not normally be responsible for finishing the boards and that was left to the plasterer. Dry liners, on the other hand, may well take responsibility for the taping and finishing of the boards, once they are fixed.
These days the tradesperson doesn't use nails or clouts and the boards are fixed using drywall screws that maintain the integrity of the boards and help prevent 'popping' at a later stage.
(MORE: Where can you buy Plasterboard?)
Get the Homebuilding & Renovating Newsletter
Bring your dream home to life with expert advice, how-to guides and design inspiration, direct to your inbox.
David is one of the UK's leading self build and plotfinding experts, and a serial self builder who has been building homes for 50 years. The author of Building Your Own Home, David spent decades as a speaker and expert at self build exhibitions such as the Homebuilding & Renovating Show. He has recently finished his fourteenth self build project.