Why the New Permitted Development Rules Could Cause Structural Headaches
By Jack Woodfield published
Under Permitted Development you can extend by up to two additional storeys, but this requires significant structural planning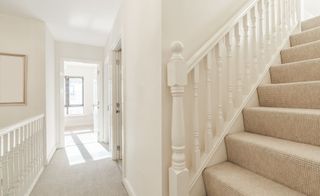 (Image credit: Getty Images)
Homeowners must consider several structural and build implications before extending by up to two storeys using new Permitted Development rights, industry experts have warned.
Under new Permitted Development rights, homeowners can extend by up to two storeys and applications will be fast-tracked through the planning process, providing prior approval is granted.
But it is important to consider that any plans you have will need to adhere to Building Regulations, and you'll need to ensure your existing foundations and structure can support the additional load of a new storey.
We spoke to Homebuilding & Renovating contributors Ian Rock and Paul Testa, about what homeowners need to know before extending up.
Review the Building Regulations
Two-storey extensions will not require planning permission, but you will still need to ensure your plans conform to Building Regulations.
Building Regulations are in place to ensure your house is structurally sound and adheres to standards regarding fire safety, energy efficiency and accessibility, among other things.
"My worry is that for those who don't know too much about Building Regulations, might think that because they don't need planning permission that they don't need to consider the Building Regs," said Rock.
"While the aesthetic problems from this could be massive, the structural issues are even more significant."
Complying with Fire Regulations
It's essential to comply with Fire Safety Regulations, and the rules can be complex particularly for three or more storey homes.
"Even if you are going up by just one extra storey, you will have to consider the risk of fire and how you would escape," warns Testa.
Homes with open-plan ground floors pose a particular challenge. This is because they do not provide a protected escape route, and an occupant could get trapped if a fire starts.
One possible solution is installing a sprinkler system to protect the escape route, however these can be expensive to install and difficult to retrofit to domestic properties, although there are specialist retrofit solutions available.
"There's quite a lot of regulations and rules about making it safe, and you need to make your escape route fire-resistant," Rock added.
"You will need to enclose your stairs so inhabitants can make a safe escape, and you'll most likely have to install a protective corridor."
Another safety aspect to consider is that when you extend up by two storeys, you'll have to meet guidelines from Document K of the Building Regulations to protect against falling. These guidelines cover on-site safety and how to install safety measures on staircases and the positioning of windows to avoid injury.
Can Your Home Support a New Storey?
"One major thing to consider in regards to your structure is, can it take an extra floor of walls?" asks Testa.
One of the main challenges homeowners could face is that their existing building might be unable to support an additional storey or two without major structural working. You might therefore have to reinforce the existing structure and/or strengthen the existing foundations.
(MORE: Foundation Systems and Soil Types)
"You'll need a structural engineer to design your loadings, but they're going to want to know how deep your foundations are, especially in older buildings. This could mean having to dig trial holes, which can be a convoluted process," said Rock.
"Structurally, you'll also need to consider where you put loadings too. With an old building, you're generally fine until you start adapting them. Anything that's Victorian or Edwardian is going to be potentially dangerous to extend."
Who Will Benefit From the New Rules?
The extension of Permitted Development rights could be valuable for those with tricky loft conversions who were not previously eligible to extend up under PD conditions.
In these instances, homeowners would have to seek planning permission to convert their loft. But now homeowners with problematic roofs (for example, whereby a new dormer would extend the permitted ridge height) can benefit from the new rights.
Although, as Rock says, there is a lot you can do under Permitted Development already with regards to loft conversions.
"The existing PDRs are pretty generous already, both with loft conversions and extensions. The rights regarding extensions were expanded in 2013, so getting planning permission is very rarely an issue."
Jack has worked in journalism for 11 years and is the News Editor for Homebuilding & Renovating, a role he has had since 2019. He strives to break the most relevant and beneficial stories for self builders, extenders and renovators, including the latest news on the construction materials shortage and hydrogen heating. In 2021 he appeared on BBC's The World at One to discuss the government's planning reforms.
He enjoys testing new tools and gadgets, and having bought his first home in 2013, he has renovated every room and recently finished a garden renovation.
Homebuilding & Renovating Newsletter
Get the latest news, reviews and product advice straight to your inbox.
Thank you for signing up to Homebuilding. You will receive a verification email shortly.
There was a problem. Please refresh the page and try again.