Take a tour of this Grand Designs woodland wavy home built using 'steam bending'
Transformed from a "cramped and mouldy" lodge, this home was renovated using wood sourced from the nearby woodland and shaped through the ancient technique of steam bending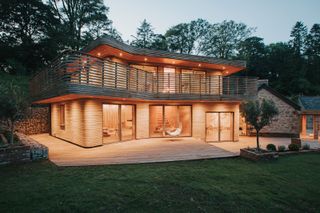 (Image credit: Lillicrap Chilcott)
A home featured on Grand Designs that used ancient steam bending technique to curve wood has been placed for sale for £1.65 million.
Tom and Danielle Raffield bought the gamekeeper's lodge in 2011 in Sithney, Cornwall, but with the home being just 44m2 they decided they needed to extend the Grade II property.
The couple got to work in 2014 and transformed the home using wood from the surrounding woodland to the home a unique curved exterior, giving plenty of ideas for those renovating a house.
Wood used from surrounding forest
Image 1 of 5
Tom and Danielle Raffield embarked on their Grand Design project determined to keep costs low by taking on as much of the work themselves rather than hiring external help.
The house, which has been built using timber from the local woodland and rocks from the original excavation site, reflects the work of skilled Cornish craftspeople who complemented their efforts.
From the eco concrete power-floated floors equipped with ground source underfloor heating to the arrangement of diverse wood strips on the walls.
Their vision for their dream home was to create a structure that blended with the natural contours of the land. They enlisted a company to construct the timber frame, but took on the more enjoyable aspects of the project themselves, including 'steam bending'. The couple used this ancient technique to shape the wood. It involves exposing wood fibres to steam to heat them up and soften it to make it more pliable. When it cools, the wood then takes the shape it has been moulded into.
Now, seven years after their Grand Design episode, the couple have decided to sell the house that was crafted with their own hands.
A gamekeeper's lodge that was just 44m2
Image 1 of 3
The stone Grade II listed property was built in 1882 and had just a 44m2 living space that was "cramped and mouldy," according to the couple , who lived in it prior to extending.
The toilet and bathroom was across a courtyard from the main home, which Danielle admitted was difficult to live with in the winter with two small children.
The new extension, however, which featured on Grand Designs in 2016, has more than quadrupled their living space and the old Victorian lodge is connected to the new extension by a wood and glass corridor, with the original house now serving as a living room and dining room.
During their appearance on the show, Tom and Danielle, expecting their third child at the time, faced scepticism from presenter Kevin McCloud regarding their ability to realise their dream home within their limited budget.
McCloud doubted that such daring craftsmanship could be achieved on a budget, suggesting it was more suited to multi-million pound properties.
Despite exceeding their initial budget of £100,000 by 60%, Tom and Danielle, who have since separated, successfully created their ideal home.
Hot tub overlooks 3,400sqft grounds
Image 1 of 5
The house now offers 3,400sqft of living space with an array of new features.
The new extension has a kitchen-diner, a master bedroom with an en suite bathroom, as well as a smaller bedroom and shower room, with four additional bedrooms upstairs.
The extension also has a wrap-around balcony, offering views of the 4.6 acre gardens. On the deck is also a hot tub.
The property also boasts several outbuildings, including a yoga studio crafted from steamed wood and glass, which was created for and shown at the Chelsea Flower Show.
Guy Morse from Lillicrap Chilcott, where the house is listed for sale, said: "This property is unusual in that it is a piece of art as much as it is built to really live in. The thought process that went into creating this house is unlike anything you would ever find with a normal build.
"They are artists and craftsmen and that artistry absolutely shows throughout the whole property. It works so beautifully having the old historic cottage flowing into something that is much more contemporary but in no way stark.
"It is totally in keeping with its environment in this beautiful light-filled glade surrounded by woodland. As a business we are lucky enough to deal with the finest houses in Cornwall but this is something you never find and a property that makes us all get excited."
The home is currently for sale for £1.65million with Lillicrap Chilcott.
Get the Homebuilding & Renovating Newsletter
Bring your dream home to life with expert advice, how-to guides and design inspiration, direct to your inbox.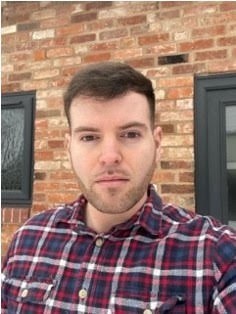 News Editor Joseph has previously written for Today's Media and Chambers & Partners, focusing on news for conveyancers and industry professionals. Joseph has just started his own self build project, building his own home on his family's farm with planning permission for a timber frame, three-bedroom house in a one-acre field. The foundation work has already begun and he hopes to have the home built in the next year. Prior to this he renovated his family's home as well as doing several DIY projects, including installing a shower, building sheds, and livestock fences and shelters for the farm's animals. Outside of homebuilding, Joseph loves rugby and has written for Rugby World, the world's largest rugby magazine.