"We Self Built for £150k!" How these DIYers Built Their Dream Home on a Budget
By Alison Wall published
DIY self builders Melanie and Alan Williams have designed and built this characterful barn-style family home for a build cost of just £604/m2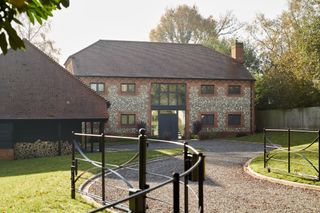 (Image credit: Alistair Nicholls)
Self build projects like Alan and Melanie's don't come around very often. Built to a staggeringly minute budget of just £150,000, this large, traditional home is stunning inside and out.
We talk to Alan about how the project came together.
Image 1 of 4
Image 2 of 4
Image 3 of 4
Image 4 of 4
How did you Find the Plot and how did the Planning Process go?
Project notes
Homeowners Melanie and Alan Williams
Location Medstead, Hampshire
Build time Jun 2013 - Apr 2017
Size 248m2
Construction system Masonry with beam and block ground floor, timber engineered joists and timber roof trusses
Plot cost £450,000 (2013)
Build cost £150,000
Current value £1.4million
Where we live in Hampshire there are loads of 'colonial bungalows' – Government pre-fab houses – and we'd passed this one many times. The house was made of tin, with no insulation, and 4 x 2 timber on the inside and bitumen paper on the outside. It was well past its sell by date.
Our design had flint, red brick and black cladding, which all fitted in with the local vernacular, so getting planning permission was straightforward. The neighbours were a bigger problem, though, as they saw us as outsiders and they had all sorts of worries — none of which were real! Now passers by say it's the best house in the road.
(MORE: Check out This Gallery of Beautiful, Traditional Style Homes )
What Was the Inspiration for Your Design?
Our first self-build was a cottage and the second was an executive-style house. I asked my wife Melanie what she'd like for our third — the answer came back: 'a barn-style home', so I scoured the internet for images of barns I liked, including one in Norfolk, then did loads of sketches and designs.
My youngest son is an architectural technician and I worked with him on the design. Melanie was very involved in the interior design and she has an amazing eye for colour. We chose a kitchen, which you fit and paint yourself and she chose the colour for that — it was spot on. The whole thing was a real family affair.
(MORE: Homes Your Won't Believe Are New Builds)
Did You Come Up Against Any Challenges?
We lived in it for a little while until we got planning, then we got a demolition company in to knock the old bungalow down. It was the worst plot in the world: it had three greenhouses, shed upon shed, trees, bushes, brickwork — it took ages to knock it all down and get a clean sheet.
We couldn't use any of the original building foundations and I had to fill in a little pond right where the footings needed to go. I did all the digging out and pouring the concrete myself, using a NHBC handbook and following their guidelines on soil, trees and so on. And rather than laying and raking the concrete round by hand I spent £350 and used a concrete pump and that was it: by dinnertime it was all done. It was the best thing I ever did and now I wouldn't do it any other way.
How Did You Manage to Build the House for Just £150,000?
Image 1 of 2
Image 2 of 2
It's like anything: simplicity works. You can spend a fortune on a house if you let it get out of hand, and then all of a sudden all of your money is gone.
We lived in a mobile home on site during the build and haggled hard for materials as there is a big mark-up. Plus, I am a site manager in the trade so we saved by going straight to the supplier for things [a £10,000 quote for lintels was reduced to £2,000].
(MORE: How to Build a House for Less Than £150,000)
I also had a good idea of what I was doing and I did most of the work myself. I designed the stairs and paid just £900 for them to be made, I did most of the first and second fix, and most of the tiling. I even installed the sewerage treatment plant, which was surprisingly easy.
The only things I didn't do were the electrics, plumbing, roofing and plastering. I wouldn't recommend that anyone does their own plastering — it looks so easy but it just isn't! I was going to do the roofing, but I got a roofer in instead, and I remember coming home in the cold and dark and being so glad that I had.
You Did Both the Brickwork and Flint Yourself. How Did That Go?
Image 1 of 4
Image 2 of 4
Image 3 of 4
Image 4 of 4
I'd designed the barn using brick and block, so I got quotes in from bricklayers. When they came back, I looked at them and thought: I can't pay that price, I will do it myself instead. I am not a bricklayer but I worked nights and Saturdays to do almost all the brick and block work — I chose a Flemish bond which took a lot of sketches and head scratching.
I talked to a bricklayer who also explained how to do the flint — it was common sense, really. First, I built up the quoins [masonry blocks at the corner of the walls], then used a string to form a straight line and worked two feet at a time. I used the same mortar mix of lime, cement and sharp sand I'd used on our first house, based on what a conservation architect had told me to use. The flint was expensive, though. I bought three or four bags of knapped flint at £600 a bag. I later found a farmer's field nearby full of flint — if only I'd known!
(MORE: Low Budget Homes Built For Under £200,000)
How Do You Feel Now It's Finished?
In all, the build took two and a half years, and I was working full-time through that period. But now the aches and pains, sweat and tears have all been forgotten. The house puts a smile on our faces every time we come down the drive. Having said that, I may well do another self-build. It's a hobby for me, I enjoy doing it and then standing back and saying 'wow'.
Homebuilding & Renovating Newsletter
Get the latest news, reviews and product advice straight to your inbox.
Thank you for signing up to Homebuilding. You will receive a verification email shortly.
There was a problem. Please refresh the page and try again.