10 Homes You Won't Believe Are New Builds
By Lindsey Davis published
Looking older than you are is not usually a good thing, that is unless you are a new build, period-style home of course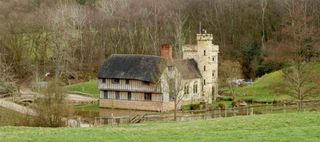 (Image credit: Clive Fewins )
There are many good reasons to self build a home in a period style (even if the pastiche estates of the 80s and 90s do not set the best example). Sometimes it is a planning requirement to match the neighbouring properties, but often it is simply because historic architectural styles hold much appeal.
These homes show that you can build a new home with all of the charm of an old building, but without the age related issues that can blight them.
1. The Coach House
Sourcing materials from reclamation yards was the key to ageing this barn-style self build.
Built to look like it's been stood for centuries, this traditional Cotswolds home has been constructed using the local stone to look like an old coach house which has been added to over the years.
2. A Modern Stately Home
The Georgian-style exterior of this stately self build hides a wealth of eco-technology.
It was built with Hemcrete, a modern mix of lime and the inner core of the commercial hemp plant, to augment its energy-efficiency. The high-spec materials and fixtures used throughout the build make sure the finish is beautiful inside and out.
3. Baronial-Style Eco Home
This Baronial-style eco home has all the grandeur of a Scottish laird's home, minus the draughty corridors and single-glazed windows.
Owning a family home in the form of traditional Scottish mansion was the long-standing dream of the homeowners and it stands stoic against the beautiful landscape.
4. A Refined Country House
Careful brick detailing contributes to the Georgian and Queen Anne style of this home.
Nestled in a wooded valley near Salisbury, in an Area of Outstanding Natural Beauty, this four-bedroom home combines the charm of a traditional farmhouse with modern technology, such as a sprinkler system and a ground source heat pump powering the underfloor heating.
5. A Home on the Downs
It is hard to believe that this Georgian-style home, with so much presence, took just 11 months to construct.
A charming, timber frame on the South Downs, it was built using highly-insulated timber frame and features sliding sash windows.
6. A Self Build Medieval Manor
This new build manor is faced in reclaimed stone, and has gargoyles, a drawbridge and even a dungeon to complete the look.
7. A Self Build Fantasy
This remarkable custom build stretches the imagination to its limits. Elements of various architectural styles are at play here, creating a fascinating new build that looks a lot like the Weasley family's 'Burrow' in Harry Potter.
Built without formal plans on a DIY basis, it's an astonishing example of self build vision and enthusiasm. And we can't think of any other self build that features a decorative dragon.
8. Cottage Craft
Pairing traditional craftsmanship with 21st century technology, this new build cottage is quaint while fulfilling its role as a modern home.
The inside has a contemporary feel achieved through an open plan kitchen/dining/family room and a study alcove. There are very few internal doors on the ground floor, and the utility room is located in a single storey element with a clay pantile roof.
9. A Highland Self Build
The brief for this self build in the Highlands was to create a home which looked over a hundred years old, with the technology and energy efficiency of the modern day.
This energy-efficient home was built for under £160,000 – thanks to lots of DIY input from its homeowners – in an Area of Outstanding Natural Beauty and sits just a stroll away from its own private shoreline.
10. Charming Thatched Cottage
This cottage in Cambridgeshire has been built to look every bit the period home, complete with a combination of a Norfolk reed thatch roof and dutch herringbone patterned brick.
The thatch plays the greatest part in creating a traditional feel to this cottage-style home, but the brickwork and interior beams do a good job of complementing the look.
Homebuilding & Renovating Newsletter
Get the latest news, reviews and product advice straight to your inbox.
Thank you for signing up to Homebuilding. You will receive a verification email shortly.
There was a problem. Please refresh the page and try again.