20 Low Budget Homes Built For Under £200,000
Inspiration for low-cost traditional and contemporary-style self builds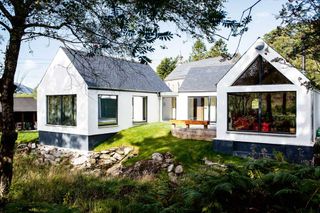 (Image credit: John Need)
Despite common perceptions, it is possible to self build a low budget home. With detailed research and planning (and a willingness to take on certain tasks yourself), it is possible to build your own home without breaking the bank
If you're keen to build a low budget home, take a look at this selection of projects, all with build costs under £200,000.
(MORE: Use our Build Cost Calculator)
1. A Modern Home Built for £170,000
Tom Allen and Natalie Scroggie built a beautiful home with a cantilevered second floor on a small garden plot.
Location: Nottingham
Size: 120m²
Build time: 1 year
2. A Timber-Clad Rural Home for £120,000
Steve and Lisa Attfield have built a new timber-clad farmhouse in the Devon countryside for just £120,000 — finally making their rural dream come true.
Location: Devon
Size: 126m²
Build time: 1 year 2 months
3. A Low-Budget Handcrafted Home for £100k
Robin Cochrane chose a tricky plot on restricted piece of land on the banks of a river in the Scottish Highlands to build his budget home.
Location: Devon
Size: 126m²
Build time: 1 year 2 months
4. A Charming Budget Cottage for £158,000
Ian and Helen Hardy have replaced a run-down bungalow with a charming cottage-style family home in Surrey, pulling out all the stops to achieve a remarkably low build cost of just £158,000.
Location: Argyll & Bute
Size: 145m²
Build time: 1 year 8 months
5. An Eco Home Built for £200,000
Anthony Lamb and partner Andy Andrews' eco self build in Somerset is a masterclass in sustainable homebuilding on a budget — built for just £200,000.
6. A Value-for-Money Family Home for £139,000
Over the course of seven years, Jonathan and Nicola Marsh have built a large home for their growing young family in Leicestershire for just £139,000.
Location: Leicestershire
Size: 300m²
Build time: 7 years
7. A Small Low Budget Home for £59k
Location: East Ayrshire, Scotland
Size: 40m²
Build time: 2 months
8. A Modern Home on a Budget Plot for £140k
Colin and Iona Smith have created an organic contemporary home on a stunning hillside setting in Perthshire for a build cost of just £140,000.
Location: Perthshire
Size: 164m²
Build Time: 1 year
9. A Starter Home on a Budget of £80,000
Phil Coe and Flo Cooper's first home was built to a tight budget of £80k in his parents' back garden.
Location: Yorkshire
Size: 130m²
Build Time: 2 years
10. A Low-Energy Lifetime Home for £175,000
Jeff and Rose Tanner have built a low-energy home in Buckinghamshire, complete with a wide array of eco features and designed to last a lifetime, for just £175,000.
Location: Milton Keynes
Size: 156m²
Build Time: 1 year
11. A Log Cabin on a Small Budget for £180,000
Paul Constable and Lucy Fallon's log cabin in Derbyshire looks right at home on their woodland plot, but it is hard to believe it took only 59 days to build and cost just £180,000.
Location: Derbyshire
Size: 167m²
Build Time: 4 months
12. A Cutting Edge Self Build for £123,000
A cutting-edge design in a stunning location, Nick Middleton and Kate Prentice's new home is one of the most energy efficient on the Isle of Skye in Scotland, yet was built to a tiny budget of £123,000.
Location: Argyll & Bute
Size: 70m²
Build time: 9 months
13. A Low Budget Home for £95,000
Retired joiner Mike and his wife Jane have designed and built a one bedroom eco home in Somerset on a DIY basis for just £95,000.
Location: Somerset
Size: 72m²
Build time: 1 year 10 months
14. A Stylish City Self Build for £139,000
Tom and Emily Hunt's contemporary, eco-friendly, self build home combines style and substance for an affordable £139,000.
Location: Sheffield
Size: 140m²
Build time: 6 months
15. A Family Eco Home for Under £200k
The demolition of a post-war bungalow has led Louise and Ivor Nicholson to create a bright, minimalist eco home, calling on family favours to help them keep to an impressive budget of just over £185,000.
Location: Aberdeenshire
Size: 160m²
Build time: 10 months
16. A Cottage-Style Budget Home for £115,000
Eco homes don't need to break the bank — as Nicky and Robin van der Bij proved when they designed and built their stunning coastal cottage for just £115,000. Even better, it costs just £270 a year to heat.
Location: Cornwall
Size: 100m²
17. A DIY Self Build for £98,500
Rob and Alithea Dawson bought a 35-acre woodland site for £10,000 and spent seven years in a mobile home trying to get planning on it. They have eventually built themselves a remarkable home in oak on a DIY basis for just £98,500.
Location: Powys
Build time: 2 years
18. A Low-Budget Self Build for £171,000
Isabel and Mal Voller have built a low-budget, energy-efficient self build cottage clad in brick and flint in Hampshire for their retirement — it cost just £171,000.
Location: Hampshire
Build time: 1 year 5 months
19. A Timber-Clad Cabin for £125,000
A timber frame cabin on the Isle of Skye, built for just £125,000 by Nigel Rigden, shows how contemporary design can sit comfortably within a rural setting.
Location: Isle of Skye
Size: 95m²
Build time: 4 years 1 month
20. A Straw Bale Home on a Budget of £67k
Designed and built by the homeowners, Justin and Linda Tyers, this two-bed cottage demonstrates the spirit of self build like no other.
Location: Somerset
Size: 95m²
Build time: 11 months
Homebuilding & Renovating Newsletter
Get the latest news, expert advice and product inspiration straight to your inbox.
Thank you for signing up to Homebuilding. You will receive a verification email shortly.
There was a problem. Please refresh the page and try again.