11 Ways to Prepare Your Home for Winter
By Alison Wall
Taking on some basic home maintenance or repairs before the cold weather sets in can negate the need for more serious remedial work when temperatures thaw. Make sure your home is ready for winter with these handy hints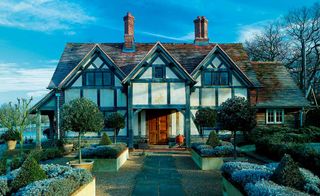 (Image credit: c/o Border Oak)
The last couple of winters have brought not only unusually chilly temperatures, but also heavier snowfall than we are used to. This makes it all the more important to ensure our homes are ready for winter. But it needn't be an expensive or difficult job.
Follow our guide to your essential winter maintenance tasks, for a warm and comfortable season.
1) Lag Pipes to Reduce Heat Loss Over Winter
Lagging your pipes, particularly plastic pipes, will help to reduce heat loss from your system and prevent them getting too cold and bursting. Buy foam insulation tubes and slip them over the pipes (expect to pay around £20 for a three-bedroom house, with annual savings of £3 to £7 on energy bills).
2) Get Your Chimney Swept
Ideally, this is a task that's best done before the winter starts, as harsh cold weather can result in serious damage to the chimney masonry.
3) Check Gutters, Downpipes and Gullies 
Look for leaves, moss and other debris and clear them to prevent blockages in heavy rain and snow. You'll need to replace any gutters that are cracked or damaged.
4) Get Your Boiler Serviced
A recent Worcester Bosch survey revealed that 18% of homeowners believe that servicing is unnecessary until a boiler breaks down. But ideally, your boiler should be serviced annually to make sure that it's still safe to use and works efficiently.
(MORE: Ensure your central heating system is working to maximum efficiency)
5) Top Up Your Oil/LPG Tank 
If you are living off mains, this is essential and you'll avoid the problem of running out of oil if you get snowed in for days or weeks. If you can, avoid buying oil in the coldest months, when increased demand will push up prices; set a date in your calendar for the summer, or any unseasonably warm spell, when suppliers generally sell oil at lower prices to reduce their surplus. Remember, you can store oil for up to two years.
6) Insulate Your Loft Space
If you haven't already insulated this space, or you have poorly performing insulation that has slumped over time, tackling this project will pay quickly pay dividends over the colder months. The Energy Saving Trust estimates that topping up loft insulation from 120mm to 270mm could save around £12 a year.
"The amount of insulation installed in the lofts of new buildings has steadily increased over the past half century, from about 25mm in the 1960s to 270mm today," explains Roger Hunt, author of the Old House Eco Handbook. "Where existing insulation is in a poor condition (for example, it has lost its effectiveness where compressed) or badly fitted, complete replacement is normally advisable."
7) Replace Slipped Roof Tiles/Slates 
Making roof repairs will prevent leaks that can cause deterioration to the structure.
"If there are only a few slipped or missing tiles or slates, they can usually be refixed or replaced fairly easily," says chartered surveyor Ian Rock. "On shallow pitched roofs, common on 1970s properties, the underfoot can start to sag, diverting rainwater down wall cavities. In this case, the lower layers of underfoot may need to be stripped, replaced and rebated."
8) Check Outdoor Lights are Clean and in Working Order
Give the lighting a good cleaning (shutting off the power to the unit first). Check that the bulbs are still working, and if they are not, swap over to an LED light. If your solar lights are covered with snow or winter debris, you'll need to remove this to allow them to operate properly.
9) Fix Broken Gates and Fences
This will prevent any further damage during freezing winter conditions and helping to secure your property against burglaries (while keeping pets safely within the garden).
10) Draughtproof Windows and Doors
According to the Energy Saving Trust, 46% of us still need to tackle this job. The charity estimates that a good draught-proofing job for the whole house will cost between £85 and £276 for materials and professional insulation.
11) Avoid Loft Conversions and Roofing Projects
"A lot of customers try to do their loft conversion over the winter period and while it's possible to protect from the rain, it's very difficult to protect workers from heat loss," says contractor Ross Malone of Orchestrate. "I'd also avoid roof projects, as fibreglass doesn't work in low temperatures."
Homebuilding & Renovating Newsletter
Get the latest news, reviews and product advice straight to your inbox.
Thank you for signing up to Homebuilding. You will receive a verification email shortly.
There was a problem. Please refresh the page and try again.