Gutter Cleaning Products: 5 of the Best DIY Tools
By Michelle Guy published
Looking for the best gutter cleaning products to sort your gutters DIY-style? We've made it easier to choose with a selection of 5 top tools in our round-up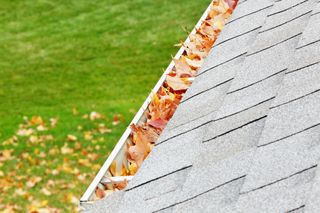 (Image credit: Getty Images)
Gutter cleaning products might not sound the most glamorous but are very handy indeed.
Cleaning gutters is one of those household chores that often gets pushed down the to-do list. It seems messy and a bit daunting and it's tempting to get a professional in to do the job (although it may involve working at height so if you are in any doubt about your capability to complete the task safety, please do hire a professional).
But, whether you're renovating a house and want to keep project costs down or you simply want to declutter those gutters as a DIYer, buying your own gutter cleaning products will be a good investment.
Here's our round-up of 5 products you may just want to add your toolkit.
Best Gutter Cleaning Products You Can Buy
1. Karcher 20m Pipe and Guttering Cleaning Kit
This add on kit for a pressure washer cleans drain pipes and gutters
Specifications
Number of pieces:
Multi items: nozzle, adaptor, shuttle, clamp handle, drain pipe guard, hose
Reasons to buy
+
Cleans gutters and drains
+
Drain pipe cover included to avoid debris falling in
+
Powerful jets push the shuttle tool along the gutter to clean it
+
Easy switch between drain tool and gutter tool
+
Fits K2 and K7 pressure washers
Reasons to avoid
-
Higher price point
-
Pressure washer needed as it's an accessory
The Karcher Pipe and Gutter Cleaning accessory is a great piece of kit if you want to clean drains and gutters with one product. It fits K2 and K7 pressure washers.
It's a good option if you don't want to be up a ladder cleaning your gutters.
The hose feeds through the hand clamp and the shuttle/sled tool. You then fix the clamp to the side of your guttering then place the shuttle tool in the gutter itself. Turn on the water and the power of the water pushes the shuttle along the gutter independently.
A drainpipe cover is a handy addition that'll stop any debris falling down into it.
To clean your drains, you add the nozzle adaptor to the end of the hose and the four rear-facing jets will clear blockages.
---
2. Silverline Down Pipe Filter Guard - Pack of 2
Budget buy, great a preventing downpipes from getting clogged
Specifications
Material:
Non-corrosive polypropylene
Reasons to buy
+
Dual pack
+
Great value
+
Keeps down pipes from getting clogged
+
Can leave in all year round
This dual pack of down pipe filter guards from Silverline Store is a great addition to your gutter cleaning toolkit.
The idea is to pop over the down pipe in your gutters to prevent leaves and debris clogging them up.
They're also handy to have in when you're using a jet wash based gutter cleaning product to avoid debris falling into your down pipes with the force of the water.
But, as it's a simple push to fit installation with no tools, it's something to use all year round.
---
3. Gardena Double-Sided Gutter Cleaner
Scraper and brush for clearing and cleaning gutters
Reasons to buy
+
Two scrapers on one side and a bristle brush on the other
+
Can be attached to a hose for a wet clean
+
Easy-to-hold handle
+
Can adjust the head at different angles
Reasons to avoid
-
Need to buy a telescopic pole to attach it to
If you're looking for an option that lets you clean your gutters by scraping away leaves and debris and then wash away any leftovers, then the double ended Gardena Gutter Cleaner does just that.
The Gardena Gutter Cleaner connector lets you fix it up to a garden hose to clean the gutters with water.
If you don't mind climbing ladders then you can use the Gardena as a handheld tool as it has a practical grip handle. But if you'd prefer to stay on the ground, it can be attached to the Gardena combi system handle or, to reach 5m high or more, a telescopic pole. But these have to be bought separately.
---
4. Green Blade BB-GC150 Telescopic Gutter Cleaner
Good reach with up to 1.74m
Reasons to buy
+
Good reach with extension from 1.05m - 1.74m
+
Adaptor attaches to a hose
+
Cleans rain gutters
Reasons to avoid
-
Spray cleaner only - no scrapers or brushes
If you're looking for a telescopic water-based gutter cleaning tool that tackles those hard to reach areas then the Green Blade BB-GC150 is a good choice.
You attach the pole to a hose with the adaptor and clean rain gutters with a sweeping action to make sure the spray removes debris evenly.
It's deemed to have a powerful spray action so if you prefer to be up close to the action to see results you might want to pick a hand-held product that scraps only!
---
5. Progutter Half Round Gutter Cleaning Scraper
Can be used as a left or right-handed scraper
Reasons to buy
+
Good value
+
Lightweight
+
Can be fitted for left or right hand use
+
Curved designed aims to miss gutter clips
+
Features a universal/acme thread for use
Reasons to avoid
-
No pole included
-
Angle adaptor sold separately
A good value gutter scraper that's lightweight, the Progutter Half Round Gutter Scraper features a universal thread, which suggests it can be attached to a standard decorator's pole either for left or right handed use.
The curved design aims to miss gutter clips as you scrap the tool along the length of the guttering.
The angle adaptor (sold separately) is recommended if you aim to use a pole from the ground rather than up a ladder.
How to Choose the Right Gutter Cleaning Products
When it comes to choosing which gutter cleaning product or products to add to your handy household toolkit, think about whether it's a quick-fix for now or whether you want something a bit more substantial for the long-term.
Many products are adaptors so they need to be attached to a pole or hose to work properly, others are scrapers only or water-based spray gutter tools. So it all depends on how you want to or how you'd prefer to clean your gutters.
Think about whether a pole with a good reach is the right option if it means less time up a ladder. Or is a hand help option with a scraper and brush to really clean your gutters up close more up your street.
Many of the water-based tools do spray out jets of water so it might be wise to pop on some safety goggles to avoid debris flicking out and into your eyes.
(MORE: If you're looking for a shed to tidy away all your tools read our buyer's guide to the Best Plastic Sheds)
Michelle is Homebuilding & Renovating's Deputy Editor. With an editorial career spanning more than 18 years, Michelle spent time working on educational magazines and websites until her career took an exciting turn into the world of homes and interiors. Working on sister titles Real Homes and Period Living, she then joined the Homebuilding team in November 2018. She's just completed her second kitchen renovation project, armed with an ever-growing knowledge of homebuilding advice and design inspiration. She's just about to embark on another bathroom refurb project.
Homebuilding & Renovating Newsletter
Get the latest news, reviews and product advice straight to your inbox.
Thank you for signing up to Homebuilding. You will receive a verification email shortly.
There was a problem. Please refresh the page and try again.