What Does a Chimney Sweep Cost? Fireplace Maintenance Prices
By Natasha Brinsmead published
Our chimney sweep cost guide explains what kind of prices to expect when it comes to getting your fireplace ready for the colder months ahead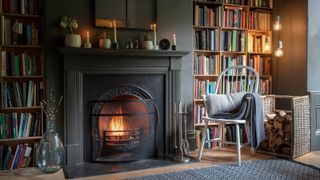 (Image credit: Garden Trading)
How much does a chimney sweep cost? It is a question likely to be on the mind of anyone who has just installed a fireplace or stove into their home, or who has recently moved into a house with one.
Whilst it's easy to get carried away with the latest fireplace ideas, it's important not to forget that keeping your chimneys clean and free of blockages, such as bird's nests, is an essential part of fireplace maintenance, whether you plan on burning coal, wood or another type of fuel. By keeping your fireplace clean you reduce the risk of harmful fume emissions and help to prevent the likelihood of chimney fires.
One of the main factors that can cause issues when it comes to chimneys is the build up of soot and creosote that can occur over time. Creosote is highly flammable and can coat the inside of the chimney over time if regular cleaning is not carried out. As such, it really does pay to have your chimney swept at least once a year. Fortunately, chimney sweep costs are relatively inexpensive, as we outline in this article.

What Factors Will Affect Chimney Sweep Costs?
Although we can advise you on the average and likely costs of having a chimney swept, you should be aware that there are several factors that could cause your quote to be higher than you might expect. These include:
Your location
When your chimney was last swept
Damage that needs repairing
Where access is an issue
Considerable blockages or build-up
How Much Do Chimney Sweeps Cost?
Although chimney sweep costs vary, depending on where in the country you live, when you last had your chimney swept and even how many chimneys you are having cleaned, we can give you an idea of the average prices charged for this service.
You can expect to pay between £50-£80, although if you are having more than one chimney cleaned, you might find a slightly lower cost of approximately £40 per chimney might be offered.
If your chimney has not been cleaned for some years, has substantial, hard-to-clear blockages or requires repair, then obviously these costs will rise.
What Do Chimney Sweeps Do?
When you call in the services of a chimney sweep, you can expect them to carry out the following tasks and checks:
Clean the chimney, removing debris (such as leaves and cobwebs), soot and nests
Thorough inspection to check for blockages, build up of harmful substances and dirt
Check for damage
Carry out a smoke draw test
How Often Should a Chimney Be Swept?
In general you should aim to have your chimney swept twice a year if you are burning wood or bituminous coal in an open fireplace, or if you have a log burning stove or are burning smokeless coal, once a year should suffice.
It's a good idea to have your chimney swept just before the heating season starts, to ensure any debris or the like is removed before you begin using your fireplace again.
Homeowners looking to install a new woodburner or opening up a fireplace should also ensure the chimney is swept beforehand — and this is often a requirement under HETAS regulations before the new appliance is installed.
Can I Sweep My Own Chimney?
Although people do choose to sweep their own chimneys, it is important to be aware that many household insurance policies require you to have a certificate showing your chimney has been swept by a sweep who is a HETAS (opens in new tab) Approved Chimney Sweep or a member of a chimney sweeping association such as The Association of Professional Independent Chimney Sweeps (APICS), The Guild of Master Chimney Sweeps (GoMCS), The National Association of Chimney Sweeps (NACS) or Sweep Safe.
In addition, think through the costs of hiring the equipment required to carry out the job as well as the time it will take. This is also a potentially messy job and a good sweep will have all the necessary equipment to protect your room.
Natasha is Homebuilding & Renovating's Associate Editor and has been a member of the team for over two decades. An experienced journalist and renovation expert, she has written for a number of homes titles. She has renovated a terrace and is at the end of the DIY renovation and extension of her Edwardian cottage. She is now looking for her next project.
Homebuilding & Renovating Newsletter
Get the latest news, reviews and product advice straight to your inbox.
Thank you for signing up to Homebuilding. You will receive a verification email shortly.
There was a problem. Please refresh the page and try again.