Summer House Flooring Ideas for a Practical and Smart Finish
Finish your outdoor retreat with these summer house flooring ideas — from quick ways to update existing floors to low-maintenance options for new garden rooms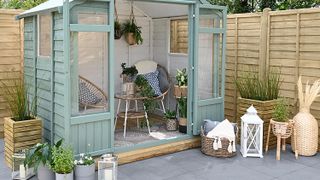 (Image credit: Thorndown paints)
Finishing an outdoor retreat with summer house flooring ideas can transform even the smallest space into a stylish shelter for any type of weather.
Summer houses and garden room ideas have become increasingly popular since more homeowners began working, at least in part, from home. They're not only a great way to separate work and home life, but also provide extra space for hobbies, quiet living spaces and a relaxed spot for teens.
Take a look below for what to consider when choosing interior finishes of summer houses for every type of function.
Summer House Flooring Ideas: What to Consider First
"It is important to think how you will use the building — is it for al fresco dining or working from home for example as this will help influence your choices," advises Merry Alrbight, creative director at Border Oak.
"A home office might need a functional approach, with some adaptability for moving furniture or holding a zoom meeting, whereas a dining space might also work well as occasional extra accommodation or for a one-off party, so could take a more distinct look to fit in with the overall."
Be careful in some summer houses of ripping out essential timber floorboards, says Luke Dejahang, CEO of Crown Pavillions. "In most cases these help hold up the walls. If it is a floor covering placed on top of the floor panels such as a laminate, then yes you can update."
1. Choose Hardwearing Flooring for a Summer House
Summer house interior ideas may seem simple to achieve, due to their small space and limited function but thanks to their outdoor nature they need to be robust to temperature fluctuations and easy to clean from muddy footprints.
"A hardwearing floor is often best as the building might be exposed to the elements in part — so a tile or even a polished concrete finish would be practical but also attractive and last a long time too," says Merry Albright.
"Natural textures and materials such as quarry tiles, reclaimed bricks and slate floors would also work well and could bridge a gap between inside and out. Wooden floors are attractive and easy to lay but can get marked or react to changes in ambient moisture levels."
2. Opt for a Rug for Warmth and Texture
Aim for a bespoke finish when creating a garden room or outbuilding — one which is specific to the function it will fulfil.
For a hobby room, such as this, a natural weave rug is ideal — it's both durable and warm underfoot when the temperature drops.
When considering garden office ideas, a smoother surface work best (perhaps a hardwood or tile) for rolling chairs and stable work-surfaces.
3. Opt for Low-Maintenance Summer House Flooring
More modern styles of summer houses often come with a water-resistant and/or low-maintenance flooring, such as vinyl or laminate
"Laminate is very hard wearing, easy to keep clean and is cost effective in comparison to other options," adds David Hughes from Malvern Garden Buildings.
"Our customers are choosing to install a garden room as an extension to their homes for additional space and/or in a lot of cases a home office. Garden rooms and studios have made a huge leap forwards over the last decade and customers expect to be able to choose from the same interior finishing options as they do for their homes.
"There's an array of options to choose from. All of our laminates are selected based on how they have been engineered, the quality of the overall finish and the lifespan. They are incredibly realistic, the parquet option looks just like parquet and the oak timber option looks just like oak timber."
4. For Larger Summer Houses, Go for Quality
For a larger summer house or garden room, especially one which might function as a living space, choose the flooring as you would in any other room in the house.
To really make the most of this style of outbuilding, also consider installing electric underfloor heating to make the room suitable for year-round use. Most types of flooring are suitable, including porcelain tiles, luxury vinyl tiles and engineered wood.
5. Choose Complementary Flooring Around a Summer House
While choosing the interior flooring is important, if you're planning to make a summer house a focal point in the garden consider creating a unique design with garden paving ideas.
This small summer house has been painted in grey to match the dark porcelain tiles that create the patio area. The space looks carefully curated and like the summer house is a more permanent structure.
6. Give an Existing Summer House Floor an Update
If you have a summer house that is in need of an update, the flooring and interiors are great places to start. Choose the best exterior wood paint for the job and get to work.
Painting floorboards is a simple DIY task but be sure to prepare the surface before getting out the paintbrush for a decent finish.
Here, the small, serene summer house has been painted all white for a coastal vibe in the garden.
What Flooring is Best for a Summer House?
"A summer house floor is commonly constructed from tongue and groove wooden panels —11mm is usually the minimum but we would recommend 15-20mm for durability and to give a studier feel," says Luke Dejahang from Crown Pavillions.
"You also have the option of covering the floor panels for a more homely feel and we would recommend engineered oak over a laminate for a high quality finish and a floor that will stand the test of time."
Get the Homebuilding & Renovating Newsletter
Bring your dream home to life with expert advice, how-to guides and design inspiration, direct to your inbox.
Assistant Editor Amy began working for Homebuilding & Renovating in 2018. She has an interest in sustainable building methods and always has her eye on the latest design ideas. Amy has interviewed countless self builders, renovators and extenders about their experiences for Homebuilding & Renovating magazine. She is currently renovating a mid-century home, together with her partner, on a DIY basis, and has recently fitted her own kitchen.