15 Stunning Scottish Self Builds
By Lindsey Davis published
Be inspired by these Scottish self build homes, built in a range of styles and for a range of budgets — starting from just £59k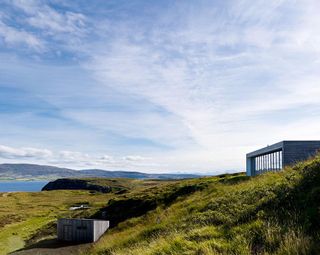 (Image credit: Alistair Nicholls)
When we look to parts of the UK that have embraced self build so easily, Scotland is certainly one of them. With a lower population density than the rest of the UK, and affordable land on offer, many Scots are finding plots to call their own.
This selection of self build homes built in Scotland showcase the range of styles and budgets which self builders achieve.
1. A Single-Storey Villa-Style Self Build
This spectacular light-filled modern villa – full of interesting curves and angles – set into a secluded former walled garden in Fife, features lots of floor-to-ceiling glazing.
Build cost: £500,000
Build time: 2 years
Region: Fife
2. A DIY Self Build in the Highlands
This energy-efficient home was built for under £160,000 – thanks to lots of DIY input from its homeowners – in an area of outstanding natural beauty and sits just a stroll away from its own private shoreline.
Build cost: £158,000
Region: Argyll
3. A Self Build on a Sloping Site
This self build on a sloping site, atop a stream, was built for budget of just £100,000 — thanks to the homeowner's hands-on approach.
Build cost: £100,000
Build time: 1 year 8 months
Location: Argyll & Bute
4. A Cutting-Edge Eco Home
A unpretentious design in a stunning location, this home is one of the most energy efficient in Scotland — yet was built to a budget of £123,000.
Build Cost: £123,000
Build time: 9 months
Region: Argyll & Bute
5. A Loch-Side Self Build
The owners of this home created a Scandinavian-style property on a waterside plot in the Ross-shire.
Build cost: £150,000
Location: Ross-shire
6. A Small Self Build on a Tiny Budget
A young couple have managed to fit a well-designed home full of light into a 40m² footprint — all for only £59,000.
Build cost: £59,000
Build time: 2 months
Location: East Ayrshire
7. Family Eco Home Under £200k
This modernist, single-storey self build takes advantage of passive solar gain and replaces a dated bungalow on site.
Build cost: £185,882
Build time: 10 months
Location: Aberdeenshire
8. Timber-Clad Scottish Cabin
A timber frame cabin-style home, built for just £125,000, showcases how contemporary design can sit comfortably within a rural setting.
Build cost: £125,000
Build time: 4 years 1 month
Location: Isle of Skye
9. Highland Home Built with Reclaimed Materials
This home was architect's Stuart Archer's first major self build project and is a contemporary take on a traditional croft; it's clad in reclaimed granite and Scottish larch.
Build Cost: Approx. £480,000
Build Time: 13 months
Location: Spey Valley
10. A Steel Frame and Stone Home
This home was built in steel frame, which supports plentiful glazing — designed to make the most of the views. Low energy living has also been embraced.
Build cost: £500,000
Build time: 8 months
Region: Argyll & Bute
11. A SIPs Self Build
This well-insulated home was built in structural insulated panels and incorporates a wealth of renewable technologies. It was also designed to take in the stunning views thanks to its glazed gable.
Build cost: £474,000
Build time: 13 months
Location: Stirling
12. A Sustainable Farmhouse
This truly sustainable home has been built using as many locally sourced materials as possible. The home, which is also off grid, in fact generates more energy then it uses and feeds the surplus electricity back into the National Grid.
Build Cost: £700,000
Build Time: 1 years 5 months
Location: Dumfries & Galloway
This package build was customised to the owners' needs and specifically designed for the south-facing plot. The layout keeps service zones to the north and living spaces to the south to make the most of the sun and passive solar gain for warmth.
Build cost: £225,600
Build time: 6 months
Location: Scottish Borders
14. A Traditional-Style Self Build
This Scottish Baronial-style mansion with a U-shaped, courtyard design in Perthshire, replaces a ruined farmstead.
Build cost: £1,000,000
Build time: 1 year 9 months
Location: Perthshire
16. A Low Profile Self Build
With its low profile flat roof and use of natural materials, this self build blends into the landscape.
Build cost: £260,000
Build time: 11 months
Region: Isle of Skye
Homebuilding & Renovating Newsletter
Get the latest news, reviews and product advice straight to your inbox.
Thank you for signing up to Homebuilding. You will receive a verification email shortly.
There was a problem. Please refresh the page and try again.